Interior Design Graduate Changes Her Destiny with Degree from Berkeley College
 
FOR IMMEDIATE RELEASE
TUESDAY, MAY 7, 2019
Contact: Ilene Greenfield
Director of Media Relations
973-278-5400, ext. 1-5122
igl@BerkeleyCollege.edu
 

INTERIOR DESIGN GRADUATE CHANGES HER DESTINY WITH DEGREE FROM BERKELEY COLLEGE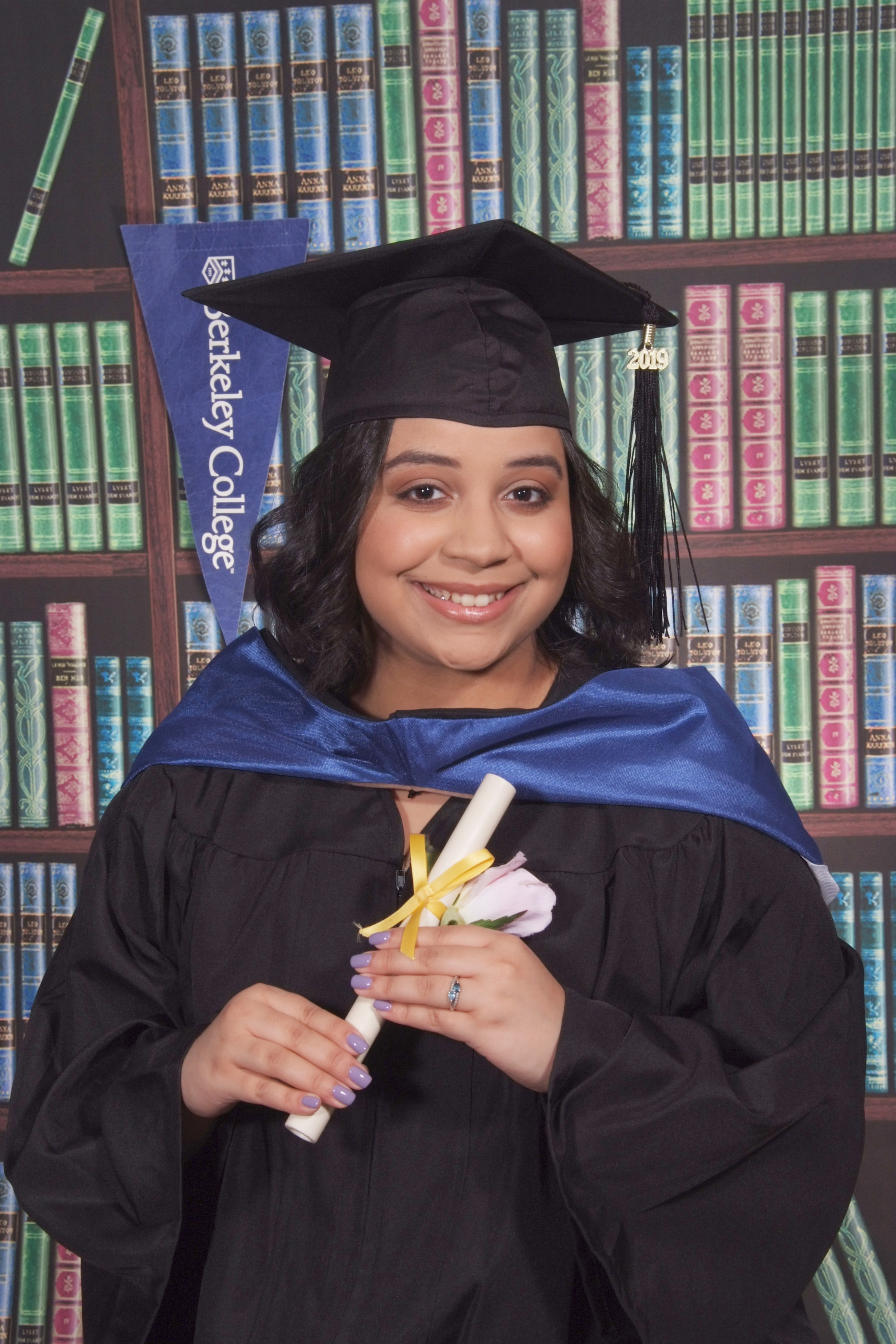 Share the News: @BerkeleyCollege #BerkeleyGrad2019 #NewsBerkeley
Edelyn De La Cruz is a self-made success story. As a child and young adult she moved between families, relatives and guardians. Born in Manhattan, she transitioned four times between schools in the United States and the Dominican Republic.
But Ms. De La Cruz never stopped striving to rise above her circumstances. Her high achievements at John F. Kennedy Educational Complex – School of Architecture and Construction Trades Academy in Paterson, NJ, earned her a scholarship to Berkeley College, where she enrolled in the Interior Design program.
Ms. De La Cruz will receive a Bachelor of Fine Arts in Interior Design during the Commencement ceremony on May 10, 2019, at Prudential Center in Newark, NJ. She will graduate as a member of the Honors Program, the National Society of Leadership and Success, the Phi Theta Kappa National Honor Society, and the American Society of Interior Designers.
Ms. De La Cruz says she shares her life experience to inspire others to achieve great things. "I give back to others through knowledge and advice, because that was what made me the person I am today – a 20-year old Dominican-American woman who was raised by herself, who changed her own destiny," she said.
During her time at Berkeley College, Ms. De La Cruz was mentored by professors with professional experience in the field. She joined the American Society of Interior Designers, and worked on an academic service learning project, designing floor plans for a medical nonprofit in Woodbridge, NJ. 
"Edelyn has been passionate about design from Day One. Her strength of character and determination is evident in her work," said Ernesto Fong, Professor, Interior Design, Berkeley College School of Professional Studies. "She is always enthusiastic, asking questions, and exploring future possibilities. Most impressive is her research process – her sketches have a very architectural feel, and her notes fill every corner of the paper."
Ms. De La Cruz also received support from the Berkeley College Office of Career Services, which helped her refine her resume and prepare for interviews. While still a student, she was hired as an Assistant Project Manager at Samuelson Furniture in Paterson, NJ, and quickly was promoted to Studio Design Associate, where she engineers and designs high-end hospitality furniture. She hopes to pursue a graduate degree in the field of architecture.
"When you feel as if everything has fallen into place, when you have achieved everything you have dreamed of becoming and more, that is success to me," the Paterson resident said.
Ms. De La Cruz recalled learning three years ago that she would receive the scholarship that launched her journey toward a degree.
"Take every chance you get," she said. "As silly as it sounds, you never know what a single phone call can do to change your entire life." 
About Berkeley College 
A leader in providing career-focused education since 1931, Berkeley College is accredited by the Middle States Commission on Higher Education and enrolls more than 7,000 students – including more than 350 international students – in its Master's, Bachelor's and Associate's degree and Certificate programs. Students can study in more than 20 career fields. Berkeley College is comprised of the Larry L. Luing School of Business®, the School of Professional Studies, the School of Health Studies, and the School of Liberal Arts. The School of Graduate Studies offers an MBA in Management online and in Woodland Park, NJ.
Berkeley College has four New Jersey campuses – Newark, Paramus, Woodbridge and Woodland Park. In New York there are three campuses – Midtown Manhattan, Brooklyn and White Plains. Berkeley College Online® serves a global population. For six consecutive years, U.S. News & World Report has named Berkeley College among the Best Colleges for Online Bachelor's Programs and among the Best Online Bachelor's Programs for Veterans. The website address is www.BerkeleyCollege.edu.
- end -