Berkeley College Honors Faculty Support Students on Journey to Academic Excellence
 
FOR IMMEDIATE RELEASE
MONDAY, SEPTEMBER 9, 2019 
Contact: Ilene Greenfield
Director of Media Relations
973-278-5400, ext. 1-5122
igl@BerkeleyCollege.edu
 

BERKELEY COLLEGE HONORS FACULTY SUPPORT
STUDENTS ON JOURNEY TO ACADEMIC EXCELLENCE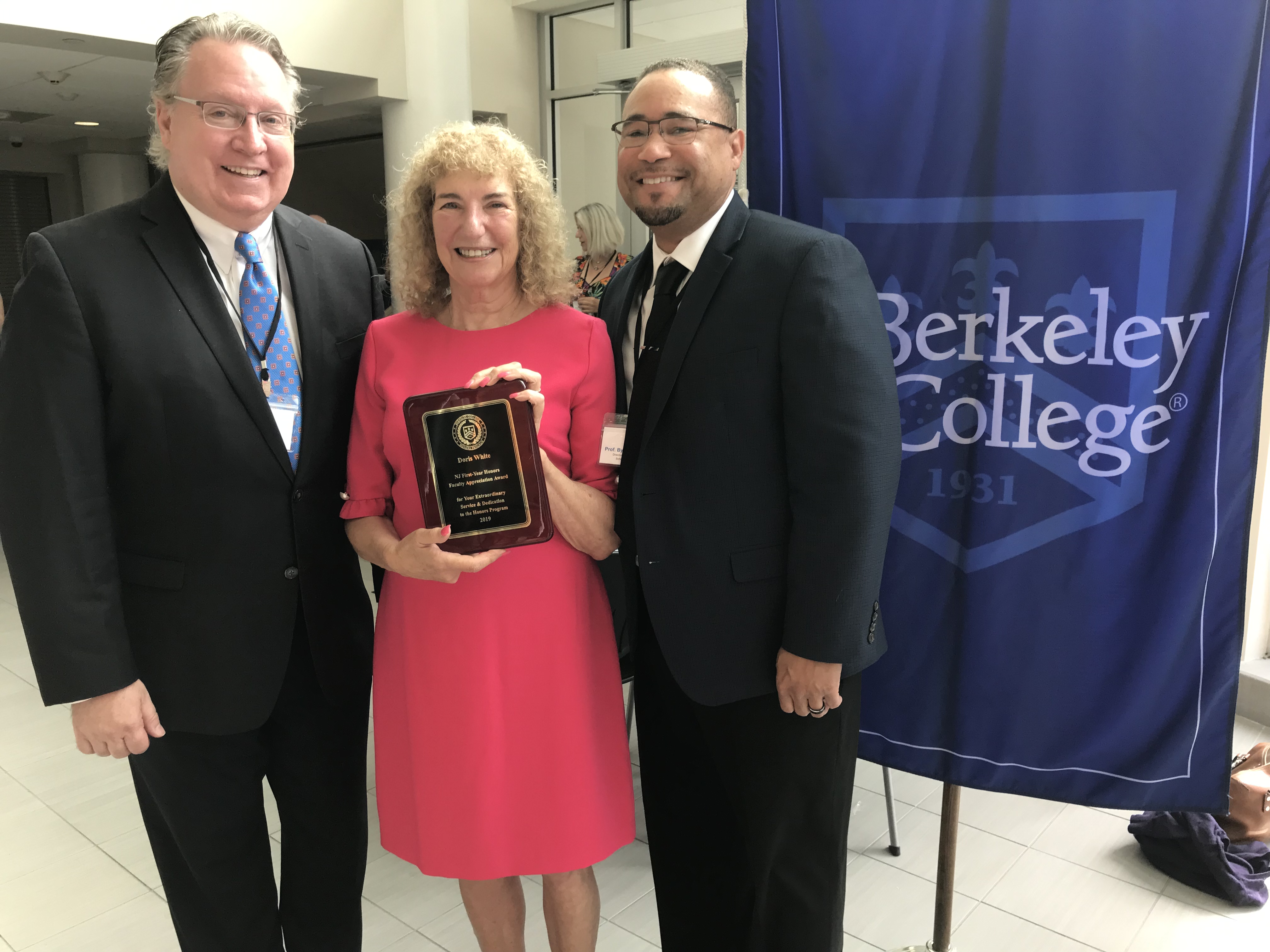 This summer, more than 150 Berkeley College Honors students presented research on widely debated topics including immigration, police brutality, human trafficking and the gender pay gap during research symposiums and poster sessions on the topic of "Unspoken Barriers in Social Justice." Supporting the students in this capstone experience were members of the Berkeley College Honors faculty, who help students develop skills in critical thinking, professional presentation and academic writing. 
Doris White, who has nearly 20 years as an educator, received the Faculty Appreciation Award for her work with first-year Honors students. She shared some of her interests and experience in teaching and learning, below. 
Q: What are your personal and academic interests?
I have been a student of Maria Mazziotti Gillan for many years in her poetry workshops. Poetry is my passion, and Maria is an outstanding mentor. Her creation of The Poetry Center at Passaic Community College and the poetry readings at Hamilton House in Paterson, NJ, have brought so many excellent poets to this venue. I am currently working on a memoir written in poetry, "What You See is Not What you Get." 
Q: This year, Honors students completed their research on "Unspoken Barriers in Social Justice." Describe the process as students developed their theses.
The topic of social justice is an excellent one. It introduces students to academic research, as well as to areas where there is no social justice, such as countries that limit their citizens on the basis of religion, race and politics. Our library has a superior database, and our librarians are wonderful resources for our students. The students selected their own topics after reading articles on such topics as human trafficking, police brutality, health care and climate change, to name a few. They then spent the semester researching information about their chosen topics and investigating credible sources. The culmination of a paper and poster based on their research is the high point of such dedicated hard work. 
Q: How will the students' work serve them in the future?
As an English teacher, I am fascinated by stories – individual and collective. Stories define us and bind us to each other. However, there is power in words to create and to destroy. I hope that my students will use their education at Berkeley College to reach out to each other and to use words of kindness and empathy as they tell and listen to each other's stories. 
The skills the students learn and develop in the Honors Program are invaluable for their futures. They learn how to distinguish between credible and slanted sources of information, and they know that research takes thought, patience and dedication. They take pride in their work and present their views with confidence. It has been my privilege to teach in this program. 
About Berkeley College 
A leader in providing career-focused education since 1931, Berkeley College is accredited by the Middle States Commission on Higher Education and enrolls more than 7,000 students – including more than 350 international students – in its Master's, Bachelor's and Associate's degree and Certificate programs. Students can study in more than 20 career fields. Berkeley College is comprised of the Larry L. Luing School of Business®, the School of Professional Studies, the School of Health Studies, and the School of Liberal Arts. The School of Graduate Studies offers an MBA in Management online and in Woodland Park, NJ. 
Berkeley College has four New Jersey campuses – Newark, Paramus, Woodbridge and Woodland Park. In New York there are three campuses – Midtown Manhattan, Brooklyn and White Plains. Berkeley College Online® serves a global population. For six consecutive years, U.S. News & World Report has named Berkeley College among the Best Colleges for Online Bachelor's Programs and among the Best Online Bachelor's Programs for Veterans. The website address is www.BerkeleyCollege.edu.
- end -
To view a high-resolution version of the photo, visit
https://berkeleycollege.edu/newsroom/images/WPK_DWhite_090919.jpg