Berkeley College Graduate Jennifer Perez Finds Inspiration Working in Emergency Department during Pandemic in New York City

FOR IMMEDIATE RELEASE
Tuesday, May 26, 2020
BERKELEY COLLEGE GRADUATE JENNIFER PEREZ FINDS INSPIRATION WORKING IN EMERGENCY DEPARTMENT DURING PANDEMIC IN NEW YORK CITY
"I learn something new from doctors or nurses every day, surgery or not."
-Jennifer Perez, CST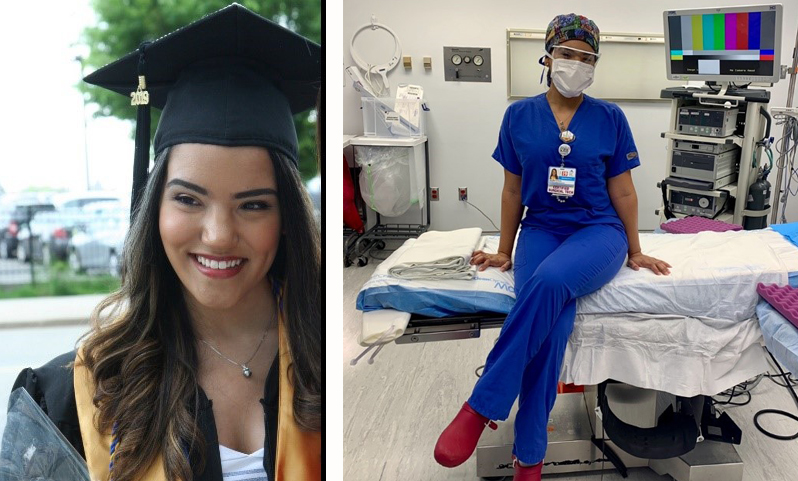 Jennifer Perez always saw herself in a health-related profession.
Perez began working as a certified surgical technologist at Mount Sinai St. Luke's in New York City in June 2019, two months after completing the AAS in Surgical Technology degree program at Berkeley College. 
"Helping sick patients has always been something I was passionate about so I explored my options and discovered surgical technology. I love what I do," Perez said. In July of last year, she started working as a certified surgical technologist in the operating rooms. Due to the COVID-19 crisis, however, now she is working in the Mount Sinai St. Luke's Emergency Department.
"Because of the pandemic, a lot of us have been floating to different units of the hospital to help out," Perez explained. "I'm grateful for that because I was able to meet many people who have taught me new things. Learning and working in the Emergency Department has made me decide to further my education and become a registered nurse." 
Perez said her experiences at Mount Sinai St. Luke's have taught her about the importance of working as a team. "At the end of the day, our main concern is the health and safety of patients …What keeps me going is knowing that I'm making a difference in someone's life. I learn something new from doctors or nurses every day whether I am in surgery or not."
"Whenever I learn something new and I am able to apply it to my work, that is the moment I feel proud," she said. "I am also proud when patients thank me for my help in their care. It really is a great feeling knowing that I am able to help." 
The future of healthcare also inspires Perez. "The technology in healthcare is changing every single day. More and more surgeries are booked as robotic cases, which is where I work a lot," Perez said. "Our oncology and bariatric doctors have converted all their surgeries as robotic ones. It truly is amazing." 
Read More about Berkeley College Efforts to Fight COVID-19
Berkeley College is responding to community needs during the coronavirus COVID-19 crisis, both as healthcare workers in the trenches and by donating vital supplies to area hospitals and emergency management efforts.
In April, Berkeley College, donated more than 50,000 medical supplies from its School of Health Studies toward emergency response efforts to fight COVID-19. Berkeley College faculty, students and alumni are currently serving on the frontlines in the fight against COVID-19, at medical centers including New York-Presbyterian Hospital; Mount Sinai Health System; Columbia University Irving Medical Center and others. Click here to read a story about Surgical Technology graduate Niurka Pelaez, CST, a member of the healthcare team at Hackensack University Medical Center. Click here to read a story about Nicole Decarmine, who provides compassionate after-life care as a mortuary technician at Queens Hospital Center.
About Berkeley College
Berkeley College, founded in 1931, is a career-focused institution accredited by the Middle States Commission on Higher Education that offers students Master's, Bachelor's, and Associate's degree and Certificate programs in more than 20 career fields. The College has campuses in Midtown Manhattan and White Plains, NY, as well as in Newark, Paramus, Woodbridge and Woodland Park, NJ, with more than 5,700 students enrolled. In addition, Berkeley College Online® serves a global population. U.S. News & World Report has named Berkeley College among the Best Colleges for Online Bachelor's Programs and among the Best Online Bachelor's Programs for Veterans, for seven consecutive years. The website address is www.BerkeleyCollege.edu
The mission of Berkeley College is to empower students to achieve lifelong success in dynamic careers.