Empowering lives for 90 years!
Berkeley College Salutes America's Fallen Heroes by Placing 1,000 Flags at NJ Cemetery on Memorial Day Weekend

FOR IMMEDIATE RELEASE
Wednesday, May 27, 2020
BERKELEY COLLEGE SALUTES AMERICA'S FALLEN HEROES
BY PLACING 1,000 FLAGS AT NJ CEMETERY
ON MEMORIAL DAY WEEKEND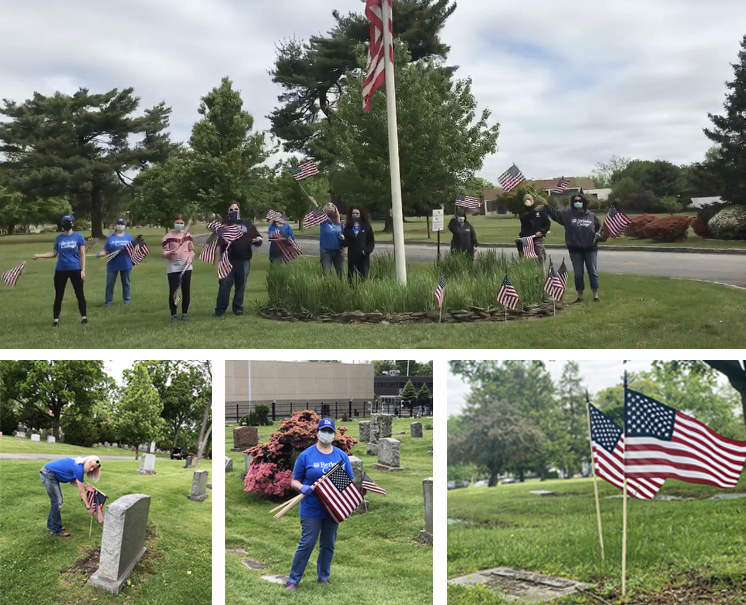 Share the News: @BerkeleyCollege #BerkeleyCares #MemorialDay2020
Photo Caption: Berkeley College honored the men and women who lost their lives serving in the U.S. military by placing more than 1,000 American flags at the graves of veterans on Memorial Day weekend. The visit to East Ridgelawn Cemetery in Clifton, NJ, was part of the College's Berkeley Cares initiative. The event was held during what is typically the College's Community Service Week, which was postponed due to COVID-19. (Top) Senior leadership and members of the College's Community Service Week Planning Committee prepare to place more than 1,000 flags at East Ridgelawn Cemetery. (Below) Pattie Cowan, Professor, English, School of Liberal Arts (left) and Judy Bassford, Associate, High School and Community Relations (center) place flags at the graves of veterans.