Aspiring CPA Overcomes Barriers to Graduate with Honors

FOR IMMEDIATE RELEASE
Monday, June 8, 2020
 ASPIRING CPA OVERCOMES BARRIERS TO
GRADUATE WITH HONORS 
"Success means achieving more than what you expect and being able to pay it forward."
– Njaraharisoa Ramarolahy, Berkeley College Graduate, Class of 2020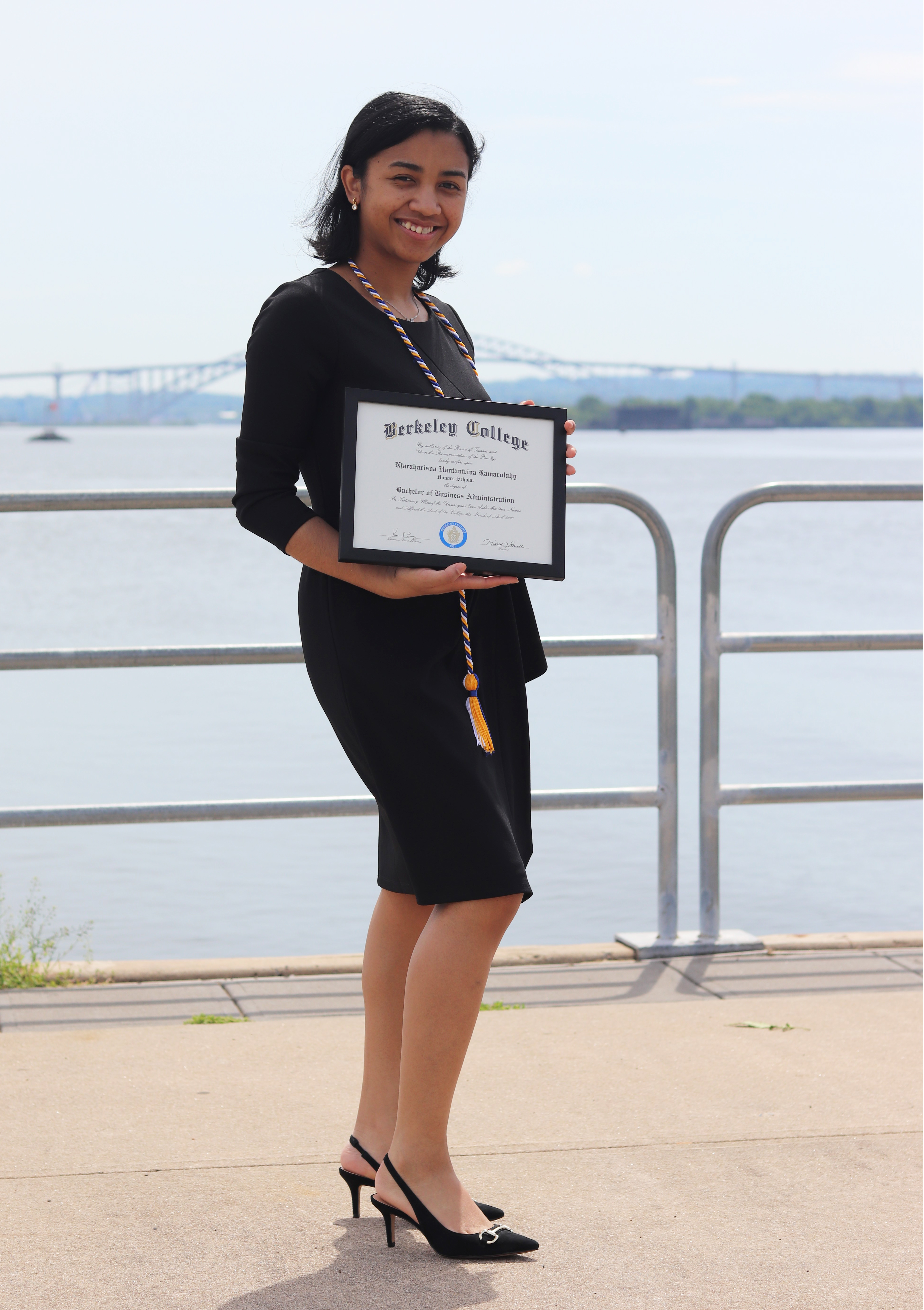 Share the News: @BerkeleyCollege #BerkeleyGrad2020 #NewsBerkeley 
Njaraharisoa Ramarolahy faced many challenges when she arrived in the United States from Madagascar five years ago. But her perseverance paid off on Friday, June 5, when she received a Bachelor of Business Administration in Accounting – with honors – from Berkeley College. 
"My advice would be to never give up, no matter what happens in your life," Ramarolahy said. "Failing is not an option. Success means achieving more than what you expect and being able to pay it forward." 
Arriving in the United States as a high school student, Ramarolahy, the oldest of four children, had to repeat her junior year, while she struggled to learn English rather than the French and Malagasy that were spoken in her home country. 
At Berkeley College, Ramarolahy flourished as she pursued a degree in Accounting and was inducted into the National Society of Leadership and Success. Though she still found public speaking a challenge, Ramarolahy forced herself out of her comfort zone, enrolling in courses that required presentation skills. 
"Berkeley College has many amazing teachers who taught me the value of hard work," she said. "There are many tools that can help me succeed, and all I needed to do was reach out." 
Ramarolahy, 22, a resident of Elizabeth, NJ, said she decided to pursue accounting because it is needed in almost all industries, and provides many career options as well as job security. Following her graduation she plans to study to become a Certified Public Accountant, and has goals to establish herself as a tax consultant. 
During her time at Berkeley College, Ramarolahy completed an internship with Leaders are Born, LLC, a Brooklyn-based network of entrepreneurs and professionals, where she worked with the Chief Financial Officer. 
She also presented a thesis through the Berkeley College Honors Program, a highly selective opportunity that exposes students to theme-based interdisciplinary seminars. Her topic of focus examined the controversial practice of female circumcision within the theme of "Unspoken Barriers in Social Justice." Ramarolahy was recognized with the "MVP Award" for her cumulative work in the Honors Program. 
Ramarolahy also emphasized the value of community service and volunteerism during her college career. Through the Honors Program, she served meals at local nonprofits, including through the #Hashtag Lunchbag initiative in New York City. 
"I think it's important to give back to our community because that's where we're from and it has played a part in who we are," she said. "We see many forms of inequality and injustice, so we all should contribute to bridge the gap." 
As a student, Ramarolahy also assisted at large events, including the annual Berkeley College Commencement ceremony – some of her most celebrated memories. On June 5, Ramarolahy was recognized herself as a graduate. 
"The feeling of accomplishment and having people acknowledge that we achieved something is very rewarding," she said. 
About the Virtual Ceremony 
Berkeley College held a virtual Commencement ceremony to celebrate more than 2,200 graduates receiving Certificates, Associate's, Bachelor's and Master's degrees on Friday, June 5, 2020. The ceremony was an opportunity for graduates to share the milestone with family, friends and the Berkeley College community remotely. 
Each Berkeley College student was invited to create a Commencement slide featuring personal messages, videos and photos that were shared during the virtual ceremony. 
Virtual attendees heard from Berkeley College speakers and honorees, including special video messages from New York State Assembly Speaker Carl Heastie and U.S. Senator Chuck Schumer. 
The Berkeley College Class of 2020 reflects a diverse population of graduates who will join a network of more than 60,000 Berkeley College alumni eligible to receive lifetime career assistance.
About Berkeley College
Berkeley College, founded in 1931, is a career-focused institution accredited by the Middle States Commission on Higher Education that offers students Master's, Bachelor's, and Associate's degree and Certificate programs in more than 20 career fields. The College has campuses in Midtown Manhattan and White Plains, NY, as well as in Newark, Paramus, Woodbridge and Woodland Park, NJ, with more than 5,700 students enrolled. In addition, Berkeley College Online® serves a global population. U.S. News & World Report has named Berkeley College among the Best Colleges for Online Bachelor's Programs and among the Best Online Bachelor's Programs for Veterans, for seven consecutive years. The website address is www.BerkeleyCollege.edu
The mission of Berkeley College is to empower students to achieve lifelong success in dynamic careers.