Berkeley College to Honor Veteran Josephine Cornacchia as 2020 Outstanding Student Award Recipient

FOR IMMEDIATE RELEASE
Tuesday, June 2, 2020
BERKELEY COLLEGE TO HONOR VETERAN JOSEPHINE CORNACCHIA
AS 2020 OUTSTANDING STUDENT AWARD RECIPIENT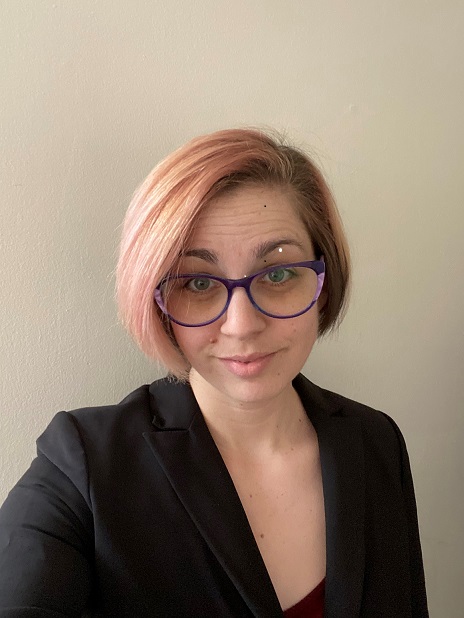 Join the Conversation
: @BerkeleyCollege #BerkeleyGrad2020 #NewsBerkeley
Photo Caption
:  
Josephine Cornacchia of Woodland Park, NJ, was named 2020 Outstanding Student by Berkeley College.
Berkeley College graduate Josephine Cornacchia of Woodland Park, NJ, will receive the Outstanding Student Award during a virtual Commencement ceremony on June 5, 2020. The award is presented annually to a graduate who has met high standards of academic excellence while overcoming personal, professional or financial obstacles. 
Cornacchia is best described as compassionate and amazingly determined, according to Dallas Reed, PhD, Vice President, Student Development and Campus Life, Berkeley College. "She is tenacious, with a can-do spirit, always willing to lend a helping hand and encouraging others to do the same," Reed said. "Today as a 35-year-old veteran, Josephine stands a proud mother of two beautiful children and a college graduate who has overcome addiction and a multitude of life challenges.  She lives a new life as an example that your past does not determine your present or your future."
Growing up in Bohemia, NY, Cornacchia was faced with many challenges. Her father had been disabled by a stroke when she was 12, and at age 15, after her mother lost her battle with cancer,  Cornacchia and her sister went to live with her aunt and uncle, while her brother also relocated to live with other relatives. Trying to do her best under these circumstances, Cornacchia graduated high school and enlisted in the U.S. Air Force.  She served five years, mostly in Georgia, in satellite communications for a combat communications squadron. 
A few years later she returned to NJ and entered a program at the Community Kitchen of Eva's Village, an organization that supports people struggling with poverty, hunger, homelessness and addiction. There she was able to earn a Certificate in Culinary Arts. One good thing led to another. 
"One of my instructors at Eva's Village, who also was a veteran, recommended Berkeley College and it looked like the right path for me," Cornacchia said.  Within two months, she enrolled at Berkeley College in Woodland Park, NJ, and began earning her Bachelor's degree in Business Administration – Management during the winter 2017 semester.  She also became vice president of the New Jersey Veterans Club. 
"I was so pleased to earn some of my college credit online toward my degree program at Berkeley College," Cornacchia said.  "That gave me the convenience of staying at home."  She has earned President's or Dean's List honors every semester. 
Because she is a success story, Cornacchia was one of five honored by Eva's Village at its Visions of Hope Gala in November 2019.   
Cornacchia has a favorite quote from author Joyce Meyer—one certainly applicable to her life.  "If you are facing a new challenge or being asked to do something that you have never done before, don't be afraid to step out. You have more capability than you think you do, but you will never see it unless you place a demand on yourself for more."
About the Virtual Ceremony
Berkeley College will hold a virtual Commencement ceremony to celebrate more than 2,200 graduates receiving Certificates, Associate's, Bachelor's and Master's degrees on Friday, June 5, 2020. The ceremony will be an opportunity for graduates to share the milestone with family, friends and the Berkeley College community remotely.
Each Berkeley College student was invited to create a Commencement slide featuring personal messages, videos and photos that will be shared during the virtual ceremony.
Virtual attendees will hear from Berkeley College speakers and honorees, including special video messages from New York State Assembly Speaker Carl Heastie and U.S. Senator Chuck Schumer.
The Berkeley College Class of 2020 reflects a diverse population of graduates who will join a network of more than 60,000 Berkeley College alumni eligible to receive lifetime career assistance. Berkeley College offers a career-focused educational experience with students able to take advantage of traditional classes and online education, with programs in more than 20 fields of study.
About Berkeley College
Berkeley College, founded in 1931, is a career-focused institution accredited by the Middle States Commission on Higher Education that offers students Master's, Bachelor's, and Associate's degree and Certificate programs in more than 20 career fields. The College has campuses in Newark, Paramus, Woodbridge and Woodland Park, NJ, as well as in Midtown Manhattan and White Plains, NY, with more than 5,700 students enrolled. In addition, Berkeley College Online® serves a global population. U.S. News & World Report has named Berkeley College among the Best Colleges for Online Bachelor's Programs and among the Best Online Bachelor's Programs for Veterans, for seven consecutive years. The website address is www.BerkeleyCollege.edu
The mission of Berkeley College is to empower students to achieve lifelong success in dynamic careers.