Berkeley College Honors Life of Rose Mary Healy, Former President of Berkeley College in White Plains, NY

FOR IMMEDIATE RELEASE
Tuesday, July 21, 2020
BERKELEY COLLEGE HONORS LIFE OF
ROSE MARY HEALY, FORMER PRESIDENT OF BERKELEY COLLEGE IN WHITE PLAINS, NY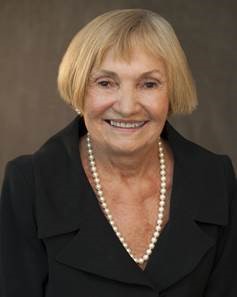 Rose Mary Healy, PhD, who was a guiding light at Berkeley College and part of its defining history for 26 years, passed away on July 20, 2020. Healy was President of Berkeley College there from 1991 to 1995, and served as an ex officio member of the Berkeley College Board of Trustees and as Interim President from 2007 to 2008. Healy was a trusted advisor to Chairman Emeritus Larry L. Luing and a Special Assistant to several Berkeley College presidents.
"Rose Mary's leadership was instrumental in Berkeley College's transition to a baccalaureate degree granting institution. Her legacy will continue into the future," said Kevin L. Luing, Chairman of the Berkeley College Board of Trustees. 
Michael J. Smith, President of Berkeley College, said Healy was a brilliant and gifted leader. "She was a friend and mentor to many Berkeley College administrators. Her wisdom, work ethic and love of Berkeley will always be remembered with affection and gratitude."
Healy earned a Doctorate from the University of Toledo, a Master of Arts from Eastern Michigan University, and a Bachelor of Arts from Salve Regina College. In 2005, she was inducted into the Academy of Women Leaders of the YWCA-NYC. She was a member of a number of academic and professional organizations including Phi Delta Kappa, Sigma Delta Pi, and Sigma Phi honor societies. 
In January 1996, Healy was appointed Berkeley College Senior Vice President of Academic Affairs in New York City. She was named Provost in 2005, and from 2009 to 2017, she served as Special Assistant to the President.
From the late 1990s to the 2000s, Healy brought a number of Berkeley College academic accreditations to the forefront that resulted in the authorization of the Associate's and Bachelor's degree offerings in areas that included Business Administration, Interior Design, Paralegal Studies, Justice Studies and Health Services. She steered the transition of Berkeley College New York and New Jersey to unify under one president, and was instrumental in preparing the College for authorizations by the New York State Board of Regents and accreditations by the Middle States Commission on Higher Education. 
During a recognition ceremony for 20 years of service held in 2011, Healy said her fondest memories of Berkeley were the graduation ceremonies.
"Graduations always meant a great deal to me," she wrote. "I am delighted when I see that students have been transformed into confident, happy individuals with promising futures, and I am proud that, as a Berkeley associate, I have had an opportunity to contribute in some way to their development."
Healy, a resident of White Plains, is survived by her husband, Vincent Dougherty.
About Berkeley College
Berkeley College, founded in 1931, is a career-focused institution accredited by the Middle States Commission on Higher Education that offers students Master's, Bachelor's, and Associate's degree and Certificate programs in more than 20 career fields. The College has campuses in Midtown Manhattan and White Plains, NY, as well as in Newark, Paramus, Woodbridge and Woodland Park, NJ, with more than 5,700 students enrolled. In addition, Berkeley College Online® serves a global population. U.S. News and World Report has named Berkeley College among the Best Colleges for Online Bachelor's Programs and among the Best Online Bachelor's Programs for Veterans, for seven consecutive years. The website address is www.BerkeleyCollege.edu  
The mission of Berkeley College is to empower students to achieve lifelong success in dynamic careers.