Women Emerge as Transformational Leaders Amid COVID-19 Crisis

FOR IMMEDIATE RELEASE
Wednesday, July 29, 2020
WOMEN EMERGE AS TRANSFORMATIONAL LEADERS
AMID COVID-19 CRISIS


Diverse Panelists Emphasize Flexibility and Collaboration
during Webinar Hosted by Newark Regional Business Partnership
and Sponsored by Berkeley College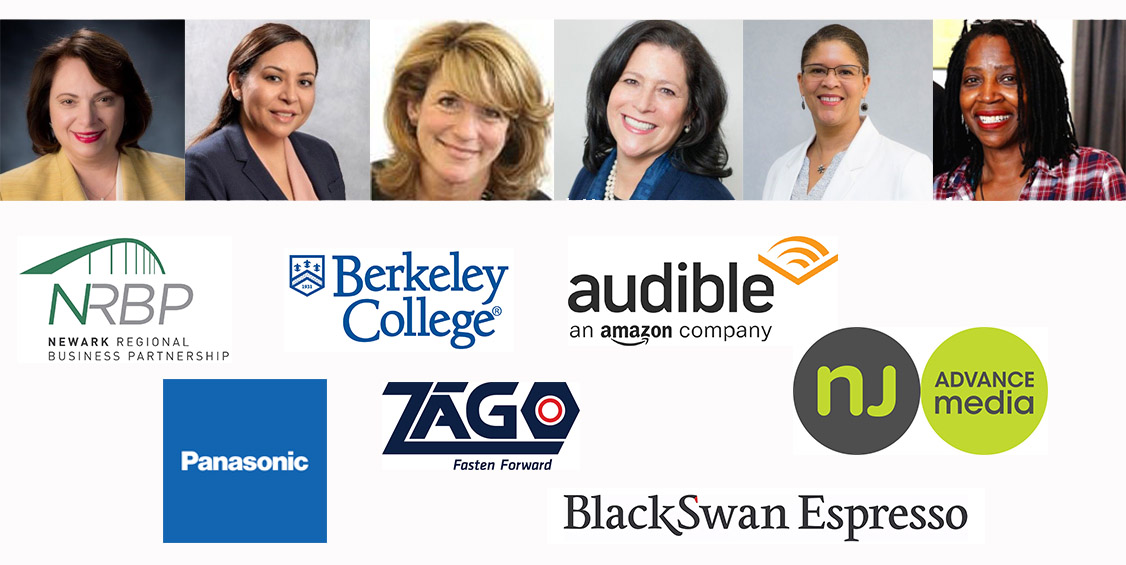 Share the News: @BerkeleyCollege @NewarkRBP @PanasonicUSA @audible_com @ZaGOMfgCo @NJAdvanceMedia @BlackSwanEsprso #NewsBerkeley
Click here to read a recap with words of wisdom from the panelists and a link to the full webinar.
Women leaders are stepping up to transform their organizations during the COVID-19 crisis, said speakers on a diverse panel during "Profiles of Women Leading in a Crisis," a webinar hosted by the Newark Regional Business Partnership on July 29, 2020. Berkeley College sponsored the webinar, which featured panelists from global companies such as Audible and Panasonic, as well as Newark-based small businesses.
"These transformational women are leading their organizations through the COVID-19 pandemic by reimagining the future of work. They are doing it with empathy, by collaborating, by being innovative, and by putting people first," said Angela Harrington, Vice President, Communications and External Relations, Berkeley College, who moderated the event.
Barbara Kauffman, Executive Vice President and Chief Operating Officer, Newark Regional Business Partnership, said crises provide an opportunity for women to use their strengths and capture opportunities for advancement.
"There is very strong evidence that companies that have gender diversity, and more diversity in general, are likely to outperform in every measure, from consumer loyalty to share price," Kauffman said.
A Different Way to Do Business
Laura Mashtaler, owner of Black Swan Espresso in Newark, NJ, said her four-year-old business had to pivot quickly and move operations online instead of relying on foot traffic. More than ever, she relies on business leaders in the community, such as NRBP, for resources and direction.
"The model has changed," Mashtaler said. "We're looking more to network with other organizations and people within the community to keep the business alive."
Gail Friedberg, CEO of ZaGO Manufacturing, said she emphasized consistent messaging to instill confidence in her essential workforce, which manufactured parts for ventilators during the COVID-19 pandemic.
"At the beginning of the crisis, there was very inconsistent messaging coming from the federal government, regionally and locally," Friedberg said. "The onus was on business leaders to be consistent with their employees. We needed to assure them that we were going to keep them safe."

Photo Caption: Women leaders are stepping up to transform their organizations during the COVID-19 crisis, said speakers on a diverse panel during "Profiles of Women Leading in a Crisis," a webinar hosted by the Newark Regional Business Partnership on July 29, 2020.
Supporting the Team and the Community at-Large
Michele Hayes, Associate Vice President of Marketing, NJ Advance Media, said it was important to listen to employees as they adjusted to their new reality of working from home. "Being connected and supportive goes a long way to help people manage what they need to manage," Hayes said. "It's a delicate balance, but we've taken a lot of initiative to allow flexibility to make sure everyone moves through this together and intact."
Alejandra Ceja, Director of Corporate Social Responsibility, Panasonic North American and Executive Director, Panasonic Foundation, said recent months have given her a chance to reflect on her own career journey and how to focus her leadership on advocacy.
"COVID has brought a lot of attention to the disparities that exist in our communities of color," she said. "We cannot lose sight that we have to restore our communities and put a lens on issues such as educational equity and the future workforce."
Many larger corporations are also supporting small businesses that may be suffering due to the crisis. Anne Erni, Chief People Officer, Audible, spoke about the Newark Working Kitchens initiative, which has delivered 290,000 meals to vulnerable populations, while sustaining Newark-area restaurants.
"We want to drive positivity, because we will get through this – we just need to work very closely together," Erni said, adding that these qualities of empathy and collaboration are what make women strong leaders in a crisis.
About Berkeley College

Berkeley College, founded in 1931, is a career-focused institution accredited by the Middle States Commission on Higher Education that offers students Master's, Bachelor's, and Associate's degree and Certificate programs in more than 20 career fields. The College has campuses in Midtown Manhattan and White Plains, NY, as well as in Newark, Paramus, Woodbridge and Woodland Park, NJ, with more than 5,700 students enrolled. In addition, Berkeley College Online® serves a global population. U.S. News & World Report has named Berkeley College among the Best Colleges for Online Bachelor's Programs and among the Best Online Bachelor's Programs for Veterans, for seven consecutive years. The website address is www.BerkeleyCollege.edu.
The mission of Berkeley College is to empower students to achieve lifelong success in dynamic careers.
About the Newark Regional Business Partnership
The Newark Regional Business Partnership (NRBP) focuses on meeting the needs of members with interests in the Newark region. About half of NRBP's members are Newark-based with the balance throughout the metropolitan area. More than 435 organizations are active members including corporations, professionals, small businesses, universities and not-for-profits. NRBP is a voice for member businesses, focusing on issues that impact economic growth and vitality in the Newark business community and the region. The website address is www.newarkrbp.org.