Berkeley College Appoints Diversity, Equity and Inclusion Task Force

FOR IMMEDIATE RELEASE
Tuesday, August 18, 2020
BERKELEY COLLEGE APPOINTS
DIVERSITY, EQUITY AND INCLUSION TASK FORCE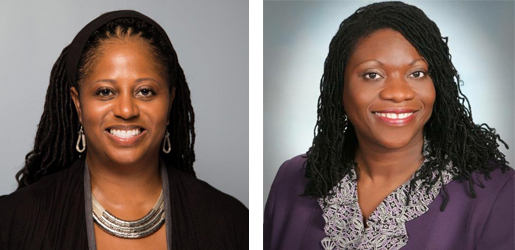 Photo Caption: Dallas Reed, PhD, Vice President, Student Development and Campus Life, and Moya Bansile, JD, Professor, Legal Studies, School of Professional Studies, will lead Berkeley College's Diversity, Equity and Inclusion Task Force as Co-Chairs.
Berkeley College recently announced that it has established a Diversity, Equity and Inclusion Task Force (DEITF), in order to remain responsive to local and national challenges of racial equality, systemic racism and social justice.
"It is important for all educational institutions and communities to move in an actionable direction to combat systemic racism and foster inclusive communities," said Michael J. Smith, President of Berkeley College. "We know we can and must do better to end racism. This Task Force ensures the College maintains an active role in cultivating and sustaining a culture for education and career development that is reflective of our diversity and mission."
The 12-member Task Force, comprised of faculty, staff and administrators, will be in close contact with all members of the Berkeley College community, including students and alumni, as they complete a campus climate survey and work toward developing an action plan to establish and measure institutional priorities to advance diversity, equity and inclusion efforts both internally and externally.
"One characteristic of Berkeley College is our diversity," President Smith said. "We understand the need for an equitable and just society where everyone is treated with respect and afforded equal opportunities for education and employment."
Co-Chairs of the Task Force are Moya Bansile, JD, Professor, Legal Studies, School of Professional Studies, and Dallas Reed, PhD, Vice President, Student Development and Campus Life.
"Berkeley College proudly serves a very diverse student population, and we must make certain that diversity, equity and inclusion is woven throughout our practices, policies, staffing and decision making," Reed said. "We are living in unprecedented times, and that requires unprecedented action and assurance of equality and representation for everyone. There is no better place for that to happen than in higher education."
Bansile added, "The time has come for each individual to examine their roles in perpetuating discrimination, bias and bigotry – of any form and in any manner, whether concealed or obvious – and to be a part of the solution in remediating and eradicating these societal wrongs."
About Berkeley College
Berkeley College, founded in 1931, is a career-focused institution accredited by the Middle States Commission on Higher Education that offers students Master's, Bachelor's, and Associate's degree and Certificate programs in more than 20 career fields. The College has campuses in Midtown Manhattan and White Plains, NY, as well as in Newark, Paramus, Woodbridge and Woodland Park, NJ, with more than 5,700 students enrolled. In addition, Berkeley College Online® serves a global population. U.S. News & World Report has named Berkeley College among the Best Colleges for Online Bachelor's Programs and among the Best Online Bachelor's Programs for Veterans, for seven consecutive years. The website address is www.BerkeleyCollege.edu.
The mission of Berkeley College is to empower students to achieve lifelong success in dynamic careers.