Berkeley College Chairman Kevin L. Luing Appears on "Lessons in Leadership" Broadcast

FOR IMMEDIATE RELEASE
Wednesday, August 12, 2020
BERKELEY COLLEGE CHAIRMAN KEVIN L. LUING APPEARS ON "LESSONS IN LEADERSHIP" BROADCAST


 "You have got to keep evolving … especially in higher education."
- Kevin L. Luing, Berkeley College Board Chairman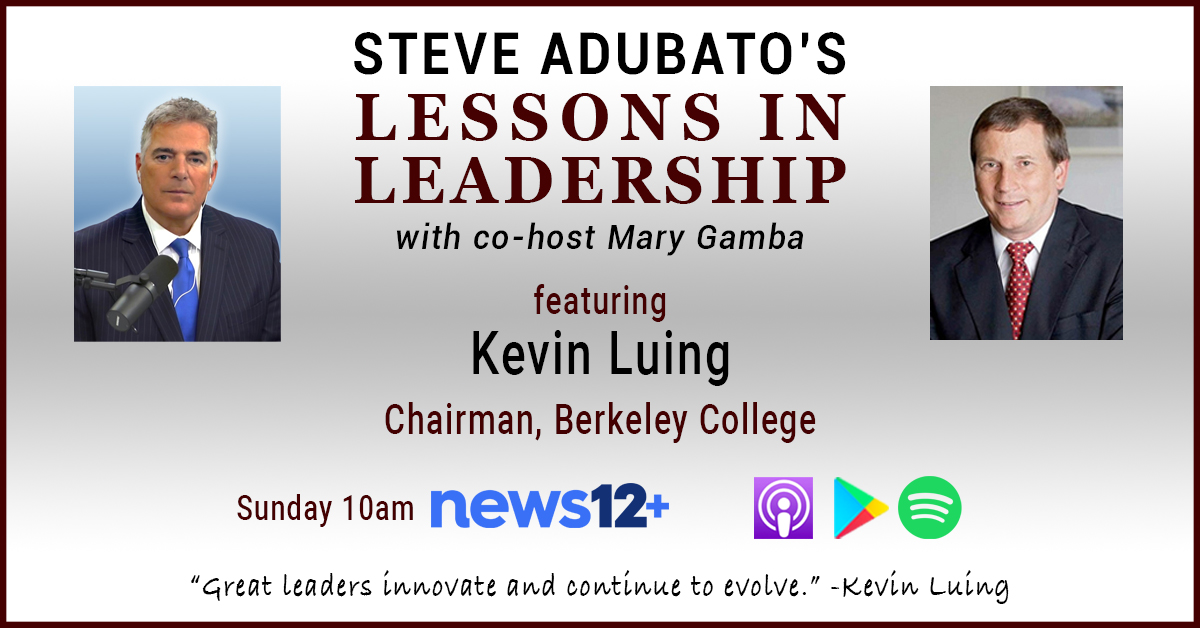 Share the News: @BerkeleyCollege @SteveAdubato @News12 #NewsBerkeley #Leadership
Kevin L. Luing, Berkeley College Board Chairman (above, center), was a recent guest on the broadcast of "Lessons in Leadership" with Steve Adubato (above, left) and Mary Gamba, Executive Producer (above, right) on August 9, 2020. Luing acknowledged that the COVID-19 health crisis accelerated the push towards online learning. This fall, students attending Berkeley College can expect a hybrid approach, unless they choose to take courses online entirely.
When it comes to higher education, "You have to be prepared for anything," Luing said.  In describing how the institution "rolled with the punches," Luing said that the hybrid approach will allow students to alternate their weekly classes on-site and online. Sections from different campuses will consolidate during their online weeks, yet allow students to meet in their various sections at the different campuses during their on-site week classes.
Luing also stressed that in order to thrive, businesses need to return to their roots and "think small."  The College is rethinking how to use its space innovatively by welcoming partnerships with community and like-minded organizations. Berkeley College has campuses in Midtown Manhattan and White Plains, NY, as well as in Newark, Paramus, Woodbridge and Woodland Park, NJ. Only online classes will be offered in White Plains in the fall.
Luing said that he learns from other leaders as models, as well as from his relationships with business chambers throughout the region. He is a strong supporter of staying engaged as an individual and as an organization.
To view the entire interview click here and scroll right to the 16-minute mark.
About Berkeley College
Berkeley College, founded in 1931, is a career-focused institution accredited by the Middle States Commission on Higher Education that offers students Master's, Bachelor's, and Associate's degree and Certificate programs in more than 20 career fields. The College has campuses in Midtown Manhattan and White Plains, NY, as well as in Newark, Paramus, Woodbridge and Woodland Park, NJ, with more than 5,700 students enrolled. In addition, Berkeley College Online® serves a global population. U.S. News & World Report has named Berkeley College among the Best Colleges for Online Bachelor's Programs and among the Best Online Bachelor's Programs for Veterans, for seven consecutive years. The website address is www.BerkeleyCollege.edu
The mission of Berkeley College is to empower students to achieve lifelong success in dynamic careers.