Berkeley College Brings Virtual Resources to Further Manhattan Chamber of Commerce's "Pivot to Win" Campaign

FOR IMMEDIATE RELEASE
Wednesday, September 2, 2020
BERKELEY COLLEGE BRINGS VIRTUAL RESOURCES TO FURTHER MANHATTAN CHAMBER OF COMMERCE'S 'PIVOT TO WIN' CAMPAIGN


September Webinars Focus on Virtual Employment, Innovative Company Practices, and Women in the Workplace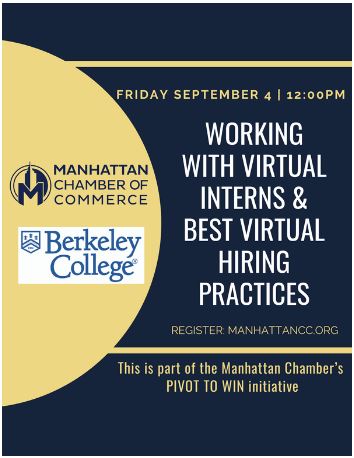 Share the News: @BerkeleyCollege  @ManhattanCofC
As Berkeley College embarks on its 90th academic year as a career-focused institution of higher learning, the need to support businesses and provide well-prepared professionals for today's demanding workforce has never been greater. Continuing to support a collaborative approach, Berkeley College will offer three free virtual workshops in collaboration with the Manhattan Chamber of Commerce in support of its "Pivot to Win" campaign in September. Announced in June 2020, the "Pivot to Win" campaign offers resources, networking, and other support to ensure that small and mid-sized businesses can thrive in the COVID-19 era. The initiative is part of the Chamber's work to support businesses facing unprecedented disruption, offering new resources to help businesses survive and thrive.
"Unprecedented times call for unprecedented effort, and we all must do our part," said Michael J. Smith, President of Berkeley College. 
"We are always pleased to work with Berkeley College and we are really excited about these events and how they will help our community," said Jessica Walker, CEO of the Manhattan Chamber of Commerce.
Representatives from the College have been conducting virtual workshops for members of various chambers in New York and New Jersey to help business and community organizational leaders learn how to boost productivity, begin to pivot and once again, succeed. "Berkeley College is engrained into the fabric of New York City. We are here to help," Smith added.
Topics for the September programs include "Working with Virtual Interns and Best Virtual Hiring Practices," on September 4, 2020; "Developing a Culture of Innovation in The Work Place," on September 15, 2020; and "Women in Leadership: Creating a Diverse Online Presence to Thrive in the New Normal," on September 29, 2020. All of these will be held from 12 noon to 1 p.m. To see the entire schedule and to register click here.
@BerkeleyCollege  @ManhattanCofC  
About Berkeley College
Berkeley College, founded in 1931, is a career-focused institution accredited by the Middle States Commission on Higher Education that offers students Master's, Bachelor's, and Associate's degree and Certificate programs in more than 20 career fields. The College has campuses in Midtown Manhattan and White Plains, NY, as well as in Newark, Paramus, Woodbridge and Woodland Park, NJ, with more than 4,900 students enrolled. In addition, Berkeley College Online® serves a global population. U.S. News & World Report has named Berkeley College among the Best Colleges for Online Bachelor's Programs and among the Best Online Bachelor's Programs for Veterans, for seven consecutive years. The website address is www.BerkeleyCollege.edu
The mission of Berkeley College is to empower students to achieve lifelong success in dynamic careers.