New Jersey Business & Industry Association Honors Berkeley College Students among 'Rising Stars' in Business Leadership

FOR IMMEDIATE RELEASE
Thursday, September 10, 2020
NEW JERSEY BUSINESS & INDUSTRY ASSOCIATION HONORS
BERKELEY COLLEGE STUDENTS AMONG 'RISING STARS'
IN BUSINESS LEADERSHIP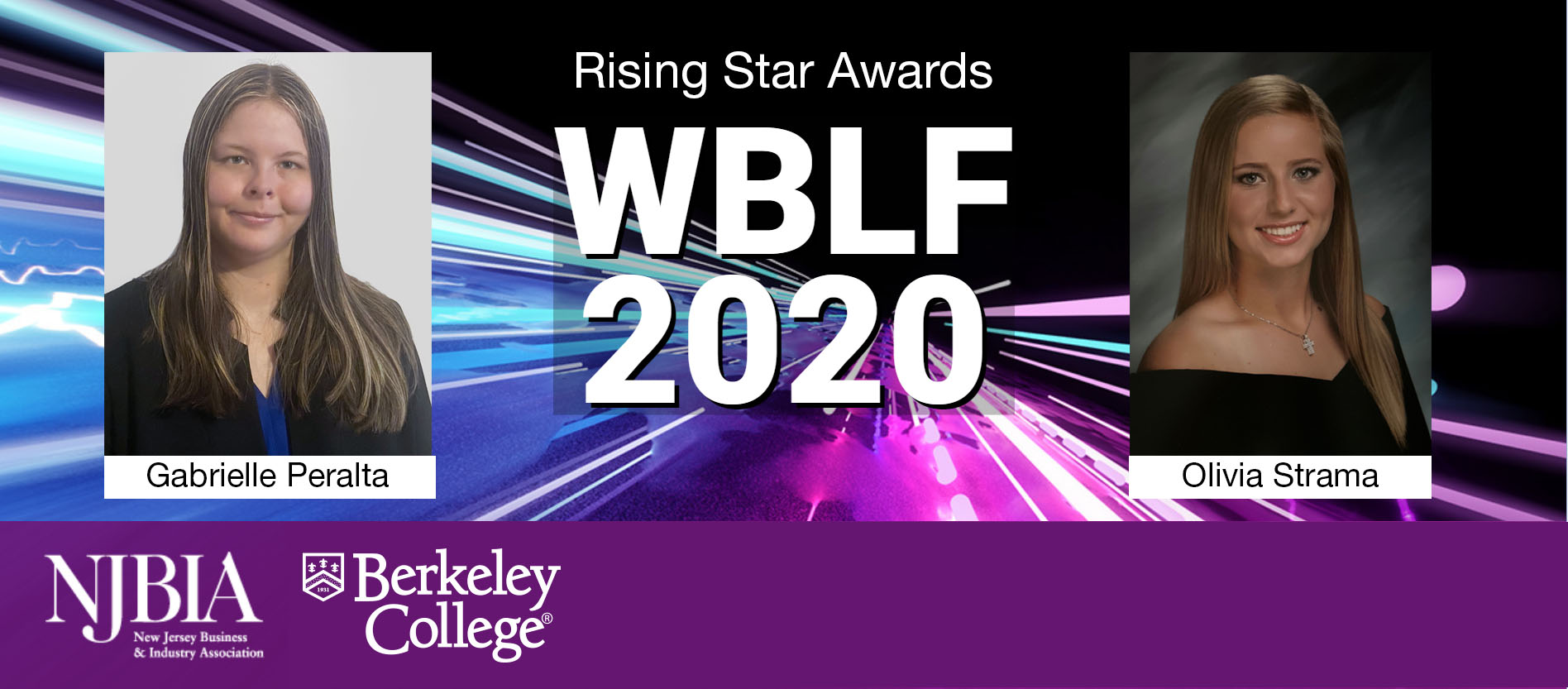 Share the News: @BerkeleyCollege @NJBIA @PanasonicNA #WomenBusinessLeadersForum #NJWomen 
The New Jersey Business & Industry Association (NJBIA) recently recognized two Berkeley College students as recipients of its Rising Star Award, honoring future business leaders pursuing a college education. Gabrielle Peralta of Newark, NJ, and Olivia Strama of Wallington, NJ, were among five students to receive the award on September 10, 2020, during the virtual NJBIA Women Business Leaders Forum. 
"NJBIA's Rising Star Awards honor students who have demonstrated a passion for their career path, academic success, and a commitment to volunteering in their communities during their undergraduate careers," said Michele Siekerka, NJBIA President and CEO. "This year, we are proud to recognize the accomplishments of five women who have distinguished themselves at New Jersey institutions of higher education and are destined for great professional success." 
Gabrielle Peralta, a U.S. Marine Corps veteran, will graduate from Berkeley College with a degree in Business Administration – Management in May 2021. In her application, Peralta wrote about how the leadership skills she learned in the military inspired her to pursue a career in business. She plans to be a small business owner, operating her own line of bakery trucks. 
Olivia Strama will graduate in May 2023 with a degree in Justice Studies – Criminal Justice, with a concentration in Homeland Security. As a freshman, she was accepted as an intern with the Paramus Police Department, where she learned about the importance of community relations and gained the confidence to pursue a career in this male-dominated field. 
Other Rising Star recipients include Clara Chen, a Harvard University graduate currently training at Hackensack Meridian School of Medicine; Ankita Kodali, a senior at Rutgers University – New Brunswick, where she is a double major in accounting and finance, with a minor in economics; and Lauren Valentine, a graduate of Boston College, who is training at Hackensack Meridian School of Medicine. Panasonic was the sponsor of this year's Rising Star Awards.
Berkeley College is a co-sponsor of the NJBIA Women Business Leaders Forum, taking place from September 8 to 11, 2020. On Friday, September 11, Berkeley College professionals will present a session titled "Online Strategy: Creating a Diverse Online/Social Media Presence that is Memorable and Helps Women Thrive in the New Normal." Participants will learn how to build their brand, improve their on-camera confidence, and grow their businesses. Berkeley College Career Counselors are also providing one-on-one virtual appointments on career coaching, networking, resume building and LinkedIn. Click here to register or to view the full agenda. 
About Berkeley College
Berkeley College, founded in 1931, is a career-focused institution accredited by the Middle States Commission on Higher Education that offers students Master's, Bachelor's, and Associate's degree and Certificate programs in more than 20 career fields. The College has campuses in Newark, Paramus, Woodbridge and Woodland Park, NJ, as well as in Midtown Manhattan and White Plains, NY, with more than 5,700 students enrolled. In addition, Berkeley College Online® serves a global population. U.S. News & World Report has named Berkeley College among the Best Colleges for Online Bachelor's Programs and among the Best Online Bachelor's Programs for Veterans, for seven consecutive years. The website address is www.BerkeleyCollege.edu 
The mission of Berkeley College is to empower students to achieve lifelong success in dynamic careers.