Women Entrepreneurship 2020: Melva Miller, Chief Executive Officer, Association for a Better New York
Women Entrepreneurship 2020
Melva Miller, Chief Executive Officer, Association for a Better New York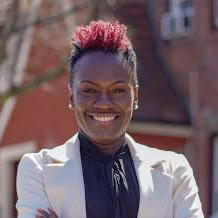 Melva M. Miller is the first Chief Executive Officer. for the Association for a Better New York (ABNY). Working with the Board of Directors, she is responsible for the overall success of the organization through economic development, long-term planning, stakeholder engagement, strategic partnerships and the expansion and evolution of ABNY's membership.
Prior to this role, Miller led the organization's Census 2020 initiative for an accurate count of New York. In addition to her new role, Miller continues to support census efforts underway by the U.S. Census Bureau, State and City of New York, and in coordination with community-based organizations in an effort to help New York City and State achieve the most fair and complete census count possible.
Miller has also served as the Deputy Borough President of Queens, working with the Borough Presidents on moving Queens forward. Her achievements include the creation of the Jamaica NOW Action Plan, a $153 million stakeholder-driven strategy to increase quality employment, economic diversity and financial security in downtown Jamaica. She was also the lead organizer of the Western Queens Tech Strategic Plan, an initiative that produced a five-year, $300,000 planning initiative that produced a blueprint for equitable growth of the Long Island City and Astoria tech ecosystem. Miller has held several senior economic development roles throughout her career, including Director of Economic Development for the Borough of Queens and Executive Director for the Sutphin Boulevard Business Improvement District. She serves on the Boards of the New York City Economic Development Corporation, Habitat for Humanity New York City, and the Greater Jamaica Development Corporation.
Miller holds a Bachelor's degree from John Jay College of Criminal Justice, a Master's degree in Social Work from Hunter College School of Social Work, and recently received a second Master's Degree in Philosophy from The Graduate Center at the City University of New York. She is currently a PhD candidate in the Social Welfare program at CUNY's Graduate Center.