Women Entrepreneurship 2020: Sheena Wright, President and Chief Executive Officer, United Way of New York City
Women Entrepreneurship 2020
Sheena Wright, President and Chief Executive Officer, United Way of New York City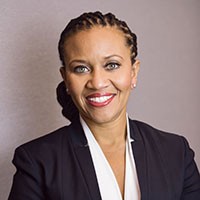 Sheena Wright was named President and CEO of United Way of New York City (UWNYC) in October 2012, the first woman to lead the organization in its 75-year history. UWNYC is a nonprofit, community service organization with a long and rich history of helping people build more self-sufficient lives. As one of the best-known nonprofits and part of the worldwide United Way brand, UWNYC mobilizes our communities to eradicate barriers and create opportunities that improve the lives of lowincome New Yorkers for the benefit of all. Under Wright's leadership, UWNYC focuses on implementing strategies in the areas of education, income, health, and strengthening nonprofits.
Prior to joining UWNYC, Wright served as President and CEO of the Abyssinian Development Corporation, where she was responsible for leading and managing one of the nation's premiere community and economic development organizations. She serves on the board of trustees of the Vera Institute for Justice and the New York City Regional Economic Development Council.
Wright is a graduate of Columbia University, which she entered at age 16, received her law degree from Columbia Law School, and is a member of the New York State Bar. She was born and raised in the South Bronx and now lives in Harlem, NY, with her three sons.