Berkeley College Donates Soccer Goals to Newly Renovated Home Turf Field in Frank D. Zaccaria Memorial Park in Woodland Park, NJ

FOR IMMEDIATE RELEASE
Thursday, April 15, 2021
BERKELEY COLLEGE DONATES SOCCER GOALS TO NEWLY RENOVATED HOME TURF FIELD IN FRANK D. ZACCARIA MEMORIAL PARK IN WOODLAND PARK, NJ
Partnership Benefits the College's Men's Soccer Team and Woodland Park Youth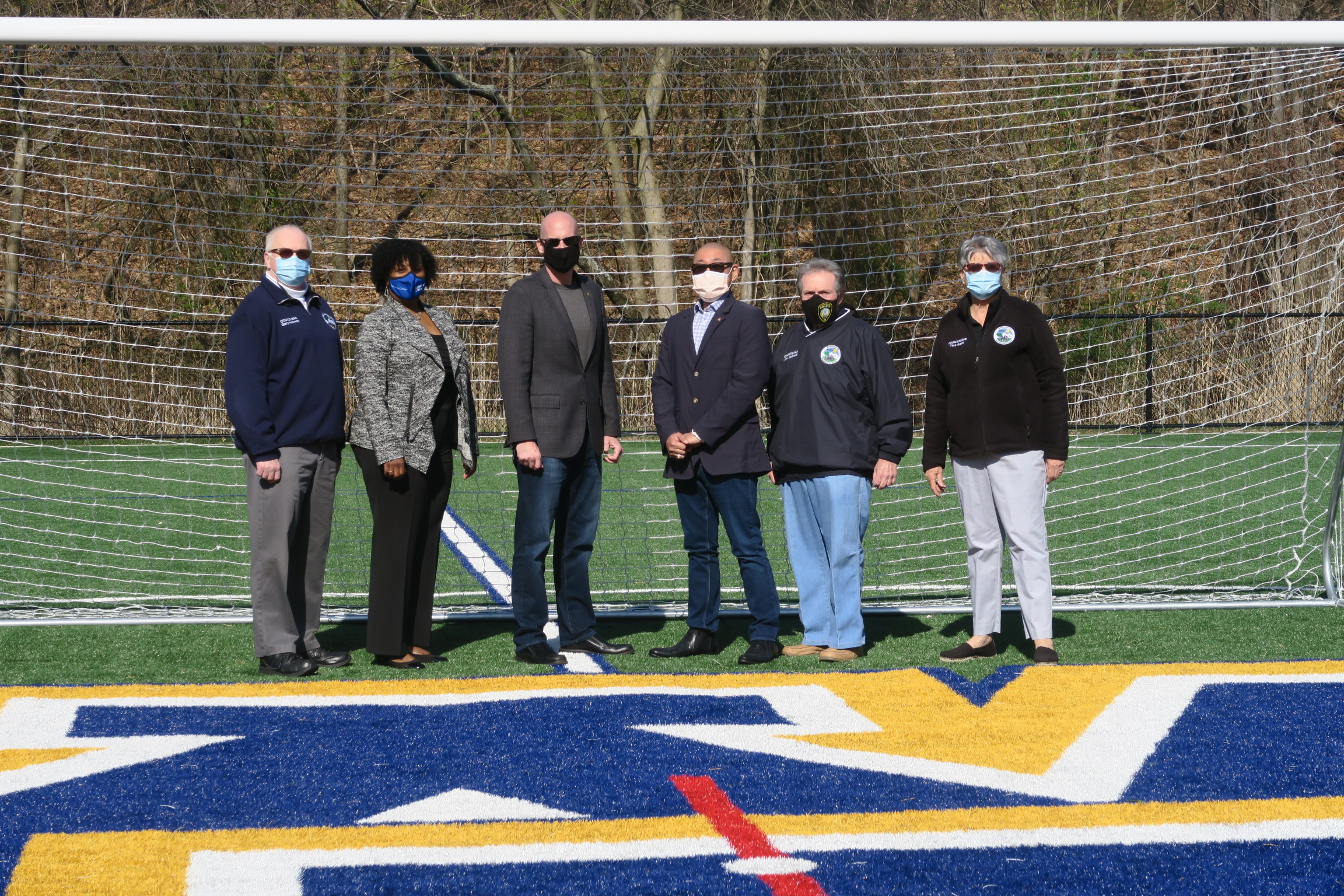 Photo Caption: Berkeley College and Borough of Woodland Park officials pose for a photo in front of a soccer goal donated by the College for use on the Frank D. Zaccaria Memorial Park's newly renovated turf field on Wednesday, April 14, 2021, in Woodland Park, NJ. Pictured from left to right: Woodland Park Councilman Gary W. Holloway; Dallas F. Reed, PhD, Berkeley College Vice President, Student Development and Campus Life; Woodland Park Mayor Keith Kazmark; Andy DeStephano, Berkeley College Director, Athletics; Woodland Park Councilman Joseph Spinelli and Councilwoman Tina Gatti.
Officials from Berkeley College and the Borough of Woodland Park, NJ, gathered at Frank D. Zaccaria Memorial Park to commemorate the College's donation of two soccer goals for use on a newly renovated synthetic turf field on Wednesday, April 14, 2021. The space, which was made available by the Borough in September 2020 to serve as the home base for Berkeley's men's soccer team, is also open to youth soccer teams from the area. Berkeley's contribution will be accessible by any teams that use the field.
"We have always had an outstanding relationship with Berkeley College," said Woodland Park Mayor Keith Kazmark. "Now we're able to work together to advance Berkeley's mission of supporting athletics at the college level, while at the same time these soccer goals are here to assist the youth in Woodland Park."
Prior to this most recent alliance at Zaccaria Park, Berkeley College and Woodland Park have had a long-standing working relationship. Berkeley College's Woodland Park campus was established in 1976 and is a fixture in the neighborhood. Members of the Borough's Council Gary W. Holloway, Tina Gatti and Joseph Spinelli described a history of partnership over the years on everything from the Memorial Day parade to hosting Council Meetings on campus.
"We have a great relationship with Berkeley College. They are always there to help us with big things and small things," said Councilwoman Gatti.
"At Berkeley College, we consider the Woodland Park community like family. We are excited to provide the new goals, not just for Berkeley's athletics program, but also for the youth here in Woodland Park," said Dallas F. Reed, PhD, Berkeley College Vice President, Student Development and Campus Life. "It's a win-win."
Before the renovated field became available, the Berkeley College Men's Soccer team rented practice and game space in surrounding areas. A home base is a welcome stable resource for students who have dealt with so much uncertainty over the last year due to the on-going COVID pandemic.
"We are very fortunate to have this available for our student athletes within a five-minute drive from campus. A home turf creates a sense of belonging," said Andy DeStephano, Berkeley College Director, Athletics. 
Likewise, Woodland Park officials say youth and families are excited to utilize the new field and goals after a difficult year. Zaccaria Park is a popular outdoors area that includes a skate park, water play area, basketball court, fishing pond and summer day camp. The updated soccer field is an added benefit.
"Kids have been in a virtual learning environment for a good amount of the last year. Being able to get them back outside and back into some physical activity is really important," said Mayor Kazmark.
"With everything that is going on during the pandemic, its great to be able to utilize this relationship to provide a sense of hope for our students and for the Woodland Park community," said Reed.
Berkeley College anticipates that the men's team will begin hosting games at Zaccaria Park in the fall 2021 semester.
Berkeley College celebrates its 90th anniversary in 2021. The theme commemorating this milestone is "Empowering Lives for 90 Years!" Visit the 90th Anniversary webpage for more information.
About Berkeley College
Berkeley College, founded in 1931, is a career-focused institution accredited by the Middle States Commission on Higher Education that offers students Master's, Bachelor's, and Associate's degree and Certificate programs in more than 20 career fields. The College also offers continuing education programs to enhance career credentials.
Berkeley College has campuses in Newark, Paramus, Woodbridge, and Woodland Park, NJ, as well as in Midtown Manhattan and White Plains, NY, with more than 4,900 students enrolled. In addition, Berkeley College Online® serves a global population. U.S. News & World Report has named Berkeley College among the Best Colleges for Online Bachelor's Programs and among the Best Online Bachelor's Programs for Veterans, for eight consecutive years. The website address is www.BerkeleyCollege.edu.
The mission of Berkeley College is to empower students to achieve lifelong success in dynamic careers.