Berkeley College Women's Summit Encourages the Future Generation of Change Agents

FOR IMMEDIATE RELEASE
Monday, April 5, 2021
BERKELEY COLLEGE WOMEN'S SUMMIT ENCOURAGES THE FUTURE GENERATION OF CHANGE AGENTS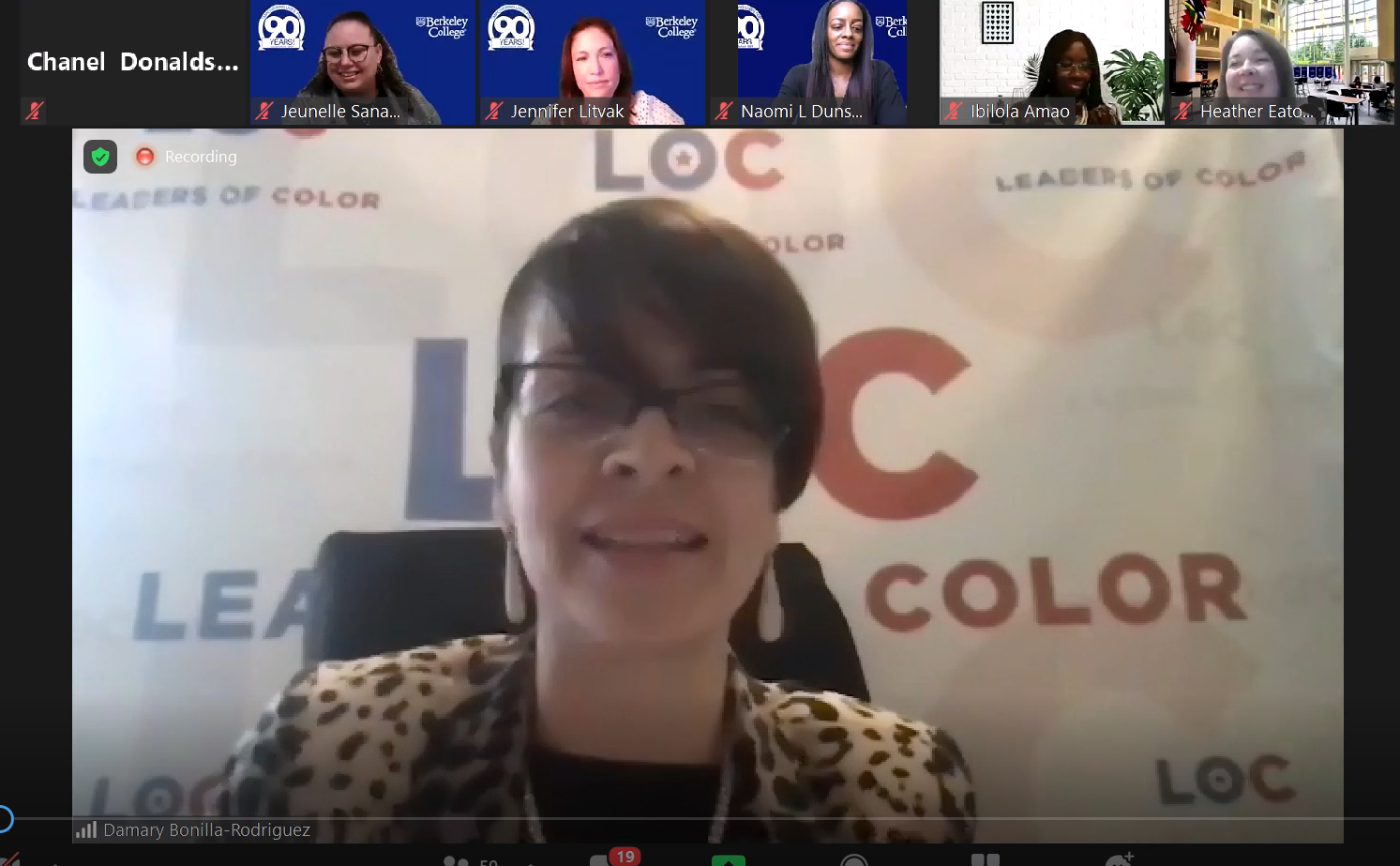 Photo Caption: Keynote speaker Damary Bonilla-Rodriguez, EdD, Director, Leaders of Color New York, Education Reform Now, encourages women to pursue leadership opportunities during "Building HERStory: A Women's Summit," a virtual conference hosted by Berkeley College in honor of Women's History Month on March 30, 2021.
Women leaders gathered on Tuesday, March 30, 2021, for "Building HERStory: A Women's Summit," a virtual conference sponsored by Berkeley College that focused on women's empowerment and advocacy for diversity in the next generation of leaders.
The Summit was hosted as a closing event for Berkeley College's month-long observance of Women's History, which included highlights of historical figures and celebration of current women leaders. More than 50 attendees participated in the Summit, including current Berkeley College students, alumni, and faculty and staff, as well as prospective students and members of the general public. Students Naomi Dunston and Panagiota Babadelis, who will both graduate with Bachelor's degrees from Berkeley College this month, moderated the conversation. 
Keynote speaker, Damary Bonilla-Rodriguez, EdD, Director, Leaders of Color New York, Education Reform Now, encouraged young people to pursue leadership positions and push for the changes they want to see in their communities.
"You can be a change agent in your own space," said Bonilla-Rodriguez. "You don't have to be rich or have a fancy title to effect change. This is about seeing yourself as a leader at home in your community, and if you wish, in broader society."
Set Up for Success Rather than Failure
Bonilla-Rodriguez also detailed her background as a way to illustrate that despite one's circumstances the possibilities to effect change are attainable. Bonilla-Rodriguez described herself as a "Nuyorican" (a term that indicates persons of Puerto Rican descent who live in New York City) who was raised in the projects of East Harlem with her two younger sisters.
"We were statistics set up for failure," said Bonilla-Rodriguez. She credits familial support, faith, mentorship and access to education as the resources that enabled her to become one of less than 4% of Latinas to earn a doctoral degree.
Bonilla-Rodriguez noted her attention to mentorship for young leaders. "For me, there's a responsibility as you achieve certain levels of success or accomplishment that you bring others along, that you open doors for others," she said.
The Summit also included a panel of women leaders who work at the forefront of supporting women to be influencers and change agents in diverse areas. Panelists hosted breakout rooms where attendees could ask questions about their organizations and their work.
Organizational Pushes towards More Diversity
In their opening remarks, panelists also echoed Bonilla-Rodriguez's sentiments of urgency for diversity of thought in future leaders, highlighting the ways that their organizations are pushing the status quo.
"Through research and support for legislation we help women and girls transverse this very unequal world that we currently live in," said Suzanne Young-Mercer, President of the Rockland Chapter, and Diversity Director for NY State, American Association of University Women.
Pierrette J. Cazeau, Global Public Health Diplomat, United Nations Working Group to End Homelessness, has led advocacy efforts to support women affected by unemployment and eviction as a result of the COVID-19 pandemic. "We focus on empowering women who have been homeless – how to motivate them and bring them back into the workforce," said Cazeau.
"How do we be sure that everyone is included, that women are really empowered to not just work behind the scenes, but also to take positions of leadership, run for office and run grassroots organizations," said Diane Burrows, Co-President, League of Women Voters of NYC, a non-partisan organization that educates the public on policy issues.
With access to the tools to develop their skills and opportunities to become involved, a key takeaway of the Summit is that women leaders have the power to bring much-needed diversity in perspective and make society a better place.
"It is really important that we equip young people with the skills and competencies to be successful and to thrive in a workplace that is very interconnected and very global," said Jennifer Clinton, PhD, President and CEO of Cultural Vistas, an organization that supports young people to develop skills and competencies to work in a global world. "Young leaders need to be able to work across borders that may be physical borders or psychological borders, things that separate us."
Berkeley College celebrates its 90th anniversary in 2021. The theme commemorating this milestone is "Empowering Lives for 90 Years!" Visit the 90th Anniversary webpage for more information.
About Berkeley College
Berkeley College, founded in 1931, is a career-focused institution accredited by the Middle States Commission on Higher Education that offers students Master's, Bachelor's, and Associate's degree and Certificate programs in more than 20 career fields. The College also offers continuing education programs to enhance career credentials.
Berkeley College has campuses in Midtown Manhattan and White Plains, NY, as well as in Newark, Paramus, Woodbridge, and Woodland Park, NJ, with more than 4,900 students enrolled. In addition, Berkeley College Online® serves a global population. U.S. News & World Report has named Berkeley College among the Best Colleges for Online Bachelor's Programs and among the Best Online Bachelor's Programs for Veterans, for eight consecutive years. The website address is www.BerkeleyCollege.edu.
The mission of Berkeley College is to empower students to achieve lifelong success in dynamic careers.