Berkeley College Commencement Student Speaker Encourages Graduates to View Challenges as Growth Opportunities

FOR IMMEDIATE RELEASE
Thursday, May 20, 2021
BERKELEY COLLEGE COMMENCEMENT STUDENT SPEAKER ENCOURAGES GRADUATES TO VIEW CHALLENGES AS GROWTH OPPORTUNITIES


"Let me remind you to not give crisis power. It is not stronger than you."
- Naomi L. Dunston, BBA, General Business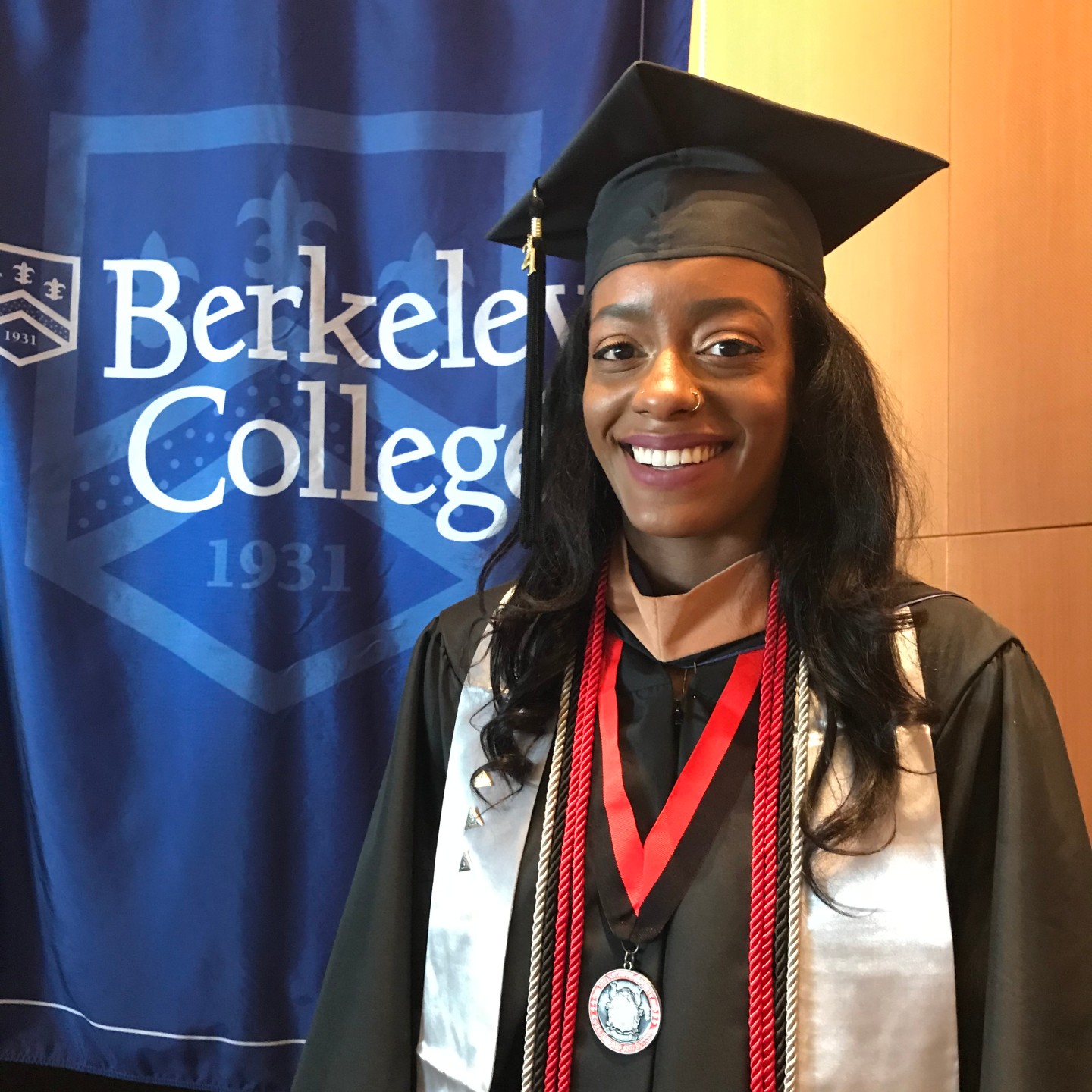 Photo Caption: Naomi L. Dunston of Brooklyn, NY, will serve as the Student Speaker at Berkeley College's outdoor Commencement ceremony at MetLife Stadium in East Rutherford, NJ, on Thursday, May 27, 2021.


Berkeley College graduate Naomi L. Dunston of Brooklyn, NY, will serve as the Student Speaker at the College's outdoor Commencement ceremony on Thursday, May 27, 2021, at MetLife Stadium in East Rutherford, NJ. The ceremony will recognize more than 1,800 graduates.
Dunston earned a Bachelor of Business Administration in General Business from Berkeley College after two prior attempts to complete a Bachelor's degree at other institutions.
"At Berkeley College, everything seemed to work out for me as far as finances. Finances always kept me from completing a degree," she said.
Dunston's understanding of how important financial aid is to pursuing post-secondary education led her to become a passionate advocate during her time as a student. She served on the Association of Proprietary Colleges (APC) Student Leadership Council and was at the forefront of efforts to articulate the value of the Tuition Assistance Program (TAP) to lawmakers.
Dunston said the leadership opportunities she was offered at Berkeley College helped her develop more confidence. In addition to her role with APC, she was President of the Fashion Club, actively involved in the National Society of Leadership and Success, and in student government.
"(Being a part of extracurriculars has) definitely allowed me to be more confident in my skills and my ability to build relationships … I've been able to create a really great student life experience," she said. According to Dunston, her involvement in clubs and activities, opportunities to mentor other students, and the support she received from Berkeley College staff, were illuminating and helped to push her through and make it to Commencement.
Like many other students, adjusting to an online environment over the last year was taxing for Dunston. She missed interacting with her peers. She also suffered through the loss of her mother, which exacerbated an already difficult school year.
Dunston spoke from her own experience when she recorded the message broadcast as part of the College's virtual Commencement ceremony on May 7, 2021: "You are an example of a 'thriver,'" Dunston said. "A light that shines through unprecedented times … Let me remind you to not give crisis power. It is not stronger than you. Your experiences, good and bad, are growth opportunities."
Dunston is passionate about fashion business, public relations and marketing, and plans to pursue a career in one or more of the fields.
Click here to view Dunston's virtual Commencement speech.
Berkeley College celebrates its 90th anniversary in 2021. The theme commemorating this milestone is "Empowering Lives for 90 Years!" Visit the 90th Anniversary webpage for more information.
About Berkeley College
Berkeley College, founded in 1931, is a career-focused institution accredited by the Middle States Commission on Higher Education that offers students Master's, Bachelor's, and Associate's degree and Certificate programs in more than 20 career fields. The College also offers continuing education programs to enhance career credentials.
Berkeley College has campuses in Midtown Manhattan and White Plains, NY, as well as in Newark, Paramus, Woodbridge, and Woodland Park, NJ, with more than 4,900 students enrolled. In addition, Berkeley College Online® serves a global population. U.S. News & World Report has named Berkeley College among the Best Colleges for Online Bachelor's Programs and among the Best Online Bachelor's Programs for Veterans, for eight consecutive years. The website address is www.BerkeleyCollege.edu.
The mission of Berkeley College is to empower students to achieve lifelong success in dynamic careers.