Identical Twin Graduates Credit the Support Received at Berkeley College as a Key Factor to their Success

FOR IMMEDIATE RELEASE
Monday, May 24, 2021
IDENTICAL TWIN GRADUATES CREDIT THE SUPPORT RECEIVED AT BERKELEY COLLEGE AS A KEY FACTOR TO THEIR SUCCESS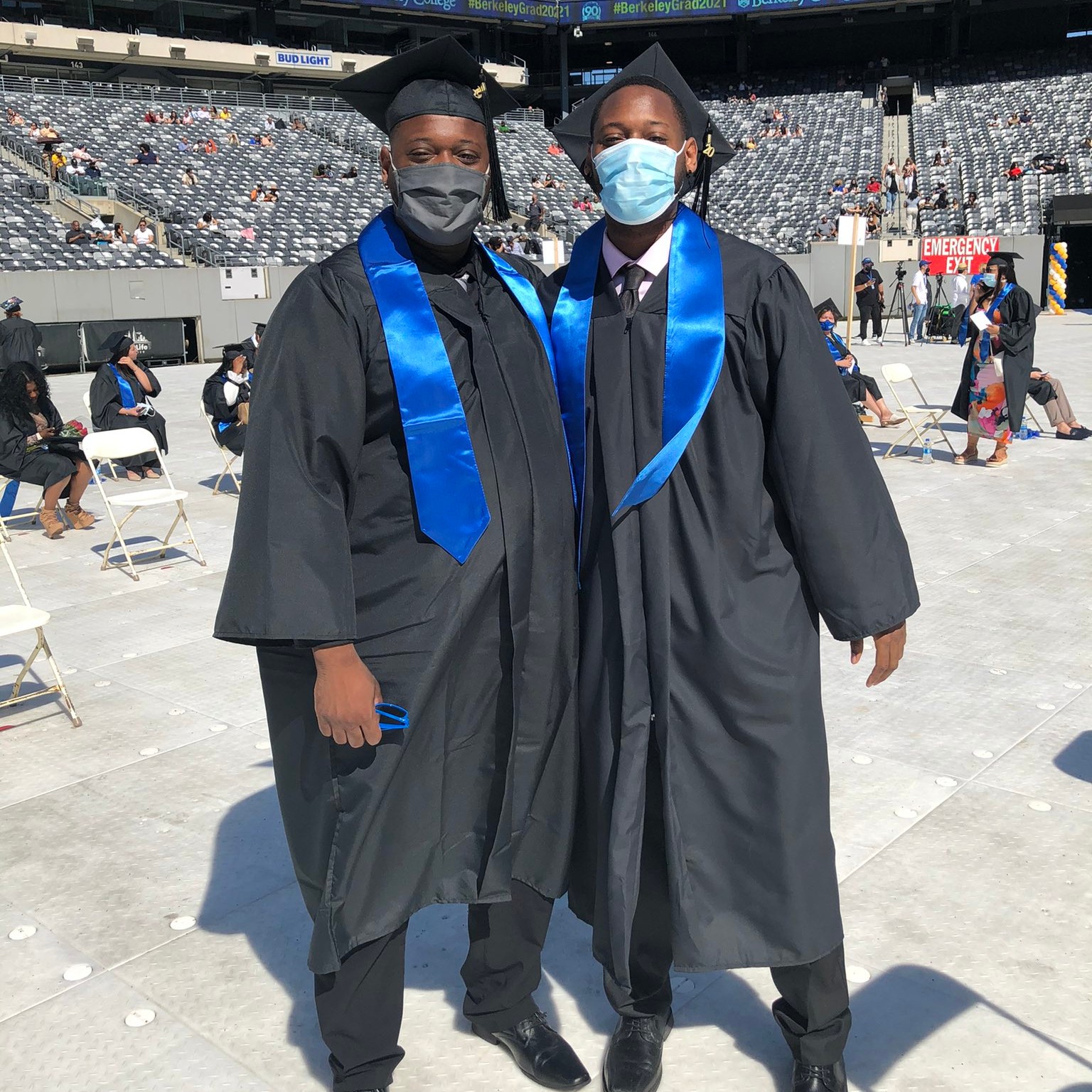 Photo Caption: Ja'Von Drakeford (left) of Haskell, NJ,and Ja'Van Drakeford (right) of Belleville, NJ,  identical twin brothers graduated from Berkeley College this month, with Associate in Applied Science, Criminal Justice degrees, share a few prideful moments together.
For Ja'Von Drakeford, of Haskell, NJ, and his identical twin brother Ja'Van Drakeford, of Belleville, NJ, the journey to earning a college degree took a few turns along the way. Both earned an Associate in Applied Science degree in Criminal Justice from Berkeley College after struggling at previous institutions.
"Honestly, I never expected myself to be a college graduate," said Ja'Von, who added that he faced academic challenges at two previous institutions he attended out-of-state before returning to his home state of New Jersey and enrolling at the Berkeley College Paramus, NJ, campus in 2018.
Ja'Von says he did not have the motivation, nor the institutional support, to help him succeed at the previous schools he attended.
"As soon as I came to Berkeley, it was a whole different mood, a different mentality," said Ja'Von. For the first time, Ja'Von felt like his professors cared about his success. Consistent, caring outreach from faculty inspired Ja'Von to push himself academically and achieve more than he thought he could.
Coincidentally, Ja'Van's initial experiences in college mirrored those of his brother. Ja'Van first attended a public four-year college in New Jersey where he was a student-athlete. "I played football and it was a distraction … I really did not focus on the right thing," he said.
Ja'Van then attended a community college, before taking time off from school to focus on his newborn son's birth. Afterwards, like his brother, Ja'Van enrolled at Berkeley College.
"To be the parent (my son) needs and deserves, I realized I had to get back in school," said Ja'Van, who was motivated to get a more financially stable career and be a role model for his child.
A Family Affair
The brothers are not the first in their family to earn degrees from Berkeley College. Older sister Shamira Drakeford earned a Bachelor's degree in Business Administration and Management from Berkeley in 2015 and currently works at the College as a Government Relations Coordinator. The pair enrolled after being encouraged by their sister.
"My sister graduated from Berkeley and she gave an outstanding review," said Ja'Van.
Added Ja'Von, "(My sister) was like 'just come to Berkeley, you will do better there.' So, I decided to give it a try."
While the twins originally went their separate ways for college, they say attending classes with one another was a great experience.
"He's really my best friend," said Ja'Van. "(Taking classes together) was definitely a support system. He had my back, I had his back."
"Who wouldn't enjoy class with their sibling, especially with him being my twin brother," added Ja'Von. "We would just bounce ideas off each other and that's how we got good grades. We stuck together."
The Next Phase
The two say they are excited about Commencement and look forward to having their family cheer them on at the in-person outdoor ceremony at MetLife Stadium in East Rutherford, NJ, on May 27, 2021.
"Looking back three years ago, I would have never thought I would be in this position. Being able to walk across the stage with a college degree is amazing, heartwarming. It's everything, every (positive) emotion," said Ja'Van.
The pair also look forward to their future careers that will enable them to take care of their families.
Ja'Von who is father to a 9-month-old son and is pursuing a career as an Occupational Therapy Assistant, a field he feels aligns with his skills as a people person.
Ja'Van, father of a 3-year-old son, is enrolled in the Bachelor of Business Administration program, earning a degree in Accounting at Berkeley College. He wants to work for the Federal Bureau of Investigation (FBI) or as an accountant.
With the knowledge and skills they gained at Berkeley College, the two bothers feel ready to take on the next steps in their journeys.
Berkeley College celebrates its 90th anniversary in 2021. The theme commemorating this milestone is "Empowering Lives for 90 Years!" Visit the 90th Anniversary webpage for more information.
About Berkeley College
Berkeley College, founded in 1931, is a career-focused institution accredited by the Middle States Commission on Higher Education that offers students Master's, Bachelor's, and Associate's degree and Certificate programs in more than 20 career fields. The College also offers continuing education programs to enhance career credentials.
Berkeley College has campuses in Newark, Paramus, Woodbridge, and Woodland Park, NJ, as well as in Midtown Manhattan and White Plains, NY, with more than 4,900 students enrolled. In addition, Berkeley College Online® serves a global population. U.S. News & World Report has named Berkeley College among the Best Colleges for Online Bachelor's Programs and among the Best Online Bachelor's Programs for Veterans, for eight consecutive years. The website address is www.BerkeleyCollege.edu.
The mission of Berkeley College is to empower students to achieve lifelong success in dynamic careers.