Virtual and In-Person Volunteer Opportunities Bring Hope and Support during Berkeley College 2021 Community Service Week

FOR IMMEDIATE RELEASE
Tuesday, June 15, 2021
VIRTUAL AND IN-PERSON VOLUNTEER OPPORTUNITIES BRING HOPE AND SUPPORT DURING BERKELEY COLLEGE 2021 COMMUNITY SERVICE WEEK
Berkeley College Alumni, Faculty and Staff Carry on Annual Tradition as College Celebrates 90th Anniversary

Share the News: @ArthritisFdn  @CathCharitiesNY  @CCharitiesPat  @CFBNJ  @Citymeals  @CleanOcean   @MakeAWishMNY  @MCFamilyPromise  @MtnsideMedCtr  @NYCHealthSystem  @POTSBronx   @SJH_NJ 
Berkeley College took a hybrid approach to its annual Community Service Week activities, with 85 employees and student groups participating in indoor, outdoor, and virtual volunteer opportunities at more than 15 nonprofit organizations and community agencies in New York and New Jersey.
During the week of June 6 to June 14, 2021, volunteers supported causes such as area food banks, housing and the environment, and conducted workshops to provide nonprofit organizations with professional development opportunities.
Photo Caption 1 (above, left to right): Berkeley College President Michael J. Smith was among the volunteers at Community FoodBank of New Jersey in Hillside on June 11, 2021, where volunteers prepared more than 800 boxes of food to be delivered to senior citizens. Volunteers assisted Catholic Family and Community Services at Father English Food Pantry in Paterson, NJ, sorting food donation, stacking shelves and packing bags for distribution to those in need and seniors in low income housing on June 8-9, 2021. Berkeley College Professor, Melissa Baralt, PhD, helps prepare food for a soup kitchen at Humble Beginnings in Paterson, NJ, on June 6, 2021. Berkeley College volunteers delivered meals for Citymeals on Wheels in Manhattan; Part of the Solution in the Bronx, and with Catholic Charities of New York at The Bronx Hub Food Pantry on June 8-9, 2021.
Berkeley College Community Service Week 2021 Committee Co-Chairs Melissa Burke, Berkeley College Central Support Service Specialist, and Ihor Andruch, Assistant Director, Career Services Online, together with leaders in Berkeley College Student Development and Campus Life, the student-led Volunteer Leadership Committee, and the Berkeley College 90th Anniversary Committee, conducted a Kick-Off Interview and Fair on June 7, 2021, where seven community organizations participated in a panel discussion focused on the importance of giving back and community service opportunities. Each community partner then hosted its own breakout room to answer questions, learn more about the organization and how to get involved.

Photo Caption 2 (left to right): Berkeley College volunteers, during its 11th Annual Community Service Week, painted sidewalk games like foursquare and hopscotch for children of families served by the Boys & Girls Clubs of Northwest New Jersey on June 10, 2021. Another group of Berkeley College volunteers completed road and street cleanup, starting at the intersection of McBride and Glover avenues through to Memorial Drive and along the bank of the Passaic River, meeting pleasant and grateful residents and business owners on their way. The Center for Hope in Rochelle Park, NJ, had volunteers help with yard cleanup on June 8, 2021. Volunteers from Berkeley College at Kiddie Keep Well Camp in Edison, NJ, cleaned bunk rooms and completed yard work during Community Service Week on June 6, 2021. In Rumson, NJ, Berkeley College volunteers helped Clean Ocean Action with setup and breakdown of the Ecofest event on June 5, 2021.
The community organizations truly appreciate the support and volunteer work being conducted. Sister Maureen Sullivan, Director of Pastoral Ministry, Volunteers, and Community Outreach, Catholic Family and Community Services, sent this message in an email. "You and all those at Berkeley have our gratitude for your help. We could not serve as many people as come to our doors without the help of groups like yours."
Additional virtual workshops offered to community agencies that day were titled "LinkedIn and Professional Networking," and "Marketing Communications and Social Media 101." The College hosted a panel discussion event titled "Exploring Career Path Diversity," with Big Brothers and Big Sisters of NYC on June 14, 2021.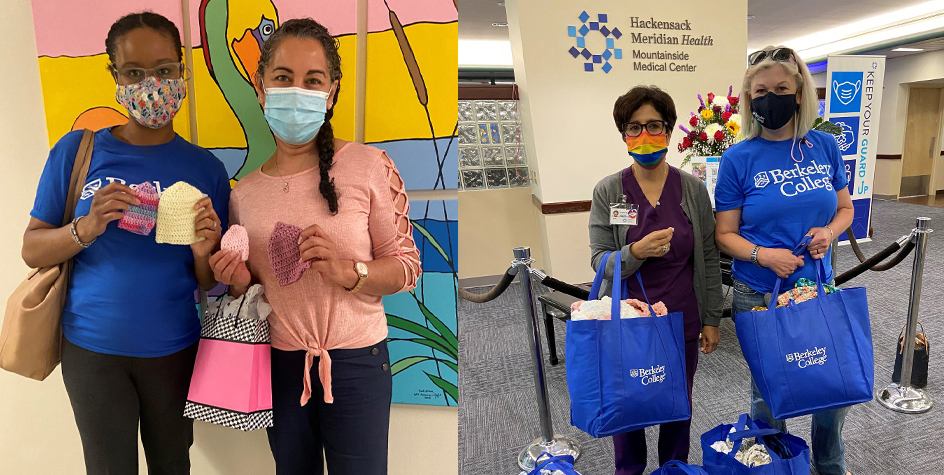 Other individual participation opportunities to volunteer and serve organizations included the Walk to Cure Arthritis, and Make-A-Wish Metro New York, both on June 6, 2021, and a knitting initiative in which volunteers used their knitting or crochet skills to create newborn baby hats and blankets. In all, 165 hats and 31 blankets were delivered to Lincoln Hospital (photo above, left) in the Bronx, NY, and Mountainside Medical Center in Montclair, NJ, (photo above, right.)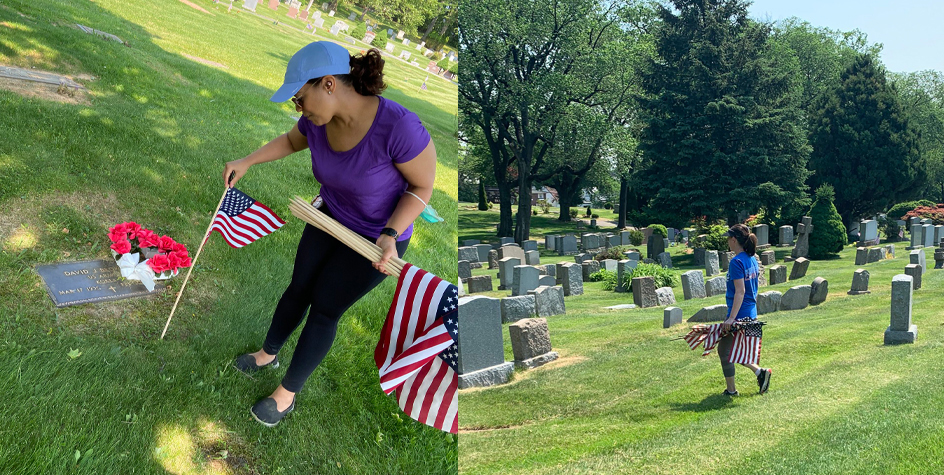 In keeping with its tradition of honoring veterans and their families by placing American flags at the graves of fallen soldiers, this year Berkeley College volunteers placed more than 1,000 U.S. flags at East Ridgelawn Cemetery in Clifton, NJ, on May 26, 2021 (photos, above.)  Berkeley College celebrated the graduation of 120 military and veteran students this year.
Community Service Week is an initiative of Berkeley Cares, which throughout the year assists charities in the critical areas of food, shelter, health and student success. The mission of Berkeley Cares is "Empowering our community to positively impact society" and community service is part the mission and values of Berkeley College, exemplifying that teaching and learning take place both in and out of the classroom.
Berkeley College celebrates its 90th anniversary in 2021. The theme commemorating this milestone is "Empowering Lives for 90 Years!"
About Berkeley College
Berkeley College, founded in 1931, is a career-focused institution accredited by the Middle States Commission on Higher Education that offers students Master's, Bachelor's, and Associate's degree and Certificate programs in more than 20 career fields. The College also offers continuing education programs to enhance career credentials.
Berkeley College has campuses in Midtown Manhattan and White Plains, NY, as well as in Newark, Paramus, Woodbridge, and Woodland Park, NJ, with more than 4,900 students enrolled. In addition, Berkeley College Online® serves a global population. U.S. News & World Report has named Berkeley College among the Best Colleges for Online Bachelor's Programs and among the Best Online Bachelor's Programs for Veterans, for eight consecutive years. The website address is www.BerkeleyCollege.edu.
The mission of Berkeley College is to empower students to achieve lifelong success in dynamic careers.