Professional Certifications
Berkeley College Nursing Graduate from Elizabeth Joins New Generation of Healthcare Heroes

FOR IMMEDIATE RELEASE
Tuesday, August 24, 2021
BERKELEY COLLEGE NURSING GRADUATE
FROM ELIZABETH
JOINS NEW GENERATION OF HEALTHCARE HEROES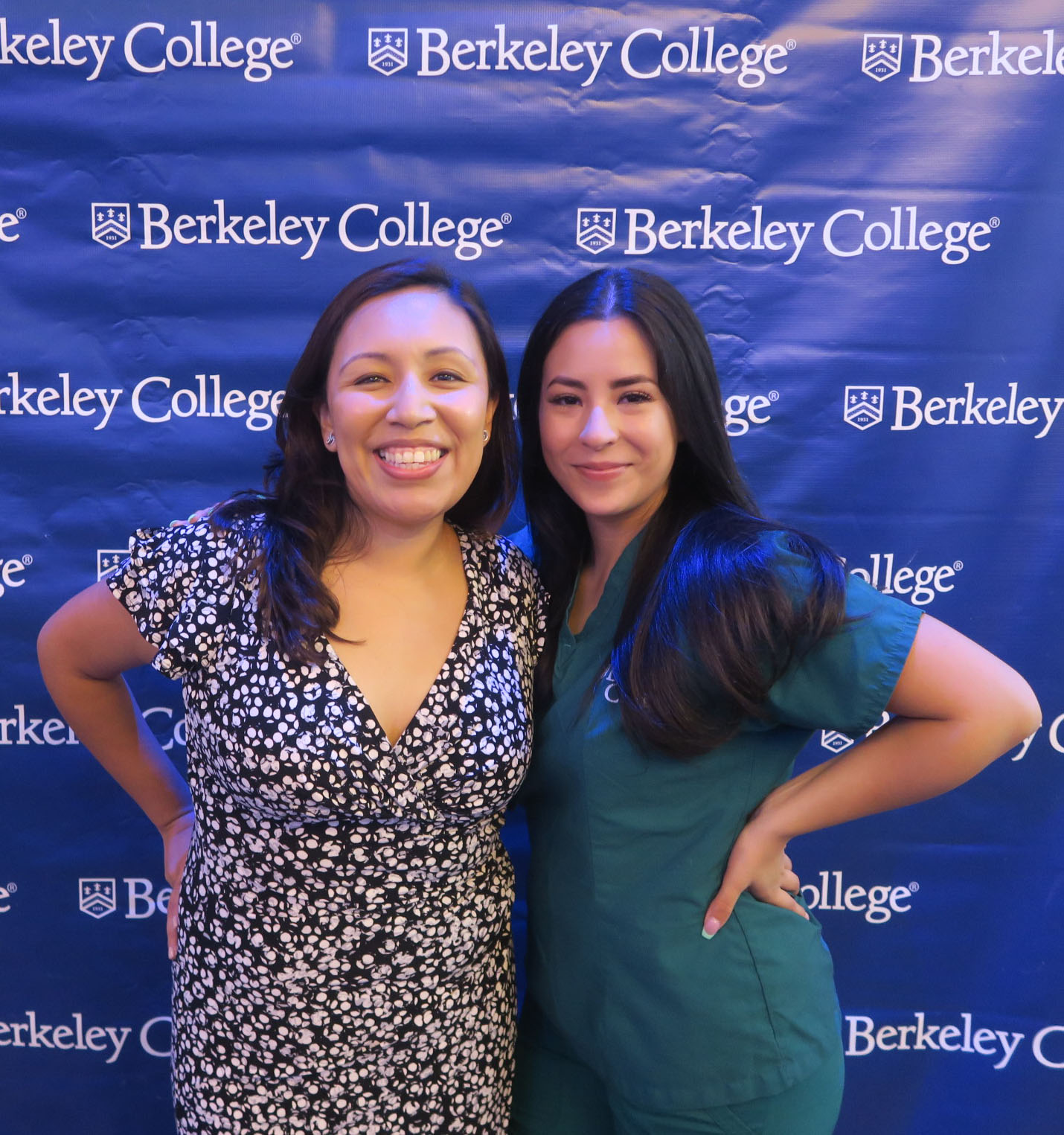 Photo Caption: Berkeley College nursing graduates celebrate their achievement at a pinning ceremony held at the Cosmopolitan in Wayne, NJ, on Friday, August 6, 2021. Pictured (L to R) are Angelica Delacruz, RN, Professor, Nursing, Berkeley College School of Health Studies; and Licensed Practical Nurse to Bachelor of Science in Nursing graduate Jessica Cardoza of Elizabeth, NJ. 
Share the News: @BerkeleyCollege #HealthcareHeroes #NewsBerkeley 
Jessica Cardoza of Elizabeth in Union County, NJ, a Licensed Practical Nurse (LPN) to Bachelor of Science in Nursing (BSN) graduate, was among the new generation of healthcare heroes honored by Berkeley College at a pinning ceremony on Friday, August 6, 2021, at the Cosmopolitan in Wayne, NJ. The ceremony recognized 22 graduates of the College's LPN to BSN program and nine graduates of the Practical Nurse program. 
"You represent the core values of the nursing profession. One of those values is perseverance," said Suzanne Mullings, PhD, RN, Chair, Nursing, Berkeley College School of Health Studies. "We learn from each other, we learn from our patients, and we push through. From this point on, you will be shaping the future of nursing." 
Berkeley College presented each graduate with a pin, symbolizing their transition into the profession, and the graduates recited the Florence Nightingale Pledge, a commitment to ethics and compassionate patient care. 
Many of the graduates served as healthcare volunteers in their communities at the height of COVID-19, including at a site in Clifton, NJ, which vaccinated about 5,000 local and state residents. 
Interview a Local Healthcare Hero: To interview a nursing graduate from your coverage area, contact Chanel Donaldson, Senior Associate, Media Relations, at chanel-donaldso@BerkeleyCollege.edu. 
Berkeley College celebrates its 90th anniversary in 2021. The theme commemorating this milestone is "Empowering Lives for 90 Years!" Visit the 90th Anniversary webpage for more information.  
About Berkeley College

Berkeley College, founded in 1931, is a career-focused institution accredited by the Middle States Commission on Higher Education that offers students Master's, Bachelor's, and Associate's degree and Certificate programs in more than 20 career fields. The College also offers continuing education programs to enhance career credentials. 
Berkeley College has a campus in Midtown Manhattan, NY, as well as in Newark, Paramus, Woodbridge, and Woodland Park, NJ, with more than 4,900 students enrolled. In addition, Berkeley College Online® serves a global population. U.S. News & World Report has named Berkeley College among the Best Colleges for Online Bachelor's Programs and among the Best Online Bachelor's Programs for Veterans, for eight consecutive years. The website address is www.BerkeleyCollege.edu. 
The mission of Berkeley College is to empower students to achieve lifelong success in dynamic careers.