Berkeley College and North Jersey Chamber of Commerce Hold Think Tank

FOR IMMEDIATE RELEASE
Tuesday, September 14, 2021
BERKELEY COLLEGE AND NORTH JERSEY CHAMBER OF COMMERCE HOLD THINK TANK
Event Inspires Teamwork and Collaboration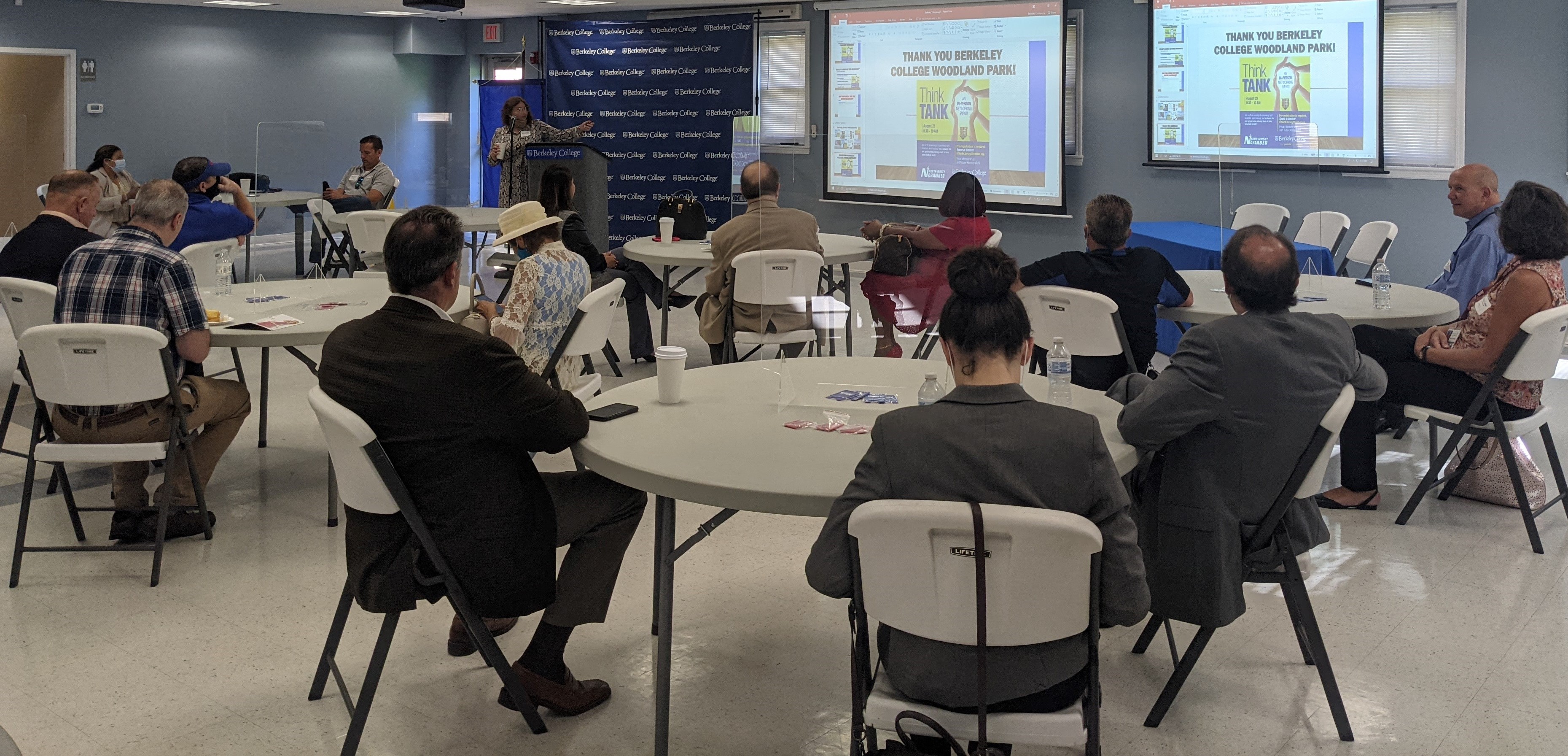 Photo Caption: Michelle Vernuccio, President, North Jersey Chamber of Commerce, leads the Think Tank Networking Event at Berkeley College in Woodland Park, NJ.
Berkeley College and the North Jersey Chamber of Commerce co-sponsored a Think Tank Networking Event, where attendees got the chance to network and participate in team building exercises.  The event, open to the business community, was held at Berkeley College in Woodland Park, NJ.
A think tank is a discussion around a policy and idea, explained LaTysha Gaines, Campus Operating Officer, Berkeley College. "Our exercise involved solving a business issue in these difficult COVID times," she said.  The group of about 30 worked in small teams to come up with solutions to the issue.  The program took place on Wednesday, August 25, 2021.
Michelle Vernuccio, President, North Jersey Chamber of Commerce, called the event a success.  "I spent time talking with everyone and what I found significant was the way they worked together to implement some tactical ideas," she said.  "Teamwork and collaboration can get you to the best outcome." 
Berkeley College celebrates its 90th anniversary in 2021. The theme commemorating this milestone is "Empowering Lives for 90 Years!" Visit the 90th Anniversary webpage for more information.
About Berkeley College
Berkeley College, founded in 1931, is a career-focused institution accredited by the Middle States Commission on Higher Education that offers students Master's, Bachelor's, and Associate's degree and Certificate programs in more than 20 career fields. The College also offers continuing education programs to enhance career credentials.
Berkeley College has campuses in Newark, Paramus, Woodbridge and Woodland Park, NJ, and in Midtown Manhattan, NY, with more than 4,900 students enrolled. In addition, Berkeley College Online® serves a global population. U.S. News & World Report has named Berkeley College among the Best Colleges for Online Bachelor's Programs and among the Best Online Bachelor's Programs for Veterans, for eight consecutive years. The website address is http://www.BerkeleyCollege.edu
The mission of Berkeley College is to empower students to achieve lifelong success in dynamic careers.
To view a high-resolution version of the photo above, visit:
https://berkeleycollege.edu/newsroom/images/WPK_ThinkTank_082521.jpg