A Legacy of Preparing Students for Lifelong, Dynamic Careers

FOR IMMEDIATE RELEASE
Tuesday, September 28, 2021
CLASS OF 1958 ALUMNUS REFLECTS ON HER TIME
AT BERKELEY COLLEGE
Photo Caption: Barbara Speziale of Wayne, NJ, pictured here in 1957, graduated from Berkeley's one-year secretarial program in 1958. Speziale attended classes at the College's first campus location in East Orange, NJ, which opened in 1931. Speziale was an honored guest at a tree-planting ceremony on Tuesday, September 28, 2021, at Zaccaria Park in Woodland Park, NJ, to celebrate Berkeley College's 90th anniversary.
Share the News: @BerkeleyCollege #BerkeleyCollegeDay #90YearsofBerkeley
Barbara Speziale of Wayne, NJ, graduated from Berkeley College in 1958. The 82-year-old vividly recollects her time at the school more than six decades ago.
Speziale, who is originally from Totowa, NJ, said that she enrolled at Berkeley right after high school. At the time, Berkeley's campus was based in East Orange, NJ, and the school offered a one-year secretarial program that combined college subjects with professional training. Speziale said that she was impressed by a presentation Berkeley held at her high school. She and a few of her classmates decided to attend Berkeley, instead of a nearby university, in order to obtain skills that would prepare them for the workforce.
"We had the same courses that we would be taking at (a traditional) college, but we also had typing, stenography and commercial courses. In other words, we had business preparation along with it," reflected Speziale. "We had to take tests, be proficient in typing, shorthand and also bookkeeping, and we had to take psychology, English, business law and other traditional college courses in order to graduate."
Berkeley was the premier secretarial school in the area, and it differentiated itself as an institution with its emphasis on career preparation, an enduring legacy of the College through the years. "It was very professional. We could not walk in there without gloves on, or without our suit and stockings. If your dress did not meet the school's standards, you were sent home to change," said Speziale.
Photo Caption: Barbara Speziale of Wayne, NJ, graduated from Berkeley in 1958. She began her studies at the College's first campus location in East Orange, NJ, right after high school in 1957, the same year the above photo was taken.
Speziale has only fond memories of her time at Berkeley. She said, "It was a friendly school that created a warm atmosphere. It allowed you to meet and make friends that would last throughout your lifetime."
After completing her studies, Speziale went on to work as a legal secretary and then a paralegal, a career she still maintains at the Law Offices of A. Michael Rubin, LLC, in Wayne, NJ. Speziale has been with the firm for 56 years, primarily overseeing closings, the final step in real estate transactions, wills and estates, and other miscellaneous legal matters.
The alumnus says the best part of her job is talking to people. "I like helping people and getting involved with them," she said, adding that she has no plans to retire.
Speziale's advice to today's students is: "Gather all of the education that you can, because it is so important in life. And make as many friends as you can."
Speziale has been married for 63 years and has two children, eight grandchildren and four great-grandchildren. "I have led a very happy, full life, with more ups than downs," she said. "I just have to thank God and just think to myself, 'what a great life I was granted, and how lucky I have been.'"

Photo Caption: Barbara Speziale of Wayne, NJ, is a Berkeley College class of 1958 alumnus. Speziale is pictured with her husband of 63 years (left) and her family, including her children, grandchildren and great-grandchildren (middle and right).
Berkeley College Celebrates its 90th Anniversary
Speziale was an honored guest at a cherry tree-planting ceremony to commemorate Berkeley College's 90th anniversary on Tuesday, September 28, 2021, at Woodland Park's Frank D. Zaccaria Park. The ceremony also included remarks from Keith Kazmark, Mayor of Woodland Park, and Cassandra "Sandi" Lazzara, Passaic County Commissioner.
The College, which was founded in 1931, also hosted cherry tree-planting ceremonies in Paramus, Woodbridge and Newark, municipalities where its New Jersey campuses are located. The events coincided with a proclamation issued by Phil Murphy, Governor of New Jersey, declaring September 28, 2021, as Berkeley College Day.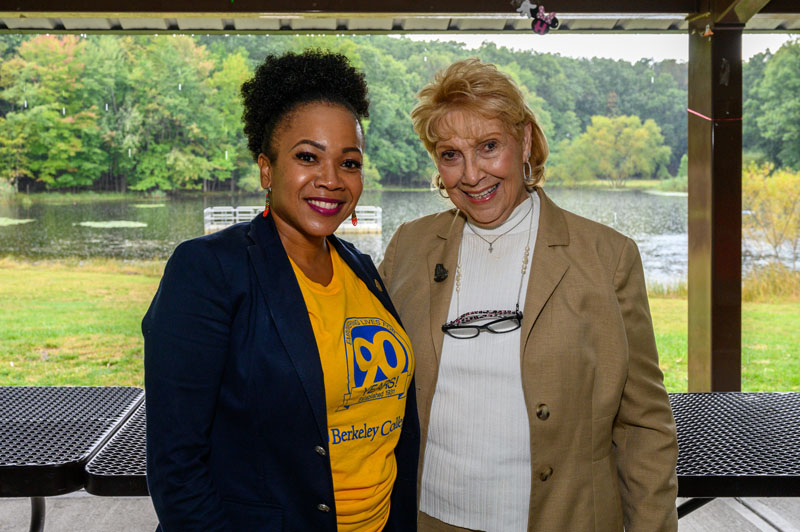 Photo Caption: Berkeley College alumni Busie Matsiko-Andan (left), Class of 2004, who is also a member the Berkeley College Board of Trustees, and Barbara Speziale (right), Class of 1958, celebrate Berkeley College Day at a cherry tree-planting ceremony held in Zaccaria Park in Woodland Park, NJ, on September 28, 2021.
Berkeley College celebrates its 90th anniversary in 2021. The theme commemorating this milestone is "Empowering Lives for 90 Years!" Visit the 90th Anniversary webpage for more information.
About Berkeley College
Berkeley College, founded in 1931, is a career-focused institution accredited by the Middle States Commission on Higher Education that offers students Master's, Bachelor's, and Associate's degree and Certificate programs in more than 20 career fields. The College also offers continuing education programs to enhance career credentials.
Berkeley College has campuses in Midtown Manhattan, NY, and in Newark, Paramus, Woodbridge, and Woodland Park, NJ, with more than 4,900 students enrolled. In addition, Berkeley College Online® serves a global population. U.S. News & World Report has named Berkeley College among the Best Colleges for Online Bachelor's Programs and among the Best Online Bachelor's Programs for Veterans, for eight consecutive years. The website address is www.BerkeleyCollege.edu.
The mission of Berkeley College is to empower students to achieve lifelong success in dynamic careers.