Paterson Board of Education Commissioner Begins Academic Journey at Berkeley College

FOR IMMEDIATE RELEASE
Monday, October 4, 2021
PATERSON BOARD OF EDUCATION COMMISSIONER BEGINS ACADEMIC JOURNEY AT BERKELEY COLLEGE
Corey Teague Plans to Pursue a Career as a Lawyer to
Advocate for Paterson Families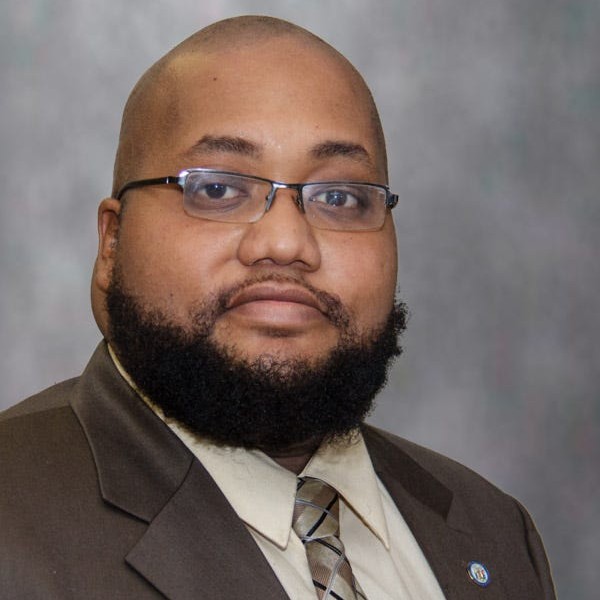 Photo Caption: Corey Teague of Paterson, NJ, who is serving his second term on the Paterson Board of Education, began his post-secondary education at Berkeley College in the Legal Studies program during the fall 2021 semester.
Share the News: @BerkeleyCollege @Paterson_Public #NewsBerkeley
Paterson Board of Education Commissioner, minister, father-of-two and first-time college student are a few of the titles that Corey Teague of Paterson, NJ, holds. Teague is pursuing an Associate in Applied Science in Legal Studies at Berkeley College, which he says is the start of his journey to law school and becoming an attorney.
When asked about beginning his post-secondary studies at age 40, Teague said, "As long as there is a breath in your body, it's never too late." He hopes his educational pathway will serve as an inspiration for his children, ages 15 and 12, and for the nearly 30,000 students served by Paterson Public Schools.
Teague first began his tenure on the Paterson Board of Education in 2012. He was elected despite not having a party affiliation, thanks to support from other parents and community members with whom Teague built a rapport over the years through service and advocacy.
Now Teague is in his second term on the Board after being reelected in 2019. He chairs the Operations Committee which oversees areas like security, special education and transportation for the district. He says his role encompasses both governance and policy, and involvement in his community at the grassroots level.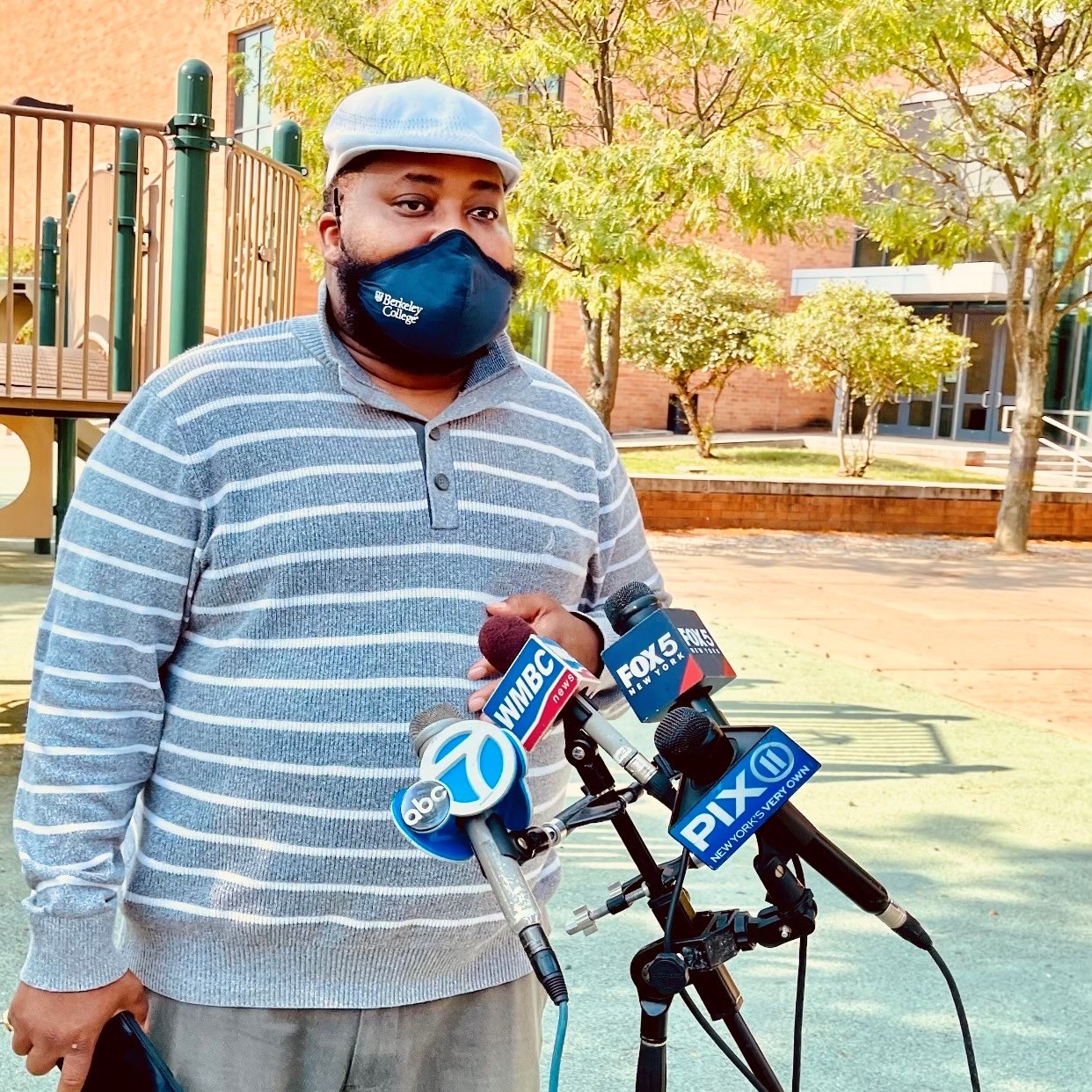 Photo Caption: Corey Teague of Paterson, NJ, began his studies at Berkeley College in September 2021. Teague is also a Commissioner on the Paterson Board of Education, who proudly represented Berkeley College with a branded mask at a press conference during the first day of school in Paterson on September 13, 2021 (above).
"When you're a board member in a city like Paterson, you have to also be an activist, an advocate, a mentor, a coach, a counselor – you have to wear all these hats," said Teague. "There are so many more factors to what is going on here versus what is going on in a suburban district," he added about the State's third largest urban district.
Teague's inspiration to pursue a career as an attorney came in 2019 with the passing of Jameek Lowery, a 27-year-old Paterson man who died after an encounter with police officers.
"I worked with the Lowery family for a couple of years and one of the hardest things for me as an advocate was to find an attorney for them who could speak their language, be affectionate toward them and really help them through the process," said Teague. "All the lawyers that we were finding were just interested in making settlements and erasing what the family was going through. I said, 'If I want to change this, I need to get in there.' That's when I decided I need to become an attorney," he added.
In his first semester at Berkeley College, Teague is taking five classes, utilizing a mix of online and in-person offerings. He says he chose to enroll at Berkeley because he has heard good things about the school's environment for many years. Teague was impressed by what friends shared regarding a "family" atmosphere at the College, with supportive professors who "really work with you, help you, make sure you understand and do your best," he said.
Teague hopes to become a lawyer in the next 10 years. In the meantime, he plans to continue pushing for equity in Paterson schools, a passion he holds dear especially for students with special needs.
"I know it is not going to be an overnight process, but I'm hoping within the next decade I can start representing families and individuals," said Teague. "It's so exciting to be back in the classroom as a student."
Berkeley College celebrates its 90th anniversary in 2021. The theme commemorating this milestone is "Empowering Lives for 90 Years!" Visit the 90th Anniversary webpage for more information.
About Berkeley College
Berkeley College, founded in 1931, is a career-focused institution accredited by the Middle States Commission on Higher Education that offers students Master's, Bachelor's, and Associate's degree and Certificate programs in more than 20 career fields. The College also offers continuing education programs to enhance career credentials.
Berkeley College has campuses in Newark, Paramus, Woodbridge, and Woodland Park, NJ, and in Midtown Manhattan, NY, with more than 4,900 students enrolled. In addition, Berkeley College Online® serves a global population. U.S. News & World Report has named Berkeley College among the Best Colleges for Online Bachelor's Programs and among the Best Online Bachelor's Programs for Veterans, for eight consecutive years. U.S. News & World Report named Berkeley College (NJ) one of the Best Regional Colleges in the North in its 2022 edition of the Best Colleges Survey. In 2021 Berkeley College (NJ) was also recognized for the first time as a Top Performer on Social Mobility among colleges in the region. The website address is www.BerkeleyCollege.edu.
The mission of Berkeley College is to empower students to achieve lifelong success in dynamic careers.