Women are Integral to Economic Recovery, Says New York Senator Alessandra Biaggi at Berkeley College Women's Empowerment Awards Ceremony

FOR IMMEDIATE RELEASE
Monday, October 25, 2021
WOMEN ARE INTEGRAL TO ECONOMIC RECOVERY, SAYS NEW YORK SENATOR ALESSANDRA BIAGGI AT BERKELEY COLLEGE WOMEN'S EMPOWERMENT AWARDS CEREMONY
"We have a very big responsibility to center women in our recovery," said Biaggi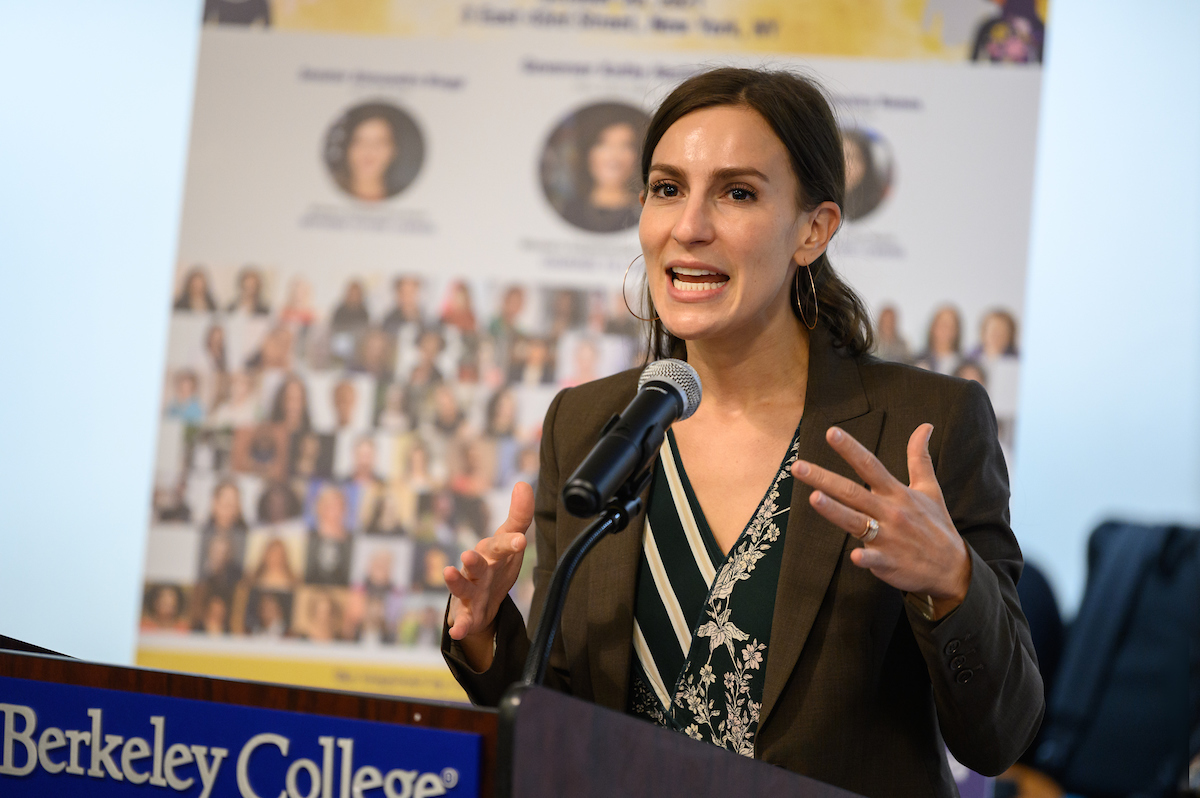 Photo Caption: Alessandra Biaggi, Senator, New York State, shared remarks at the Berkeley College Women's Empowerment Awards ceremony on Wednesday, October 20, 2021, at Berkeley in Midtown Manhattan, NY. The event honored more than 100 women leaders who have spoken at Berkeley College's annual Women's Entrepreneurship Week conference since 2015.
Share the News: @BerkeleyCollege @SenatorBiaggi @Biaggi4NY #WEW2021
Alessandra Biaggi, Senator, and Chair, Committee on Ethics and Internal Governance, New York State, described the importance of prioritizing women in New York's post-pandemic economic recovery during the inaugural Berkeley College Women's Empowerment Awards ceremony on Wednesday, October 20, 2021. The ceremony, held at the College's Midtown Manhattan campus, was part of a three-day Women's Entrepreneurship Week (WEW) summit titled "The Future is Women."
"We have a very big responsibility to center women in our recovery. To make sure every industry, every single one, offers women good, high-paying jobs, in safe work environments, and also offers flexible work," said Biaggi. The Senator also noted that "Over 1 million women have left the workforce" since the onset of the pandemic, to take care of children and familial responsibilities.
Since being elected to the New York State Senate in 2019, Biaggi has championed women's rights. Biaggi chaired the first public hearings in 27 years on sexual harassment in the workplace, and led the charge in New York to pass legislation that strengthens protections for survivors and holds employers accountable for addressing sexual misconduct.
Biaggi described One Fair Wage, a national effort to end sub-minimum wage for tipped workers, as a key piece of her current policy agenda. "This pillar of my work really makes sure that women can lead and also thrive – to be free from discrimination and harassment – and it's urgent, especially as we navigate the coming out of COVID-19," she said. Click here to watch a clip of Biaggi's remarks.
 A Celebration of Pioneering Women
Since 2015, Berkeley College's annual WEW event has created a space to acknowledge the achievements of pioneering women and encourage the next generation of innovators.
Biaggi, who represents the 34th District of New York that includes parts of the Bronx and Westchester County, was among those honored at the Women's Empowerment Awards ceremony for "Inspiring Future Leaders." She was joined by fellow New York State Senator Jessica Ramos.
Awardees also included New York Governor Kathy Hochul; Wendy Garcia, Chief Diversity Officer, New York City Office of the Comptroller; Gale A. Brewer, Manhattan Borough President; Council Member Helen Rosenthal; and Heather Briccetti, President and CEO, The Business Council of New York State. Click here to view the full list of 2021 Women's Empowerment Award recipients.
Berkeley College celebrates its 90th anniversary in 2021. The theme commemorating this milestone is "Empowering Lives for 90 Years!" Visit the 90th Anniversary webpage for more information.
About Berkeley College
Berkeley College, founded in 1931, is a career-focused institution accredited by the Middle States Commission on Higher Education that offers students Master's, Bachelor's, and Associate's degree and Certificate programs in more than 20 career fields. The College also offers continuing education programs to enhance career credentials.
Berkeley College has campuses in Midtown Manhattan, NY, and in Newark, Paramus, Woodbridge, and Woodland Park, NJ, with more than 4,000 students enrolled. In addition, Berkeley College Online® serves a global population. U.S. News & World Report has named Berkeley College among the Best Colleges for Online Bachelor's Programs and among the Best Online Bachelor's Programs for Veterans, for eight consecutive years. U.S. News & World Report named Berkeley College (NJ) one of the Best Regional Colleges in the North in its 2022 edition of the Best Colleges Survey. In 2021 Berkeley College (NJ) was also recognized for the first time as a Top Performer on Social Mobility among colleges in the region. The website address is www.BerkeleyCollege.edu.
The mission of Berkeley College is to empower students to achieve lifelong success in dynamic careers.