African American Chamber of Commerce President/CEO John E. Harmon, Sr., Will Examine Why Diversity, Equity and Inclusion Matter in Business, during Lecture Hosted by Berkeley College

FOR IMMEDIATE RELEASE
Tuesday, November 30, 2021
AFRICAN AMERICAN CHAMBER PRESIDENT/CEO JOHN E. HARMON, SR.,
WILL EXAMINE WHY DIVERSITY, EQUITY AND INCLUSION
MATTER FOR BUSINESS, DURING VIRTUAL LECTURE HOSTED BY BERKELEY COLLEGE
Event on December 7, 2021 at 1 p.m. is Open to Students, Business
and Community Leaders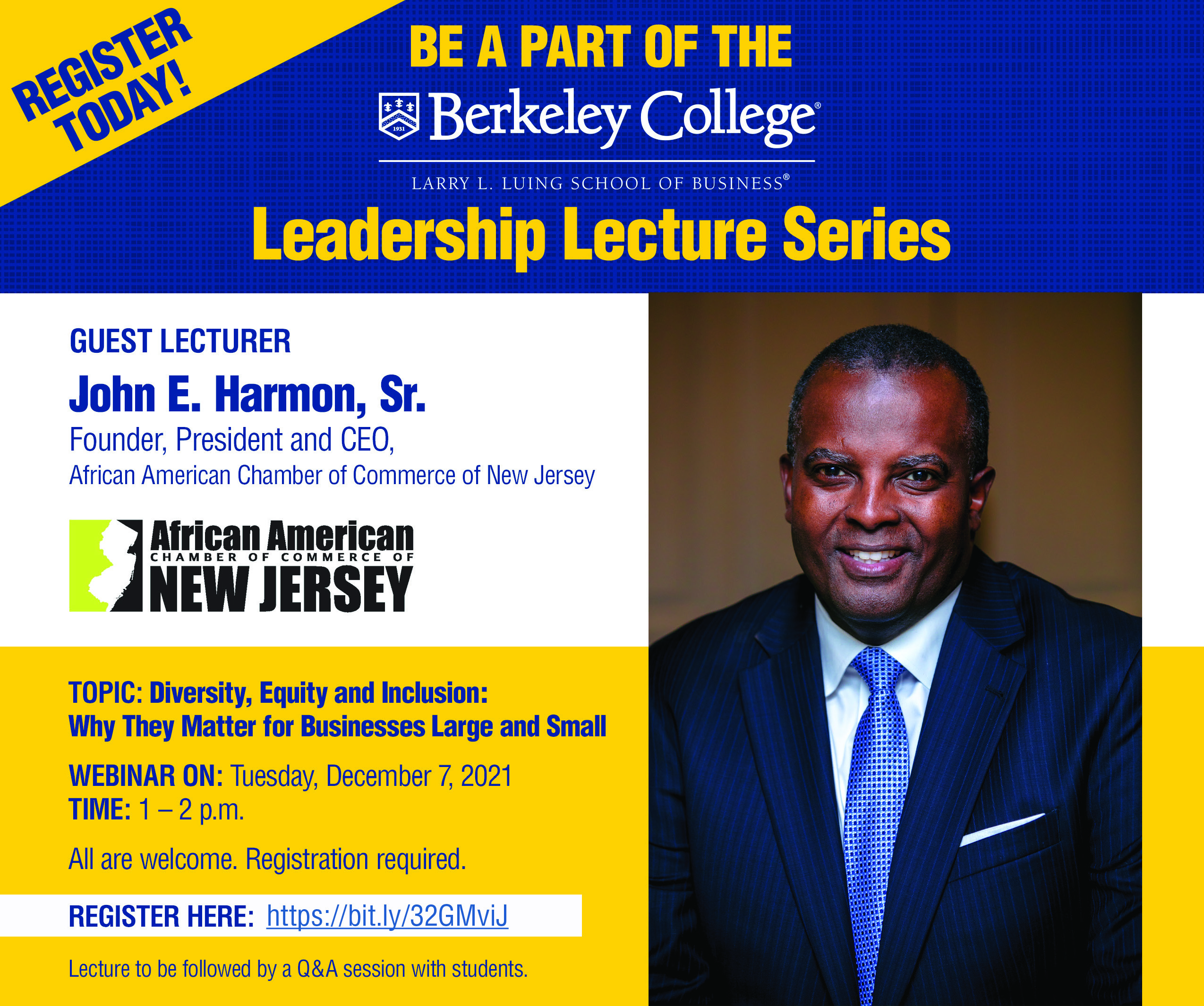 Share the News: @BerkeleyCollege @AACCNJ #NewsBerkeley 
John E. Harmon, Sr., Founder, President and CEO of the African American Chamber of Commerce of New Jersey, will serve as guest lecturer for "Diversity, Equity and Inclusion: Why They Matter for Businesses Large and Small," a free virtual webinar hosted by Berkeley College. The event, on Tuesday, December 7, 2021, at 1 p.m., is open to all chambers of commerce, business and community leaders, as well as students, faculty and staff.
Register Today! There is no cost to attend the event, but registration is required. Click here to register.
The Berkeley College Larry L. Luing School of Business® Leadership Lecture Series features entrepreneurs and diverse leaders in business and industry who share their experiences on how to succeed in business with students and the community at-large.
Harmon will discuss the importance of diversity, equity and inclusion as a winning model for business success. The lecture will include a look at best practices and how the African American Chamber of Commerce works with businesses and government to establish equitable pathways to entrepreneurship and business ownership in Black communities. The lecture will be followed by a question-and-answer session with students.
Harmon is recognized nationally as a leading advocate for the African American community, including more than 70,000 Black-owned businesses and 1.1 million African American residents in New Jersey. Harmon's role is to ensure that policy at the municipal, county and federal levels provide fairness, equity and access to a level playing field in the marketplace.
Harmon serves on several professional and corporate boards. He is Board Member and the Former Chairman of the Board for the National Black Chamber of Commerce, with 150 affiliate chapters. He serves on the Board of Directors of the U.S. Chamber of Commerce, and is a member of its Committee of 100; is a member of the Federal Reserve Bank of Philadelphia's Economic Community Advisory Council (ECAC); and is on the Board of Directors of Investors Bank, and Hackensack Meridian Health. Harmon is also a Board Member of Digital Place-based Advertising Association.
Berkeley College celebrates its 90th anniversary in 2021. The theme commemorating this milestone is "Empowering Lives for 90 Years!" Visit the 90th Anniversary webpage for more information.
About Berkeley College
Berkeley College, founded in 1931, is a career-focused institution accredited by the Middle States Commission on Higher Education that offers students Master's, Bachelor's, and Associate's degree and Certificate programs in more than 20 career fields. The College also offers continuing education programs to enhance career credentials.
Berkeley College has campuses in Midtown Manhattan, NY, and in Newark, Paramus, Woodbridge and Woodland Park, NJ, with more than 4,000 students enrolled. In addition, Berkeley College Online® serves a global population. U.S. News & World Report has named Berkeley College among the Best Colleges for Online Bachelor's Programs and among the Best Online Bachelor's Programs for Veterans, for eight consecutive years. U.S. News & World Report named Berkeley College (NJ) one of the Best Regional Colleges in the North in its 2022 edition of the Best Colleges Survey.  In 2021 Berkeley College (NJ) was also recognized for the first time as a Top Performer on Social Mobility among colleges in the region. The website address is http://www.BerkeleyCollege.edu
The mission of Berkeley College is to empower students to achieve lifelong success in dynamic careers.