Berkeley College to Commemorate 90th Anniversary and 85 Years in New York City with Celebration and Giving Initiative to Food Bank for NYC

FOR IMMEDIATE RELEASE
Thursday, December 2, 2021
Media Advisory:
BERKELEY COLLEGE TO COMMEMORATE 90

th

 ANNIVERSARY
AND 85 YEARS IN NEW YORK CITY WITH CELEBRATION AND
GIVING INITIATIVE TO SUPPORT FOOD BANK FOR NYC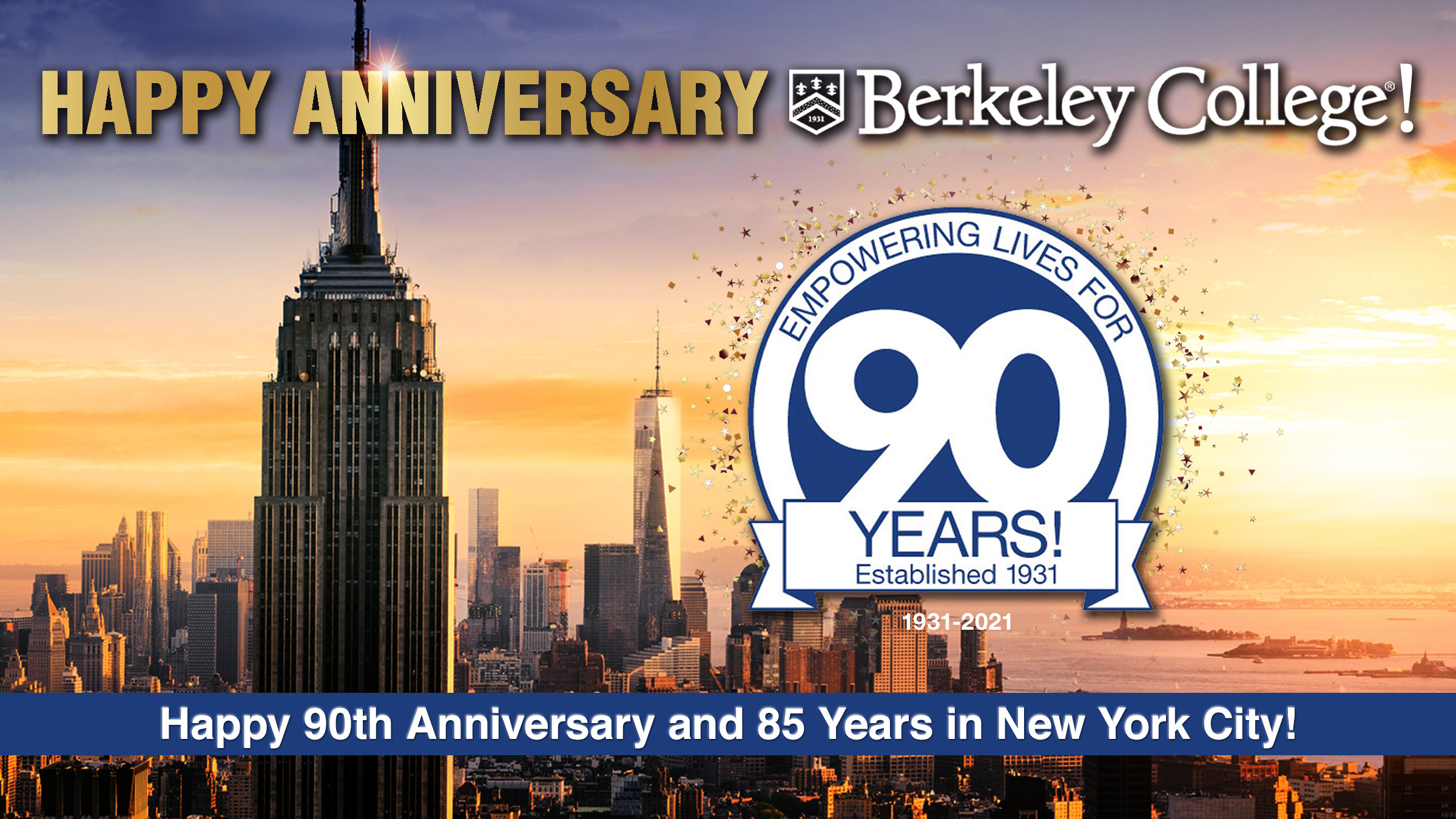 Share the News: @BerkeleyCollege #90YearsofBerkeley #NewsBerkeley 
WHAT: Berkeley College will celebrate 90 years of preparing students for dynamic careers, and 85 years in New York City, with a ceremony on Thursday, December 9, 2021, at 11 a.m. at its campus, 3 East 43rd Street in Midtown Manhattan. 
GUEST SPEAKERS:
Jessica Walker, President and CEO, Manhattan Chamber of Commerce
Michael Garner, Chief Diversity and Inclusion Officer, Metropolitan Transit Authority, New York State
Zac Hall, Senior Vice President for Programs, Food Bank for New York City
Alumni and Staff will reflect on their Berkeley College experiences 

FOOD DRIVE: As part of its 90th anniversary celebration, the College will accept donations for the Food Bank for New York City. The Berkeley College Foundation opened a food pantry for Berkeley College students at the College's Midtown Manhattan campus in February 2021, one of only 24 college and university food pantries throughout the five boroughs in New York City. 
HISTORY IN NEW YORK CITY: In 1936, Berkeley College opened its campus on the top floor of the Graybar Building, the landmark that connects to Grand Central Station. The College later moved to the Chrysler Building and then opened an annex at its current campus at 3 East 43rd Street in 1982. The College moved its operations there fully in 1985, with a second campus location later added at 12 East 41st Street.
MEDIA CONTACT: To attend the event, contact Kelly Depsee, Director, Communications and External Relations, at KME@BerkeleyCollege.edu or 973-200-1099.
About Berkeley College
Berkeley College, founded in 1931, is a career-focused institution accredited by the Middle States Commission on Higher Education that offers students Master's, Bachelor's, and Associate's degree and Certificate programs in more than 20 career fields. The College also offers continuing education programs to enhance career credentials.
Berkeley College has campuses in Midtown Manhattan, NY, and in Newark, Paramus, Woodbridge and Woodland Park, NJ, with more than 4,000 students enrolled. In addition, Berkeley College Online® serves a global population. U.S. News & World Report has named Berkeley College among the Best Colleges for Online Bachelor's Programs and among the Best Online Bachelor's Programs for Veterans, for eight consecutive years. U.S. News & World Report named Berkeley College (NJ) one of the Best Regional Colleges in the North in its 2022 edition of the Best Colleges Survey.  In 2021 Berkeley College (NJ) was also recognized for the first time as a Top Performer on Social Mobility among colleges in the region. The website address is http://www.BerkeleyCollege.edu
The mission of Berkeley College is to empower students to achieve lifelong success in dynamic careers.