Berkeley College to Commemorate Life and Legacy of Dr. Martin Luther King Jr. with Virtual Volunteerism and Special Events

FOR IMMEDIATE RELEASE
Thursday, January 13, 2022
BERKELEY COLLEGE TO COMMEMORATE
LIFE AND LEGACY OF DR. MARTIN LUTHER KING JR.
WITH VIRTUAL VOLUNTEERISM AND SPECIAL EVENTS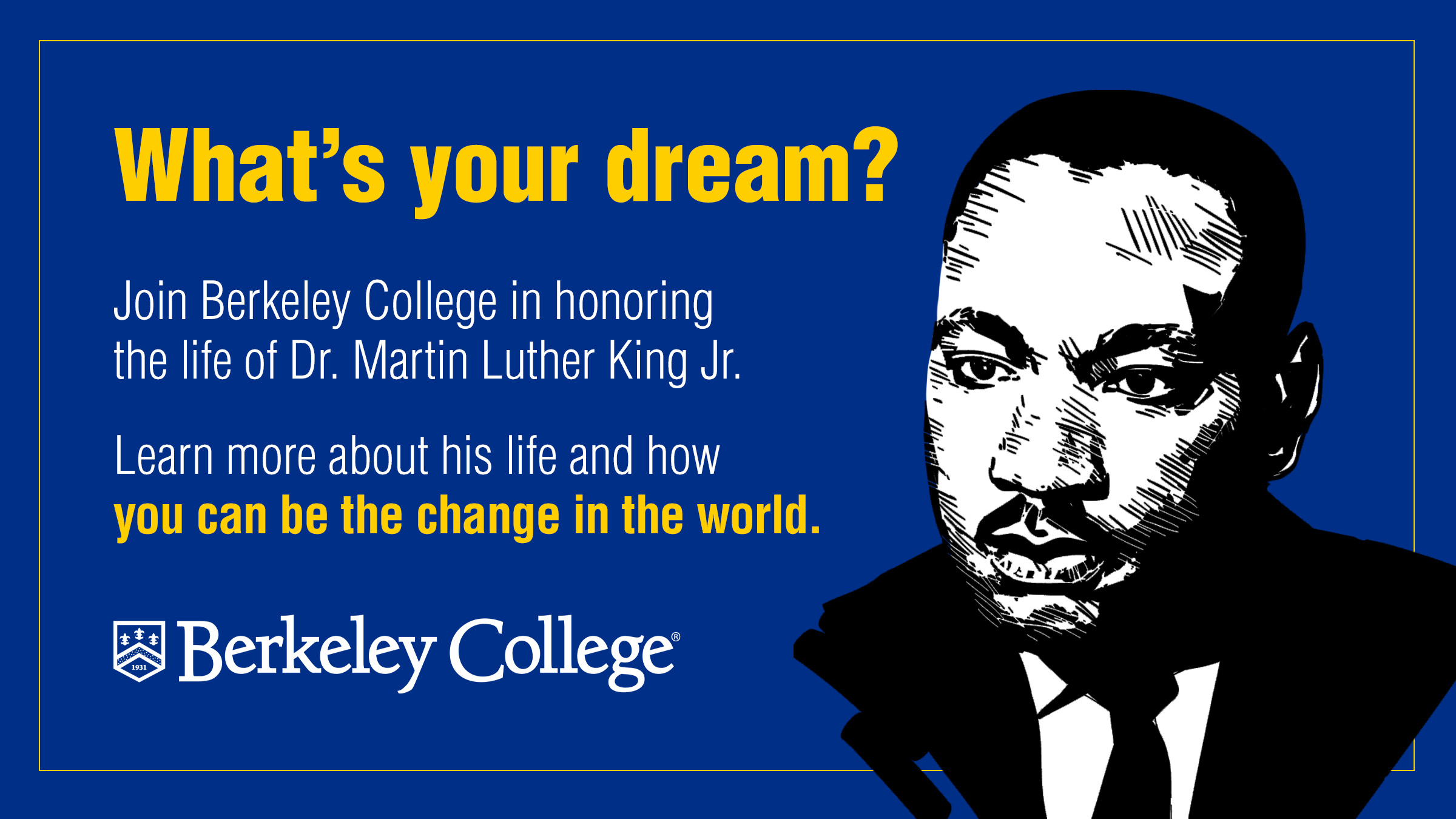 Share the News: @BerkeleyCollege #MLKDay #MLKDayofService  
Berkeley College will celebrate the life and legacy of Dr. Martin Luther King Jr. with virtual volunteerism opportunities and special events in January 2022. 
Virtual Senior Reading Series
January 17, 2022, 9 a.m.
Berkeley College will partner with Jersey Cares to record readings of popular novels for senior citizens. This activity is open to faculty, staff, students and the community at-large. Click here to register, and project instructions will be emailed. 
Find a Volunteer Opportunity for MLK Day of Service
Ongoing
As Berkeley College commemorates Dr. King's legacy, we encourage you to volunteer in your local community. Click here to visit the AmeriCorps website and find a volunteer opportunity near you. 
Let's Chat: What is Your Dream?
Wednesday, January 19, 2022, 6 p.m.
Berkeley College students will participate in a virtual discussion about Dr. King's "I Have A Dream" speech and its relevance in today's society. Participants will share their dreams and aspirations as they reflect on the meaning of hope, peace, unity and respect. To attend, email SDCL@BerkeleyCollege.edu. 
"I Have A Dream" Padlet Activity
Ongoing
Berkeley College faculty, staff, students and members of the community at-large are invited to share their dreams on the virtual Padlet platform. Click here for more information.
About Berkeley College
Berkeley College, founded in 1931, is a career-focused institution accredited by the Middle States Commission on Higher Education that offers students Master's, Bachelor's, and Associate's degree and Certificate programs in more than 20 career fields. The College also offers continuing education programs to enhance career credentials.
Berkeley College has campuses in Midtown Manhattan, NY, and in Newark, Paramus, Woodbridge and Woodland Park, NJ, with more than 4,000 students enrolled. In addition, Berkeley College Online® serves a global population. U.S. News & World Report has named Berkeley College among the Best Colleges for Online Bachelor's Programs and among the Best Online Bachelor's Programs for Veterans, for eight consecutive years. U.S. News & World Report named Berkeley College (NJ) one of the Best Regional Colleges in the North in its 2022 edition of the Best Colleges Survey.  In 2021 Berkeley College (NJ) was also recognized for the first time as a Top Performer on Social Mobility among colleges in the region. The website address is http://www.BerkeleyCollege.edu