New Year, New Career: Berkeley College Offers 4-Part Course to Help Professionals Reinvent Their Careers in 2022

FOR IMMEDIATE RELEASE
Monday, January 10, 2022
NEW YEAR, NEW CAREER:
BERKELEY COLLEGE OFFERS 4-PART COURSE TO HELP PROFESSIONALS REINVENT THEIR CAREERS IN 2022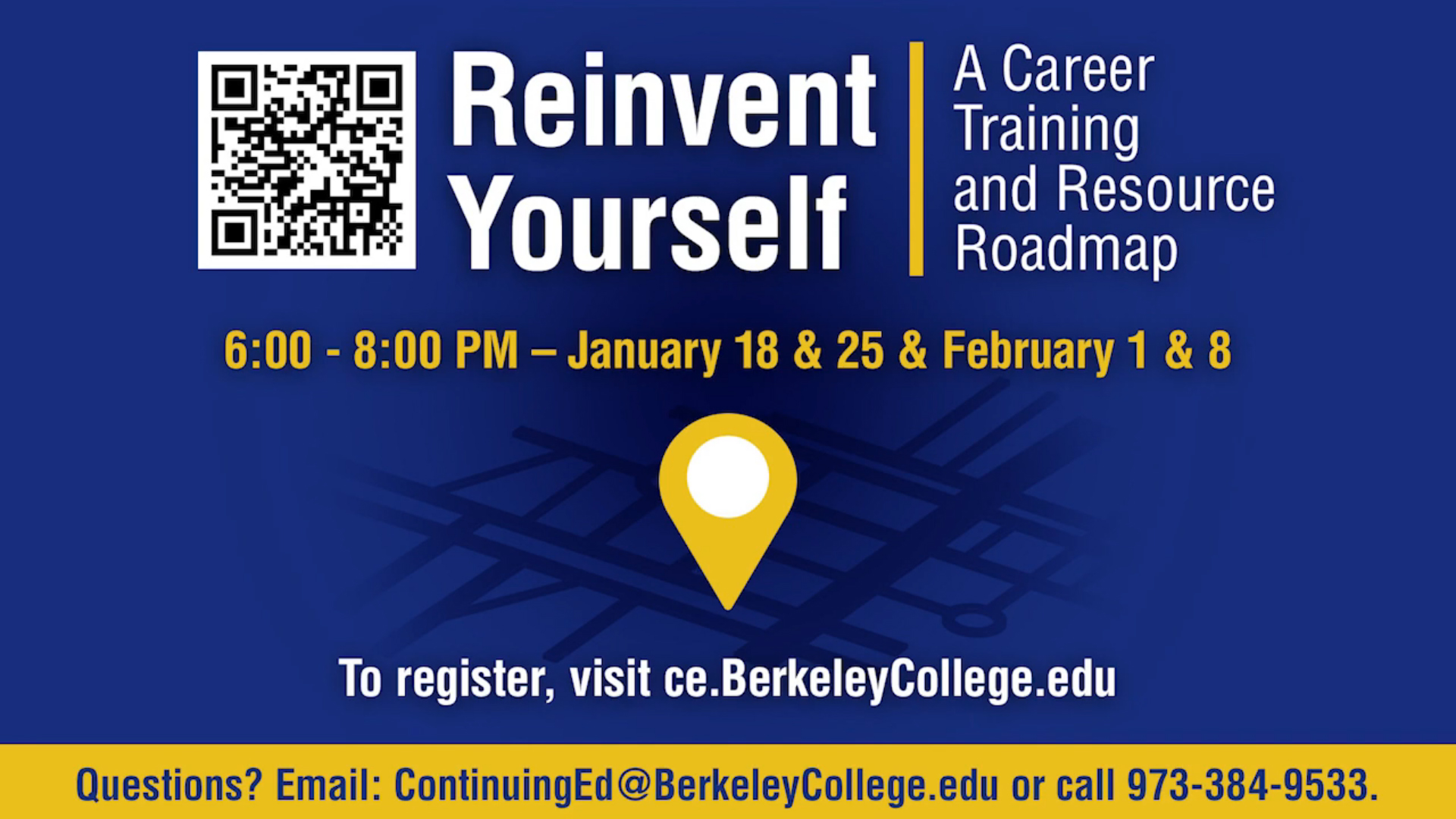 Share the News: @BerkeleyCollege #ContinuingEducation #NewsBerkeley 
Berkeley College will offer a Continuing Education course for professionals looking to reinvent their careers in 2022. "Career Development – Reinvent Yourself: A Career Training and Resource Roadmap" will be conducted virtually through four, two-hour training sessions beginning Tuesday, January 18, 2022.
During the course, attendees will learn how to perfect their resumes and interview skills, tricks for researching relevant job opportunities, and how to create an impactful LinkedIn profile. Attendees will have the opportunity to ask questions and engage in relevant conversations in real time.
Register Today: Click here to register for "Career Development – Reinvent Yourself: A Career Training and Resource Roadmap."
The course is instructed by Amy Soricelli, Vice President, Career Services, Berkeley College, who has more than 30 years of experience in the fields of recruiting and career services. She prides herself on her LinkedIn expertise, and enjoys a network of more than 25,000 connections.
"If you have ever considered changing careers, realigning your goals with a new set of requirements, or just adding a new set of skills to your toolbox, this class will assist you with solidifying these goals and creating a road map that will lead to positive activity and job search planning," Soricelli said. "This course will arm you with the tools you need for your next great adventure."
Courses will be offered on January 18 and 25, and on February 1 and 8, from 6 to 8 p.m. Cost of tuition is $95.
A study by Prudential Financial found that 26% of workers plan to switch jobs post-COVID, with 72% of these employees rethinking their skill set.
"The new year is an opportunity to start fresh in your career," said Maria Rivera, Director, Continuing Education, Berkeley College. "Amy Soricelli has designed an engaging action-oriented online workshop that is focused on helping you with a variety of skills and tools that will assist you on your path to reinvention."
About Continuing Education at Berkeley College
Berkeley College provides affordable and stackable micro-credentials to individuals who are seeking career advancement or to transition into another career field. Berkeley College is dedicated to serving the adult learner market by offering hands-on, practitioner-focused Continuing Education programs in a wide range of career fields. These programs are developed and taught by faculty who are industry experts with professional experience in their respective fields, who are dedicated to preparing you to take the next step in your professional career. For more information, visit https://ce.berkeleycollege.edu/
About Berkeley College
Berkeley College, founded in 1931, is a career-focused institution accredited by the Middle States Commission on Higher Education that offers students Master's, Bachelor's, and Associate's degree and Certificate programs in more than 20 career fields. The College also offers continuing education programs to enhance career credentials.
Berkeley College has campuses in Midtown Manhattan, NY, and in Newark, Paramus, Woodbridge and Woodland Park, NJ, with more than 4,000 students enrolled. In addition, Berkeley College Online® serves a global population. U.S. News & World Report has named Berkeley College among the Best Colleges for Online Bachelor's Programs and among the Best Online Bachelor's Programs for Veterans, for eight consecutive years. U.S. News & World Report named Berkeley College (NJ) one of the Best Regional Colleges in the North in its 2022 edition of the Best Colleges Survey.  In 2021 Berkeley College (NJ) was also recognized for the first time as a Top Performer on Social Mobility among colleges in the region. The website address is http://www.BerkeleyCollege.edu