10th Annual Women's History Month Panel at Berkeley College Celebrates Leaders in Business and Government

FOR IMMEDIATE RELEASE
Wednesday, March 16, 2022
MEDIA ADVISORY:


10th ANNUAL WOMEN'S HISTORY MONTH PANEL
AT BERKELEY COLLEGE
CELEBRATES LEADERS IN BUSINESS AND GOVERNMENT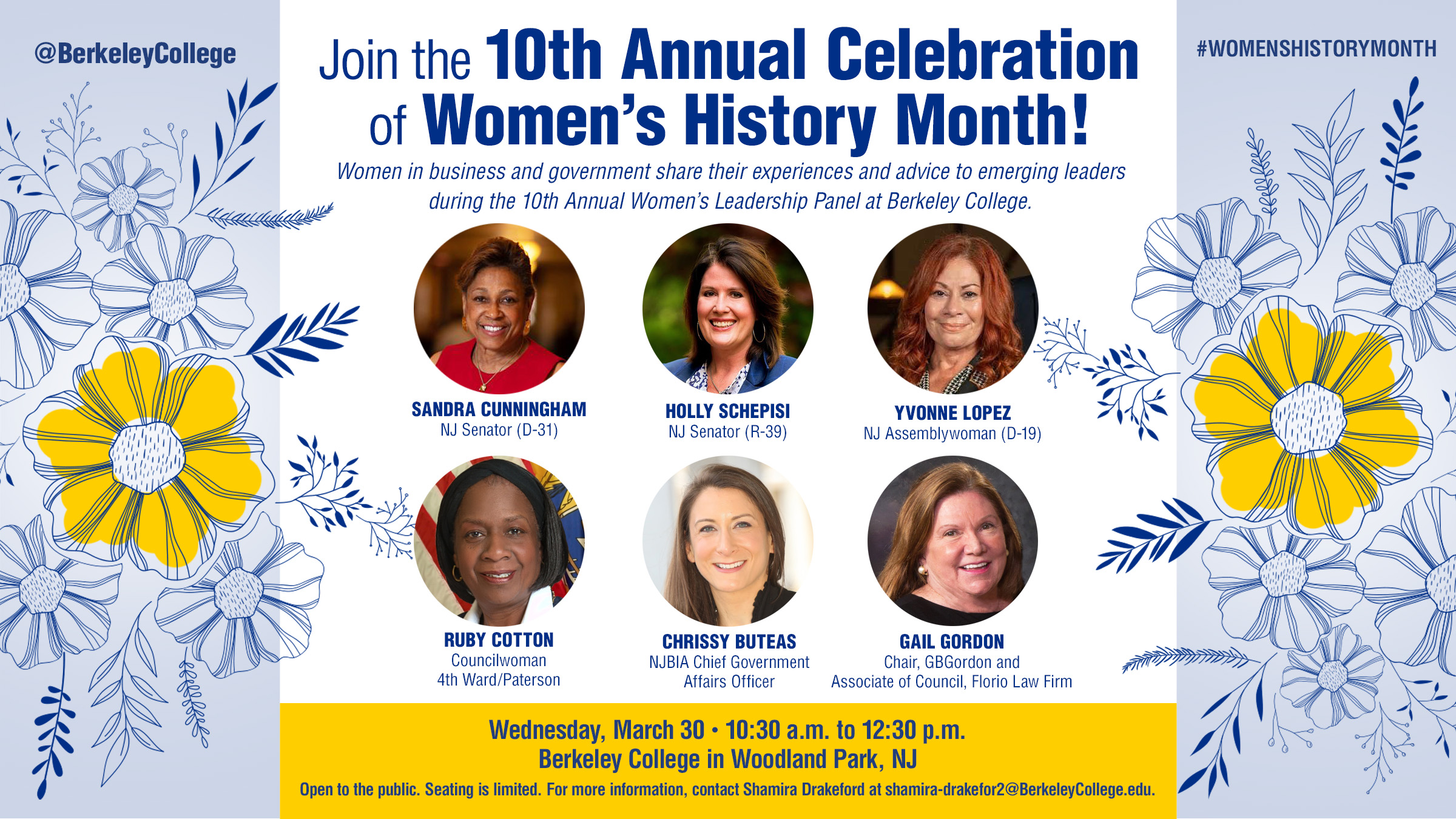 Share the News: @BerkeleyCollege #NewsBerkeley #WomensHistoryMonth 
WHAT: Leaders in business and government will share their perspectives, experiences and challenges during the 10th Annual Women's Leadership Panel at Berkeley College. 
WHEN: Wednesday, March 30, 2022, 10:30 a.m. to 12:30 p.m. 
WHERE: Berkeley College, Renaissance Hall, 44 Rifle Camp Road, Woodland Park, NJ 
Panelists include:
Sandra Cunningham, New Jersey Senator (D-31)
Holly Schepisi, New Jersey Senator (R-39)
Yvonne Lopez, New Jersey Assemblywoman (D-19)
Ruby Cotton, Councilwoman (4th Ward/Paterson)
Chrissy Buteas, Chief Government Affairs Officer, New Jersey Business and Industry Association
Gail Gordon, Chair, GBGordon and Associate of Counsel, Florio Law Firm 

The following chambers of commerce and community organizations will participate:
Commerce and Industry Association of New Jersey
North Jersey Chamber of Commerce
Greater Paterson Chamber of Commerce
Paramus Regional Chamber of Commerce
Tri-County Chamber of Commerce
Meadowlands Regional Chamber
New Jersey Business and Industry Association
Passaic County 200 Club 
TO ATTEND: This event is open to the public. Seating is limited and registration is required. For more information, email Shamira Drakeford, Government Relations Coordinator, Berkeley College, at shamira-drakefor2@BerkeleyCollege.edu. 
About Berkeley College
Berkeley College, founded in 1931, is a career-focused institution accredited by the Middle States Commission on Higher Education that offers students Master's, Bachelor's, and Associate's degree and Certificate programs in more than 20 career fields. The College also offers continuing education programs to enhance career credentials.
Berkeley College has campuses in Midtown Manhattan, NY, and in Newark, Paramus, Woodbridge and Woodland Park, NJ, with more than 4,000 students enrolled. In addition, Berkeley College Online® serves a global population. U.S. News & World Report has named Berkeley College among the Best Colleges for Online Bachelor's Programs and among the Best Online Bachelor's Programs for Veterans, for nine consecutive years. U.S. News & World Report named Berkeley College (NJ) one of the Best Regional Colleges in the North in its 2022 edition of the Best Colleges Survey.  In 2021 Berkeley College (NJ) was also recognized for the first time as a Top Performer on Social Mobility among colleges in the region. The website address is http://www.BerkeleyCollege.edu.