Berkeley College MBA Student Embraces 'Her Time' to Continue Her Education

FOR IMMEDIATE RELEASE
Monday, March 21, 2022
BERKELEY COLLEGE MBA STUDENT EMBRACES
'HER TIME' TO CONTINUE HER EDUCATION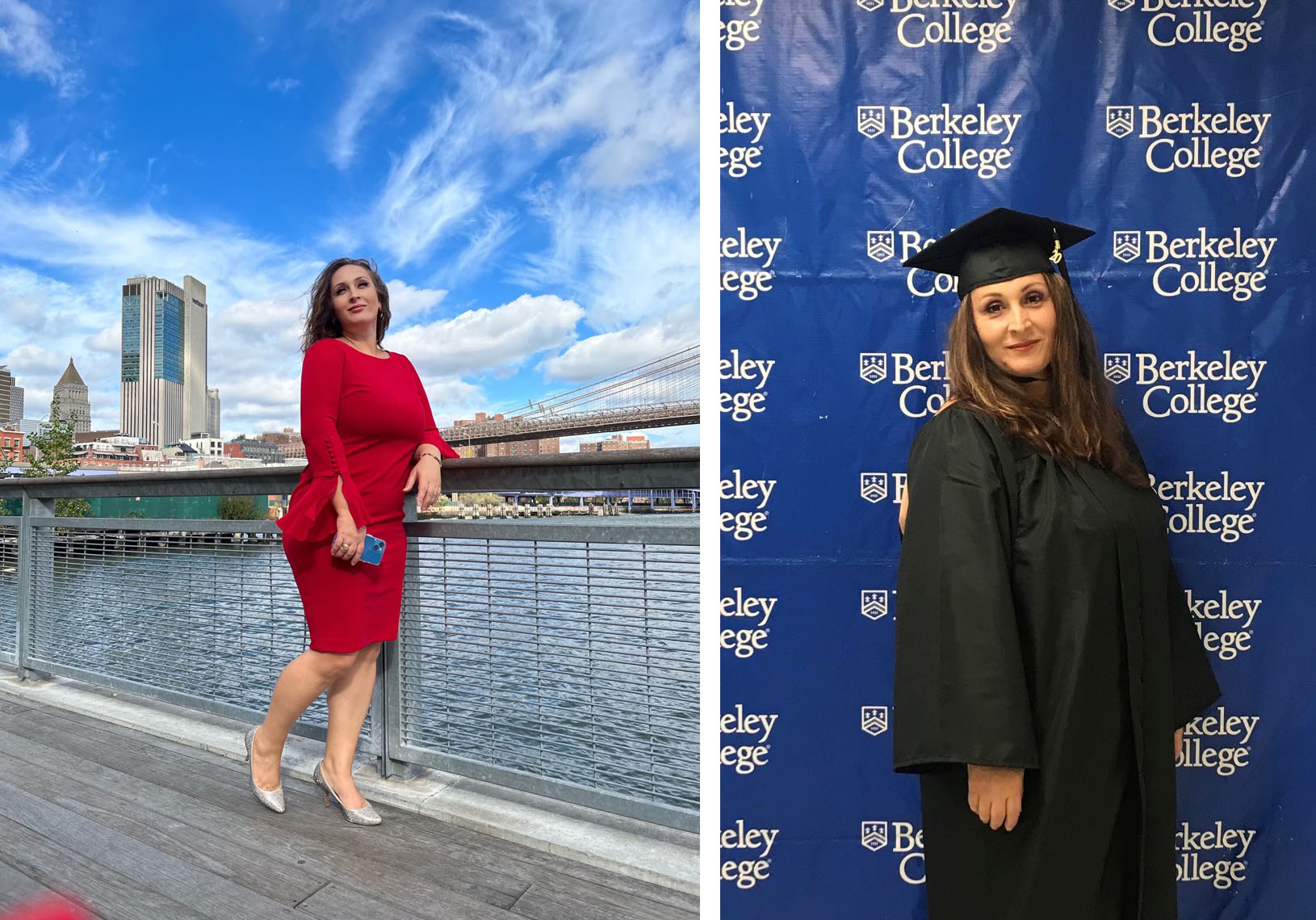 "All my life I chose professions that can directly help people. I hope to continue to give care and make a difference in people's lives." 
– Entela Ilirjani, Berkeley College MBA student 
Share the News: @BerkeleyCollege #MBA #WomensHistoryMonth 
Entela Ilirjani came to the United States as a student from Albania 24 years ago, but took time off from pursuing her education to raise her two children. 
"I never gave up on my dream to get back to school and complete my education," she said. "As time passed, my kids' education became my priority. I needed to wait for my time to come." 
Ilirjani's time finally came in 2018, when she enrolled in an undergraduate degree at Berkeley College, just after her son's 20th birthday. 
"It was a big commitment," she said. "I worked Monday to Friday as a medical assistant in a doctor's office in downtown Brooklyn, and after that I went to school." 
Time constraints weren't her only challenge – after years out of the classroom, she needed to learn computer skills. A self-proclaimed expert at "learning by experience," Ilirjani built a support network that included everyone from the Berkeley College Library, to the Center for Academic Success, to the Public Safety guard at the front desk. 
Ilirjani completed a Bachelor of Business Administration in Health Services Management in fall 2020 and is pursuing a Master of Business Administration (MBA) in Management – as an online student – expected in 2023. 
"I studied hard to be at the same level with a generation that was 20 years younger. Yet, I never for a moment regretted the fact that I went back to school," said the resident of Astoria, Queens. 
Ilirjani is a regular recipient of President's and Dean's List honors, was inducted into the National Society of Leadership and Success, and is a member of the International Society of Female Professionals. 
When she graduates with her MBA, she hopes to give back to her community as a school or healthcare administrator. Ilirjani currently works as a substitute teacher for the New York City Department of Education. 
"All my life I chose professions that can directly help people," she said, adding that she served as an English teacher in Albania, a hospital translator for immigrant families, and a Peer Tutor at Berkeley College. "I hope to continue to give care and make a difference in people's lives." 
About Berkeley College
Berkeley College, founded in 1931, is a career-focused institution accredited by the Middle States Commission on Higher Education that offers students Master's, Bachelor's, and Associate's degree and Certificate programs in more than 20 career fields. The College also offers continuing education programs to enhance career credentials.
Berkeley College has campuses in Midtown Manhattan, NY, and in Newark, Paramus, Woodbridge and Woodland Park, NJ, with more than 4,000 students enrolled. In addition, Berkeley College Online® serves a global population. U.S. News & World Report has named Berkeley College among the Best Colleges for Online Bachelor's Programs and among the Best Online Bachelor's Programs for Veterans, for nine consecutive years. U.S. News & World Report named Berkeley College (NJ) one of the Best Regional Colleges in the North in its 2022 edition of the Best Colleges Survey.  In 2021 Berkeley College (NJ) was also recognized for the first time as a Top Performer on Social Mobility among colleges in the region. The website address is http://www.BerkeleyCollege.edu.