Founder of Berkeley College Women's Entrepreneurship Week Shares How Women-owned Businesses Can Build Strategic Networks

FOR IMMEDIATE RELEASE
Thursday, March 10, 2022
FOUNDER OF BERKELEY COLLEGE WOMEN'S ENTREPRENEURSHIP WEEK SHARES HOW WOMEN-OWNED BUSINESSES CAN BUILD STRATEGIC RELATIONSHIPS
Berkeley College Subject Matter Experts Join Manhattan Chamber of Commerce for 'Learning Tracks' Webinar Series to Assist NYC Businesses in Economic Recovery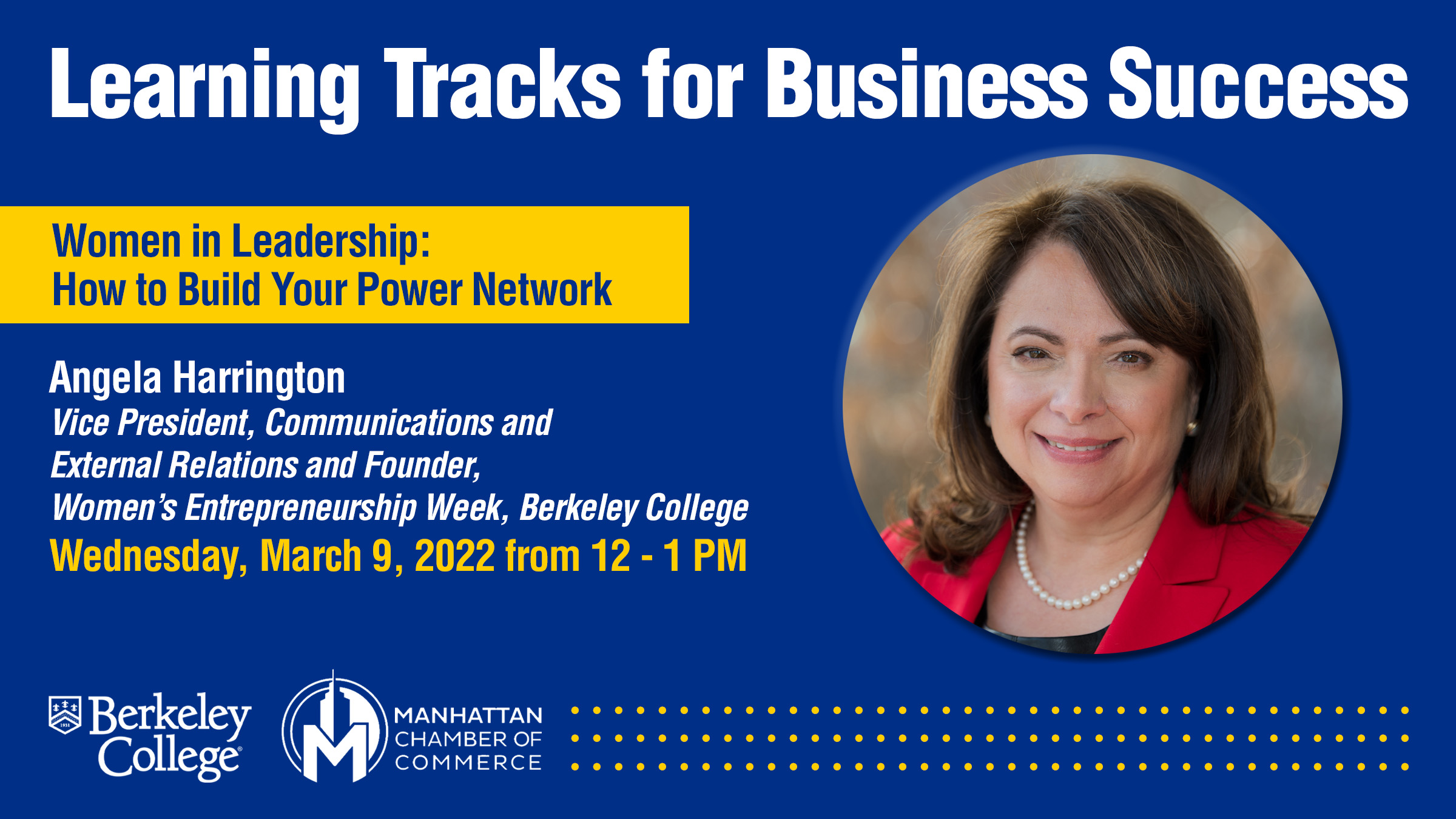 Share the News: @BerkeleyCollege @ManhattanCofC #WomensHistoryMonth #NewsBerkeley  
Berkeley College joined the Manhattan Chamber of Commerce on Wednesday, March 9, 2022, to present "Women in Leadership: How to Build Your Power Network," part of the Learning Tracks for Business Success webinar series to assist businesses during New York City's economic recovery. 
In a special presentation for Women's History Month, Angela Harrington, Vice President, Communications and External Relations and Founder of Women's Entrepreneurship Week at Berkeley College, shared the ways entrepreneurs and women-owned businesses can make the connections to help them succeed. 
"Power networking is not about immediate rewards. It is about building strategic relationships," Harrington said. "Our network is only as strong as the women around us and the businesses that they own and run." 
Harrington encouraged the attendees to view networking as a mutually beneficial exchange rather than an independent endeavor. 
"Many of you may look at networking as serving a self-interest. But that is all wrong," she said. "If you try to open the door to a relationship by making demands and only looking out for what you want out of a relationship, you are going to fail." 
She suggested the attendees consider volunteerism, joining professional organizations and sharing their expertise through podcasts and webinars as ways to build goodwill for their businesses. 
"As the popularity of remote work continues, there will be an even greater premium placed on facetime interactions," Harrington said. "So make it a point to start attending live events." 
She also shared tips to find meaningful connections with attendees who were hesitant about using social media. 
"What matters is the quality of people in your network and that they are relevant to you," Harrington said. "Relationships are an investment in your future and in the future of your business.
Upcoming Learning Tracks for Business Success webinars include: 
Financial Planning for Small Closely-held Businesses
Tuesday, March 22, 2022, 11 a.m. to 12 p.m.
Presenter: David Glazer, Director, Master of Business Administration Program, Berkeley College Larry L. Luing School of Business® 
Leveraging Data and Tech for Driving Business Value
Wednesday, March 23, 2022, 1 to 2 p.m.
Presenter: Darshan Desai, PhD, Professor and Founding Chair,  Business Data Science, Berkeley College Larry L. Luing School of Business 
Diversity and Inclusivity Considerations in the Business Environment
Wednesday, March 30, 2022, 12 to 1 p.m.
Presenters: Patricia Greer, JD, Chair, Legal Studies, Berkeley College School of Professional Studies and Moya Bansile, Esq., Co-Chair, Diversity, Equity and Inclusion Advisory Committee, Professor and Pre-Law Advisor, Legal Studies, Berkeley College School of Professional Studies 
Learn More: Chamber members may opt-in to engage with any of the Learning Tracks here: http://eepurl.com/c8ZhUT 
About the Manhattan Chamber of Commerce 
The Manhattan Chamber of Commerce is the convener, voice and advocate of the 100,000+ businesses across the borough of Manhattan, which is New York's economic center. 
The Chamber is focused on advancing the economic vitality of our region by building a strong and thriving climate for the broad business community, including small businesses, startups and larger companies. 
While there are significant advantages to doing business in New York City, we provide meaningful solutions to overcome the biggest challenges facing businesses here. Since 1920, the Chamber's mission has been to empower its members to thrive. 
Throughout the COVID-19 pandemic, the Chamber's nonprofit foundation has had eight staff members providing outreach and technical assistance to local businesses throughout Manhattan.  
About Berkeley College
Berkeley College, founded in 1931, is a career-focused institution accredited by the Middle States Commission on Higher Education that offers students Master's, Bachelor's, and Associate's degree and Certificate programs in more than 20 career fields. The College also offers continuing education programs to enhance career credentials.
Berkeley College has campuses in Midtown Manhattan, NY, and in Newark, Paramus, Woodbridge and Woodland Park, NJ, with more than 4,000 students enrolled. In addition, Berkeley College Online® serves a global population. U.S. News & World Report has named Berkeley College among the Best Colleges for Online Bachelor's Programs and among the Best Online Bachelor's Programs for Veterans, for nine consecutive years. U.S. News & World Report named Berkeley College (NJ) one of the Best Regional Colleges in the North in its 2022 edition of the Best Colleges Survey.  In 2021 Berkeley College (NJ) was also recognized for the first time as a Top Performer on Social Mobility among colleges in the region. The website address is http://www.BerkeleyCollege.edu.