Founding Chair of Berkeley College's Business Data Science Program Shares How Analytics Can Drive Business Value

FOR IMMEDIATE RELEASE
Monday, March 28, 2022
FOUNDING CHAIR OF BERKELEY COLLEGE'S BUSINESS DATA SCIENCE PROGRAM SHARES HOW ANALYTICS CAN DRIVE BUSINESS VALUE



"Many times there is a disconnect between data and business value. Some organizations don't know if they have enough data to be able to drive business value, and other organizations have so much data they don't know where to start."
– Darshan Desai, PhD
Professor and Founding Chair, Business Data Science Program,
Berkeley College Larry L. Luing School of Business®. During the Manhattan Chamber of Commerce Learning Tracks for Business Success webinar, Dr. Desai gave businesses a starting point for reimaging their business models. 


Share the News: @BerkeleyCollege @ManhattanCofC #NewsBerkeley  
Darshan Desai, PhD, Founding Chair of the Business Data Science Program at Berkeley College and an expert on business analytics and information management, provided insights into how companies can use data to achieve their business goals, during a webinar on Wednesday, March 23, 2022. "Leveraging Data and Tech for Driving Business Value" was part of the Manhattan Chamber of Commerce Learning Tracks for Business Success webinar series, to assist businesses during New York City's economic recovery.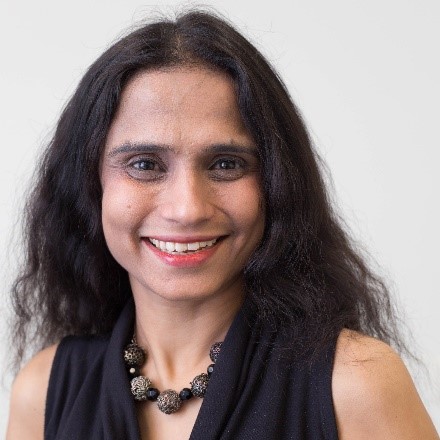 "The pandemic has created value and opportunities to digitize, to reimagine your business model," she said. "Yes, it has been an enormous struggle for a lot of people, but at the same time it has presented an opportunity to do business in a way that we have never seen before." 
"Many times there is a disconnect between data and business value," Desai said. "Some organizations don't know if they have enough data to be able to drive business value, and other organizations have so much data they don't know where to start." 
According to Desai, the first step for any business is to identify how it plans to use the collected data – whether to cut costs, increase operational efficiencies, better satisfy existing customers or attract new customers. 
"Before you buy the storage or any analytical tools or devices, the first important question to ask is – 'Where are my pain points?' 'What exactly do I want to achieve?' " Desai said. "Then, see how you can build those capabilities inside your business for the long-term." 
Desai also shared data strategies, implementation issues that businesses may face, and best practices for the future. 
Upcoming Learning Tracks for Business Success webinars include: 
Diversity and Inclusivity Considerations in the Business Environment
Wednesday, March 30, 2022, 12 to 1 p.m.
Presenters: Patricia Greer, JD, Chair, Legal Studies, Berkeley College School of Professional Studies and Moya Bansile, Esq., Co-Chair, Diversity, Equity and Inclusion Advisory Committee, Professor and Pre-Law Advisor, Legal Studies, Berkeley College School of Professional Studies 
Learn More: Chamber members may opt-in to engage with any of the Learning Tracks here: http://eepurl.com/c8ZhUT 
About the Manhattan Chamber of Commerce 
The Manhattan Chamber of Commerce is the convener, voice and advocate of the 100,000+ businesses across the borough of Manhattan, which is New York's economic center. 
The Chamber is focused on advancing the economic vitality of our region by building a strong and thriving climate for the broad business community, including small businesses, startups and larger companies. 
While there are significant advantages to doing business in New York City, we provide meaningful solutions to overcome the biggest challenges facing businesses here. Since 1920, the Chamber's mission has been to empower its members to thrive. 
Throughout the COVID-19 pandemic, the Chamber's nonprofit foundation has had eight staff members providing outreach and technical assistance to local businesses throughout Manhattan.  
About Berkeley College
Berkeley College, founded in 1931, is a career-focused institution accredited by the Middle States Commission on Higher Education that offers students Master's, Bachelor's, and Associate's degree and Certificate programs in more than 20 career fields. The College also offers continuing education programs to enhance career credentials.
Berkeley College has campuses in Midtown Manhattan, NY, and in Newark, Paramus, Woodbridge and Woodland Park, NJ, with more than 4,000 students enrolled. In addition, Berkeley College Online® serves a global population. U.S. News & World Report has named Berkeley College among the Best Colleges for Online Bachelor's Programs and among the Best Online Bachelor's Programs for Veterans, for nine consecutive years. U.S. News & World Report named Berkeley College (NJ) one of the Best Regional Colleges in the North in its 2022 edition of the Best Colleges Survey.  In 2021 Berkeley College (NJ) was also recognized for the first time as a Top Performer on Social Mobility among colleges in the region. The website address is http://www.BerkeleyCollege.edu.