Graduates Seeking to Take Their Careers to the Next Level Return to Berkeley College for the MBA Experience

FOR IMMEDIATE RELEASE
Friday, March 4, 2022
GRADUATES SEEKING TO TAKE THEIR CAREERS TO THE NEXT LEVEL RETURN TO BERKELEY COLLEGE FOR THE MBA EXPERIENCE

The Berkeley College Master of Business Administration (MBA) in Management program has been helping graduates expand their leadership qualities and grow in their careers since 2015. 
"The MBA program is designed to prepare students for management growth in high-demand fields through a flexible approach that meets the needs of working professionals," said Diane Recinos, EdD, Interim President of Berkeley College. "One of our primary objectives is to accelerate pathways to career advancement for current students, alumni and prospective students." 
The program prepares students for leadership positions through a specialized curriculum with optional concentrations in Accounting*, Financial Management, Human Resources Management, Healthcare Management and Supply Chain Management. 
Read More: Click here to read more about the MBA in Management at Berkeley College in New York. 
U.S. Marine Corps Veteran Utilizes Berkeley MBA to Maximize Leadership Potential in the Communications and Engineering Technology Field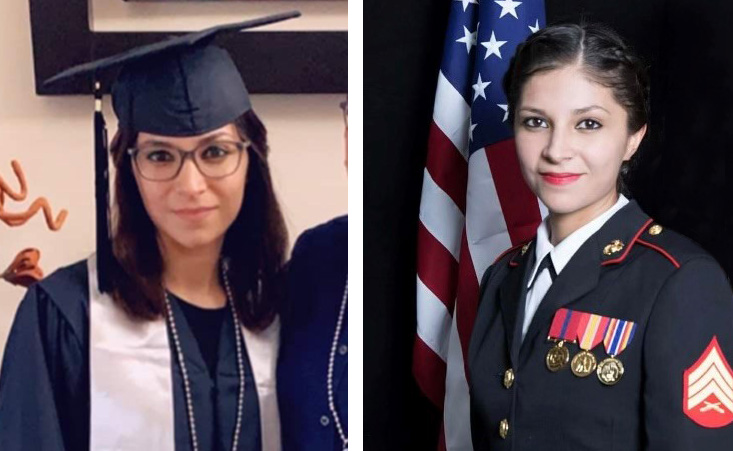 Monica Hayes, a U.S. Marine Corps veteran, graduated from Berkeley College in 2020 with a Bachelor of Business Administration in Accounting and immediately decided to enroll in the College's MBA program.
"I loved the flexibility that Berkeley College gave me when working on my undergraduate degree," said Hayes, 26. "Every professor I met made some type of impact on me. This made me want to work hard and continue my education."
Hayes appreciated the opportunity to transition to online courses when she moved to Iowa in 2020, working full-time as a Data Entry Clerk for Chesterman Co., a Coca-Cola bottling company in Sioux City, while she completed her degree.
Hayes completed her MBA in spring 2021 and moved to Kailua, HI, where she was hired as a Logs and Records Manager with Adams Communication & Engineering Technology, Inc., a company that provides products for government defense and federal agencies. She has used the leadership skills she learned as both a military veteran and MBA graduate to expand her career.
"Berkeley College was a stepping stone for me to advance," she said. "I am now ahead of a lot of my peers and on the road to training for higher positions. Higher education is essential to expand your horizons and change your life for the better." 
With Three Degrees from Berkeley College, MBA Grad has 'the Confidence to Strive for Greatness' in Real Estate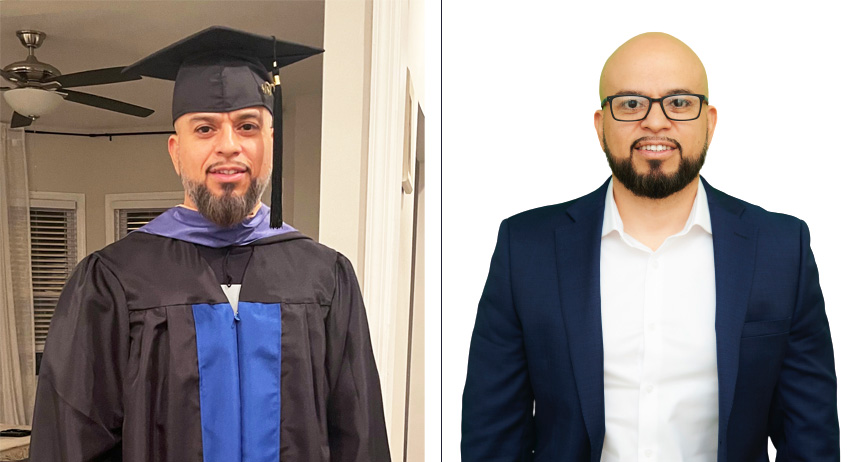 When he graduates with his MBA this spring, Erick L. Gill will hold three degrees from Berkeley College.
"My positive experience attending Berkeley kept me coming back," said Gill, who also holds a Bachelor of Business Administration in General Business (2020), and an Associate in Applied Science in Business Administration – Accounting (2000). He will begin a doctoral program at Liberty University in fall 2022.
"My Berkeley education has given me the confidence to strive for greatness and the skills and knowledge to achieve it," he added.
Through the Berkeley College MBA program, Gill gained the leadership experience he needed to strike out on his own, leaving his corporate job in November 2021 to manage his own real estate business as a Partner with The Property People Group of Coldwell Banker. He credits Berkeley College professors with preparing him for his day-to-day role, which requires business planning, marketing, human resources, sales, relationship management and more.
"The confidence I have in business was gained in the classroom, where Berkeley professors prepared us through their real-life professional experiences," said Gill, 43.
Gill recently received the NJ REALTORS® Circle of Excellence Sales Award, and is a recipient of the International Society of Excellence Award, recognizing the top 2% of Coldwell Banker agents worldwide.
He also gives back to his community in Hawthorne, NJ, as a member of its Board of Recreation and as Treasurer of its Youth Football Organization.
"Thanks to Berkeley, I've had a very successful end to 2021 and start to 2022," he said.
MBA Helps Alumnus Climb Career Ladder as He Sets His Sights on Becoming a Business Administrator in K-12 Education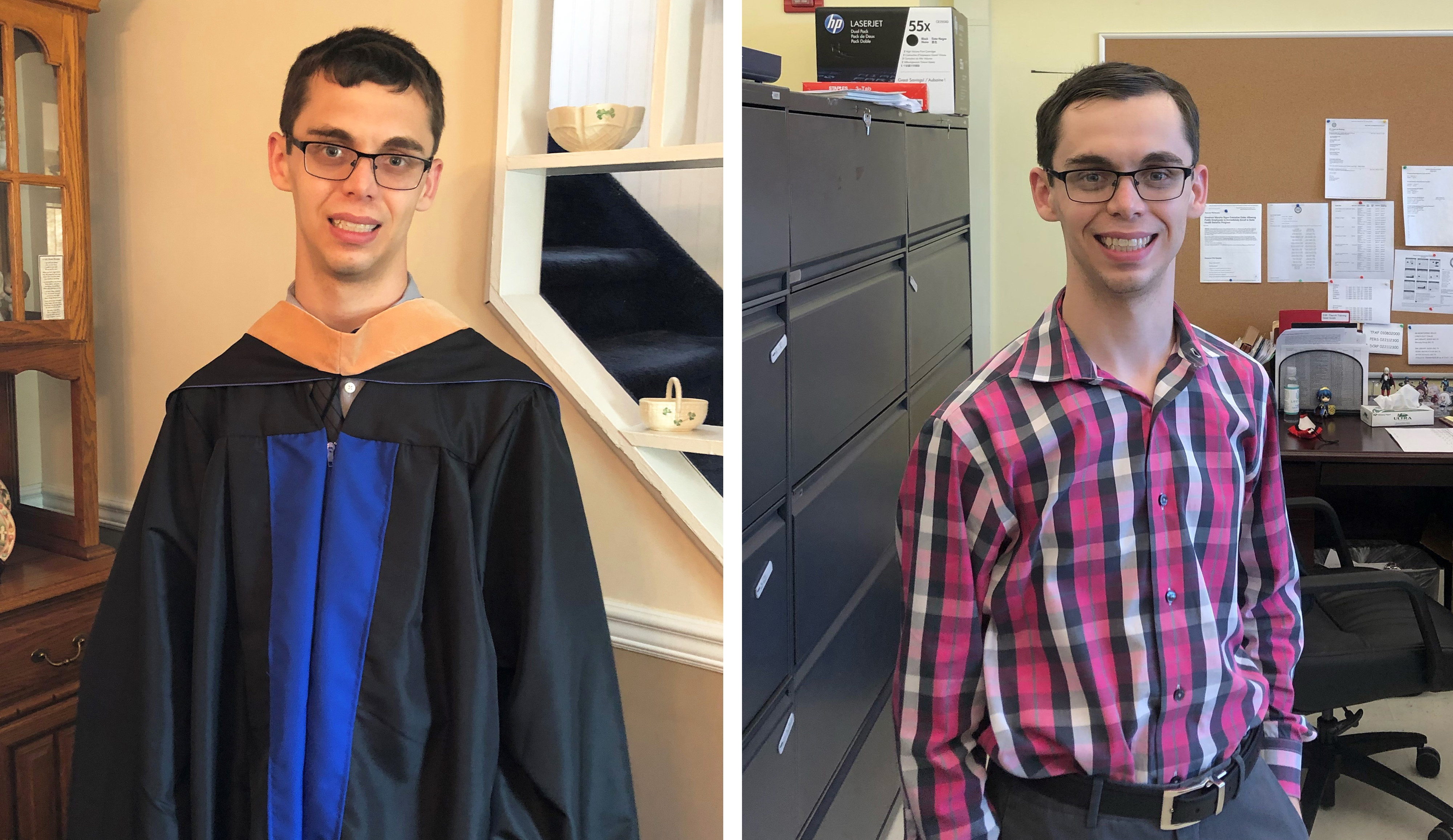 Sean Smith is climbing the career ladder of success. After earning a Bachelor of Science in Accounting from Berkeley College in 2016, he joined the Hoboken Public School District Board of Education as an Accounts Payable Specialist and later transitioned to the Payroll Department.
Smith returned to Berkeley College to earn an MBA in Management in 2020, and has his sights set on becoming a business administrator of schools.
"Obtaining an MBA has opened new opportunities for me," said Smith, 27, a resident of Woodland Park, NJ. "I saw that in order to move forward in my career I would require certain certifications. I hope to achieve even more as I move forward."
Smith is now working to obtain a Qualified Purchasing Agent certificate, which includes training to evaluate and negotiate with suppliers for businesses, townships and other entities.
He remembers his time at Berkeley fondly, where he was the first member of the College's Cross-Country team.
"The Berkeley College staff were a great resource for me," Smith said. "They helped me every step of the way."
About Berkeley College 
Berkeley College, founded in 1931, is a career-focused institution accredited by the Middle States Commission on Higher Education that offers students Master's, Bachelor's, and Associate's degree and Certificate programs in more than 20 career fields. The College also offers continuing education programs to enhance career credentials.
Berkeley College has campuses in Midtown Manhattan, NY, and in Newark, Paramus, Woodbridge and Woodland Park, NJ, with more than 4,000 students enrolled. In addition, Berkeley College Online® serves a global population. U.S. News & World Report has named Berkeley College among the Best Colleges for Online Bachelor's Programs and among the Best Online Bachelor's Programs for Veterans, for nine consecutive years. U.S. News & World Report name Berkeley College (NJ) one of the Best Regional Colleges in the North in its 2022 and 2021 editions of the Best Colleges Survey.  In 2021 Berkeley College (NJ) was also recognized for the first time as a Top Performer on Social Mobility among colleges in the region. The website address is http://www.BerkeleyCollege.edu.
The mission of Berkeley College is to empower students to achieve lifelong success in dynamic careers.
* Not offered in New York.