'It's an Investment in Yourself': Berkeley College Alumnae Share Diverse Paths to Law School

FOR IMMEDIATE RELEASE
Tuesday, April 12, 2022
'IT'S AN INVESTMENT IN YOURSELF'
BERKELEY COLLEGE ALUMNAE SHARE DIVERSE PATHS TO LAW SCHOOL



Photo Caption (L to R): Berkeley College alumnae Samantha Chase, Kendeil A. Dorvilier, Laura Riano and Olga Kerenova during "Life After Berkeley College: Law School and Legal Careers," a webinar on Thursday, April 7, 2022. 
Share the News: @BerkeleyCollege #BerkeleyAlumni #NewsBerkeley  
Berkeley College alumnae shared their varied paths to law school and the diverse legal specialties they are pursuing – from corporate law to human rights – during "Life After Berkeley College: Law School and Legal Careers," a free webinar offered on Thursday, April 7, 2022, to anyone considering a career path in the legal field. 
Watch the Webinar: Click here to watch "Life After Berkeley College: Law School and Legal Careers." Click here to learn more about the Legal Studies program at Berkeley College. 
"A legal education is great, not only for people who want to practice, but also for people who want to understand how our civic and legal institutions work," said Samantha Chase, a third-year student at the Benjamin N. Cardozo School of Law. "It makes you an informed citizen and very empowered." 
Chase, who worked full-time and took night classes as an undergraduate at Berkeley College, said law school was always her focus. 
"Having a program that was dedicated to Legal Studies (at Berkeley College), with adjunct and full-time professors who are practicing, really gives you an understanding of what the legal practice looks like," she said. "It's a great primer to understand some of the substantive areas and what you are interested in." 
The panelists also addressed the challenges of law school, from cost to the high-pressure environment. 
Kendeil A. Dorvilier, an associate attorney in McCarter & English's Corporate Practice Group, spoke about her experience as a first-generation American,  graduate and law school student. 
"It's an investment in yourself," said Dorvilier, who worked full-time while attending school. "Know your 'why' and what you want to get out of law school – before you even try to get in." 
Olga Kerenova, Esq., a Professor of Legal Studies at Berkeley College, uses her law degree as a human rights advocate on the international stage. She said a law degree offers many opportunities beyond a traditional practice. 
"I use my degree for teaching and I use my degree for my advocacy work, because that is where I do my best work," said Kerenova, a graduate of the University of Illinois' John Marshall Law School. "Law school showed me the way and gave me the tools." 
Laura Riano, a second-year student at Touro Law Center in Central Islip, NY, said she was pursuing a career in fashion before she discovered a love of business and law. She encouraged those in the audience unsure of their path to be open to change. 
"I didn't know that I wanted to go to law school until I was in college and now, in law school, I am still deciding where I want to plant my feet," Riano said. "That is the joy of going through this process." 
"I always tell my students that finding out what you may not be interested in is as important as finding out what you are interested in," said Patricia Greer, JD, Chair, Legal Studies, Berkeley College School of Professional Studies, who moderated the event. "I think all of your experiences help to shape your vision of what you want for your future." 
Riano said Berkeley College's Pre-Law Advisory Center (PLAC), and its Director, Moya S. H. Bansile, Esq., were integral in guiding her through the process to apply to law school. 
According to Bansile, the PLAC was established in 2014 to help Berkeley College students and alumni navigate the law school admission process. Over the years, the PLAC has assisted dozens of students with diverse backgrounds and needs. Each year, the PLAC has seen Berkeley College alumni admitted to a wide range of law schools. 
"Our alumnae panelists epitomize the notion that when hard work, dedication and commitment meet with opportunities, empowerment and guidance, there is no limit to what one can accomplish," Bansile said. "Berkeley College has created an atmosphere of empowerment that nurtures and propels students in achieving successful careers in the legal profession."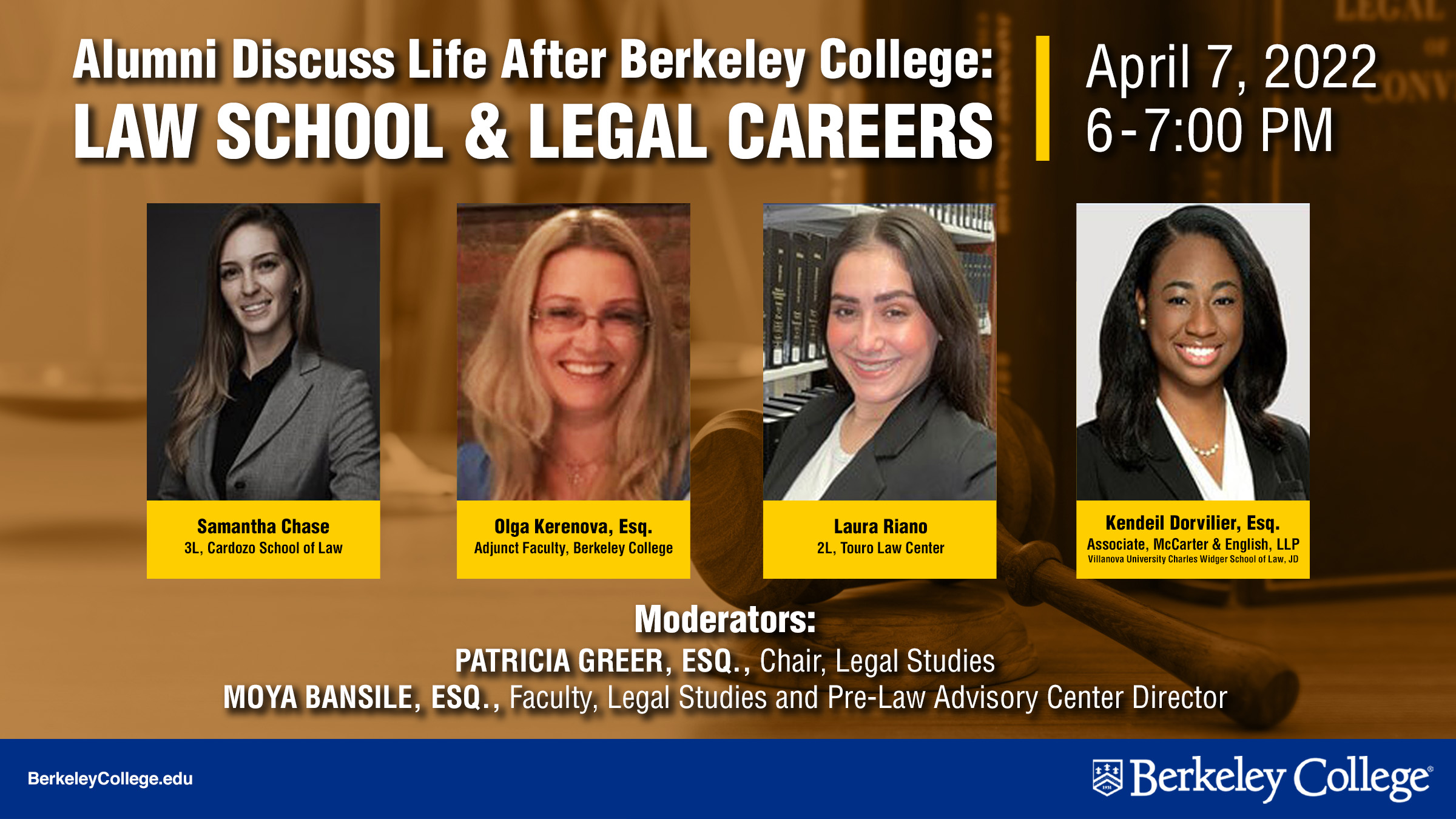 About Berkeley College
Berkeley College, founded in 1931, is a career-focused institution accredited by the Middle States Commission on Higher Education that offers students Master's, Bachelor's, and Associate's degree and Certificate programs in more than 20 career fields. The College also offers continuing education programs to enhance career credentials.
Berkeley College has campuses in Midtown Manhattan, NY, and in Newark, Paramus, Woodbridge and Woodland Park, NJ, with more than 4,000 students enrolled. In addition, Berkeley College Online® serves a global population. U.S. News & World Report has named Berkeley College among the Best Colleges for Online Bachelor's Programs and among the Best Online Bachelor's Programs for Veterans, for nine consecutive years. U.S. News & World Report named Berkeley College (NJ) one of the Best Regional Colleges in the North in its 2022 edition of the Best Colleges Survey.  In 2021 Berkeley College (NJ) was also recognized for the first time as a Top Performer on Social Mobility among colleges in the region. The website address is http://www.BerkeleyCollege.edu.