First-Generation College Graduate with Two Berkeley College Degrees Uses Business Acumen to Excel in Career with New York City Department of Education

FOR IMMEDIATE RELEASE
Wednesday, April 13, 2022
FIRST-GENERATION COLLEGE GRADUATE WITH TWO BERKELEY COLLEGE DEGREES USES BUSINESS ACUMEN TO EXCEL IN CAREER WITH NEW YORK CITY DEPARTMENT OF EDUCATION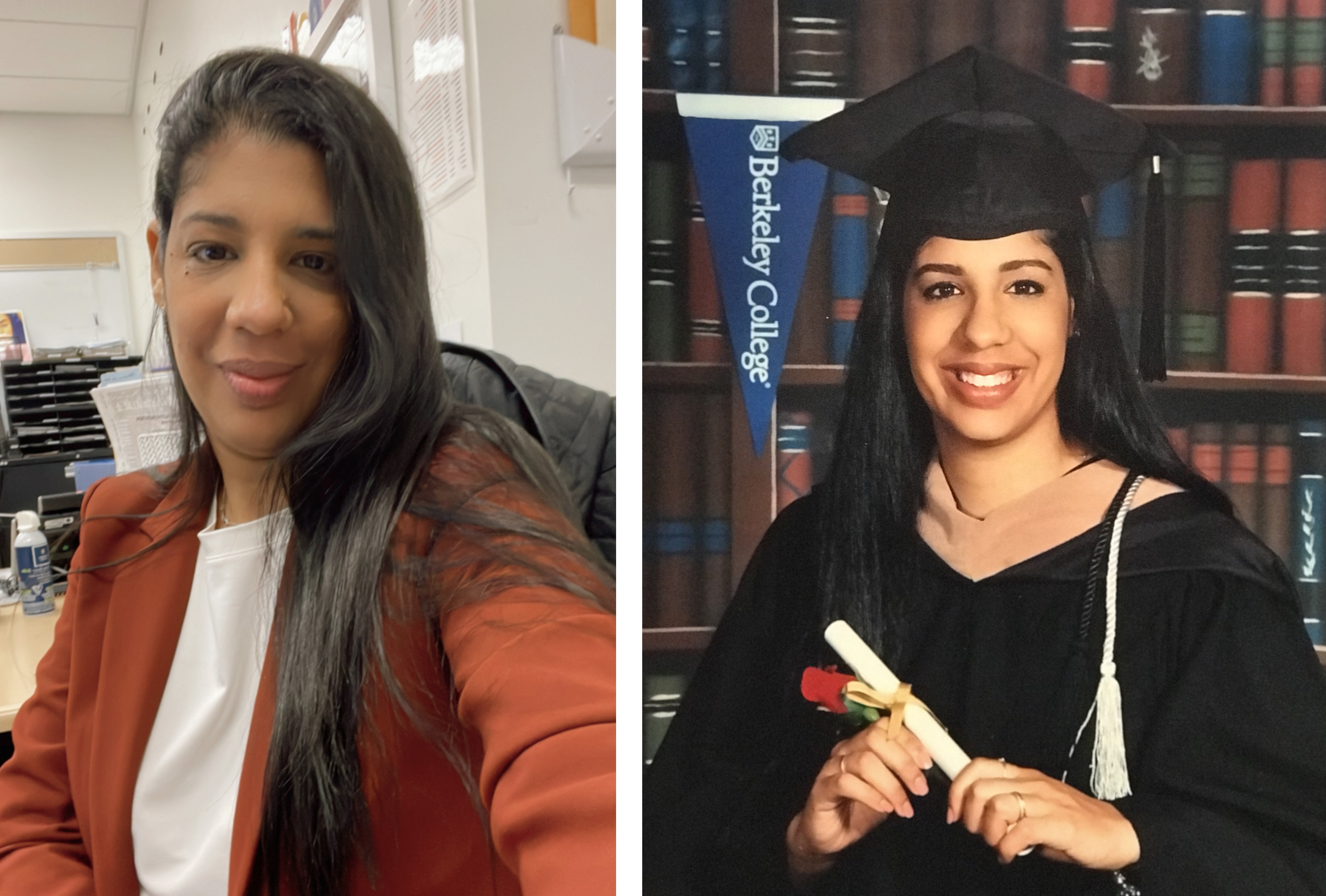 Photo Caption: Mishell Tavarez, a first-generation college graduate, holds two degrees from Berkeley College and is employed with the New York City Department of Education. 
When Mishell Tavarez decided to return to school to pursue her Master of Business Administration (MBA) degree, she knew there was only one college that was the right fit – her alma mater, Berkeley College. 
"I had taken courses at other colleges and did not finish or complete a degree because I never felt that I could do it," Tavarez said. "Berkeley College was always supportive and the faculty provided me with guidance throughout my time there. There is always a support system at Berkeley and without it I could not have achieved what I have today." 
Tavarez, 37, was raised in the Dominican Republic and Brooklyn, NY. Like many Berkeley College students, she was the first in her family to pursue a college degree. She flourished at Berkeley, and was regularly named to the President's and Dean's lists for academic achievement. She was inducted in the National Society of Leadership and Success and graduated, cum laude, with a Bachelor of Business Administration in International Business in 2017. 
"I had always wanted to acquire a college degree, but at Berkeley College I was inspired to further my education beyond a Bachelor's degree," said Tavarez, who now resides in the Bronx, NY. She completed her MBA in Management in 2021, and is currently a doctoral candidate at Capella University. 
As a working professional, Tavarez said the option to take online MBA courses provided her with flexibility she needed to stay on track with her education. 
"I found it to be extremely easy to communicate with all my professors and fellow classmates," she said. "We discussed real-world events and the professional experiences of professors and classmates. Every topic was engaging, and there was never a dull moment in class." 
Tavarez has combined her love of learning and her business acumen into a career with the New York City Department of Education. She wears many hats, managing budgeting, procurement and pupil accounting for District 75, which offers specialized instructional support for students with significant challenges, such as autism or cognitive delays. 
"My favorite part of my job is knowing that the students receive the services they need when they are in our schools," Tavarez said. She added that the education she received at Berkeley has been instrumental in helping her build a career in the business sector of education. 
"At Berkeley I gained many great experiences and acquired the knowledge that I needed to be successful in the business world," Tavarez said.
About Berkeley College
Berkeley College, founded in 1931, is a career-focused institution accredited by the Middle States Commission on Higher Education that offers students Master's, Bachelor's, and Associate's degree and Certificate programs in more than 20 career fields. The College also offers continuing education programs to enhance career credentials.
Berkeley College has campuses in Midtown Manhattan, NY, and in Newark, Paramus, Woodbridge and Woodland Park, NJ, with more than 4,000 students enrolled. In addition, Berkeley College Online® serves a global population. U.S. News & World Report has named Berkeley College among the Best Colleges for Online Bachelor's Programs and among the Best Online Bachelor's Programs for Veterans, for nine consecutive years. U.S. News & World Report named Berkeley College (NJ) one of the Best Regional Colleges in the North in its 2022 edition of the Best Colleges Survey.  In 2021 Berkeley College (NJ) was also recognized for the first time as a Top Performer on Social Mobility among colleges in the region. The website address is http://www.BerkeleyCollege.edu.