Alumni Spotlight: Stella Cicarone, Marketing Executive for Martha Stewart Brands

FOR IMMEDIATE RELEASE
Tuesday, July 12, 2022
ALUMNI SPOTLIGHT:
MARKETING EXECUTIVE FOR MARTHA STEWART BRANDS
ENCOURAGES PROFESSIONALS TO
WORK HARD AND FIND A CAREER THEY LOVE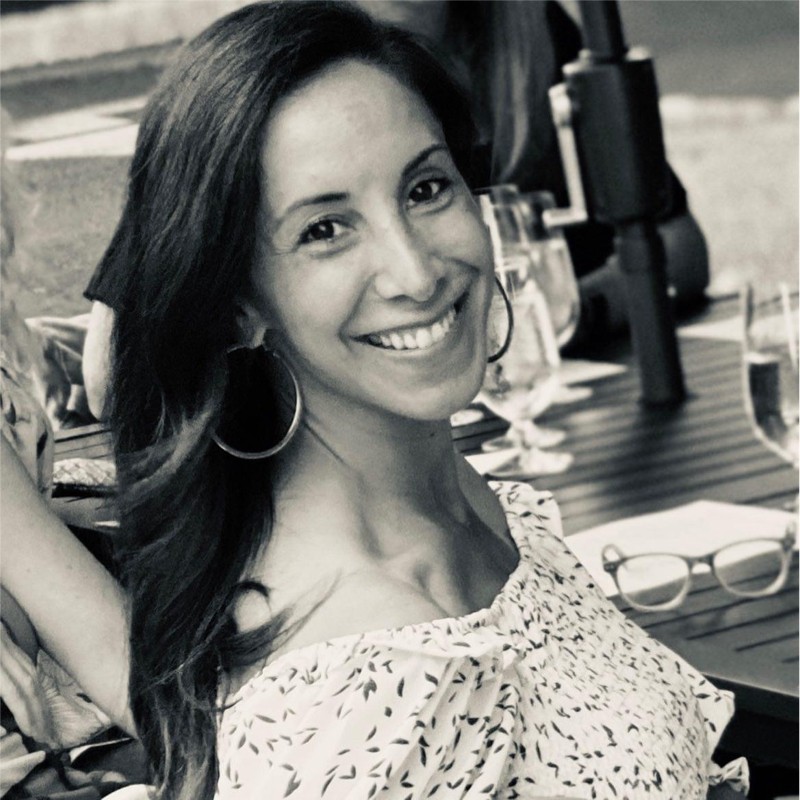 As Senior Vice President for Marketing and Public Relations, Stella Cicarone tells the stories of leading brands like Martha Stewart, Emeril Lagasse, and Sur La Table. But Cicarone got her start in business as a student in the classrooms of Berkeley College. 
"When I was in high school, I wasn't sure of the direction I wanted to go in and what I wanted to be," said Cicarone, who grew up in West Orange, NJ. "(In the early 2000s) the internet was starting to boom in a big way, and Berkeley had an e-business program that really intrigued me." 
Cicarone was also interested in the College's internship program, which two decades later continues to connect students with professional experiences in their fields of study. She was placed in an internship with Bare Necessities, an online apparel company, during the last semester of her Associate's degree program. When the internship ended, she was asked to join the company full-time and continued to work there as she completed a Bachelor of Science in Business Administration – Marketing in 2004. 
From there, Cicarone moved on to manage brands including Liz Claiborne, Juicy Couture, Kate Spade, DKNY, Lucky Brand and Kenneth Cole. 
Now the Senior Vice President for Marketing and Public Relations for Marquee Brands, Cicarone directs all consumer-facing aspects of top companies like Martha Stewart, from social media to branding. She calls Martha Stewart "the original influencer," and recently led the launch of Martha.com, the first direct-to-consumer website for the brand. 
"We are storytellers," Cicarone said of her team. "We are consumer-centric and all about creating engaging content that supports the brand." 
She credits her professors at Berkeley College with her introduction to the world of business. 
"One of the things that really stood out was that all of my professors were true businesspeople," said Cicarone, who also served as President of the International Business Club during her time at the College. "They weren't just teachers – they were professionals. They had firsthand experience in the industry." 
Cicarone, a resident of Mendham, NJ, encouraged professionals to be selective when it comes to opportunities, and to know their worth. 
"There are going to be plenty of opportunities that are thrown at you, but if your heart isn't in it you are not going to be successful," she said. "You have to love what you do, or it's going to be very hard to be engaged in your career." 
Her advice for today's college students is to think about the careers of the future – and to be tenacious. 
"Digital is the wave of the future," Cicarone said. "Take classes, read, research and really be savvy and well-versed when it comes to new things that are going on in the world of digital." 
She added: "Be persistent and work hard. Don't wait for things to come to you. You're not going to move up in your career by being stagnant." 
About Berkeley College
Berkeley College, founded in 1931, is a career-focused institution accredited by the Middle States Commission on Higher Education that offers students Master's, Bachelor's, and Associate's degree and Certificate programs in more than 20 career fields. The College also offers Continuing Education programs to enhance career credentials.
Berkeley College has campuses in Midtown Manhattan, NY, and in Newark, Woodbridge and Woodland Park, NJ, with more than 4,000 students enrolled. In addition, Berkeley College Online® serves a global population. U.S. News & World Report has named Berkeley College among the Best Colleges for Online Bachelor's Programs and among the Best Online Bachelor's Programs for Veterans, for nine consecutive years. U.S. News & World Report named Berkeley College (NJ) one of the Best Regional Colleges in the North in its 2022 edition of the Best Colleges Survey.  In 2021 Berkeley College (NJ) was also recognized for the first time as a Top Performer on Social Mobility among colleges in the region. The website address is http://www.BerkeleyCollege.edu.