Third-Generation Entrepreneur Elevates Business Expertise with Degree from Berkeley College

FOR IMMEDIATE RELEASE
Monday, July 25, 2022
THIRD-GENERATION ENTREPRENEUR ELEVATES
BUSINESS EXPERTISE WITH DEGREE FROM BERKELEY COLLEGE
Makeup Artist Encourages Aspiring Entrepreneurs to Have Confidence
and Give Back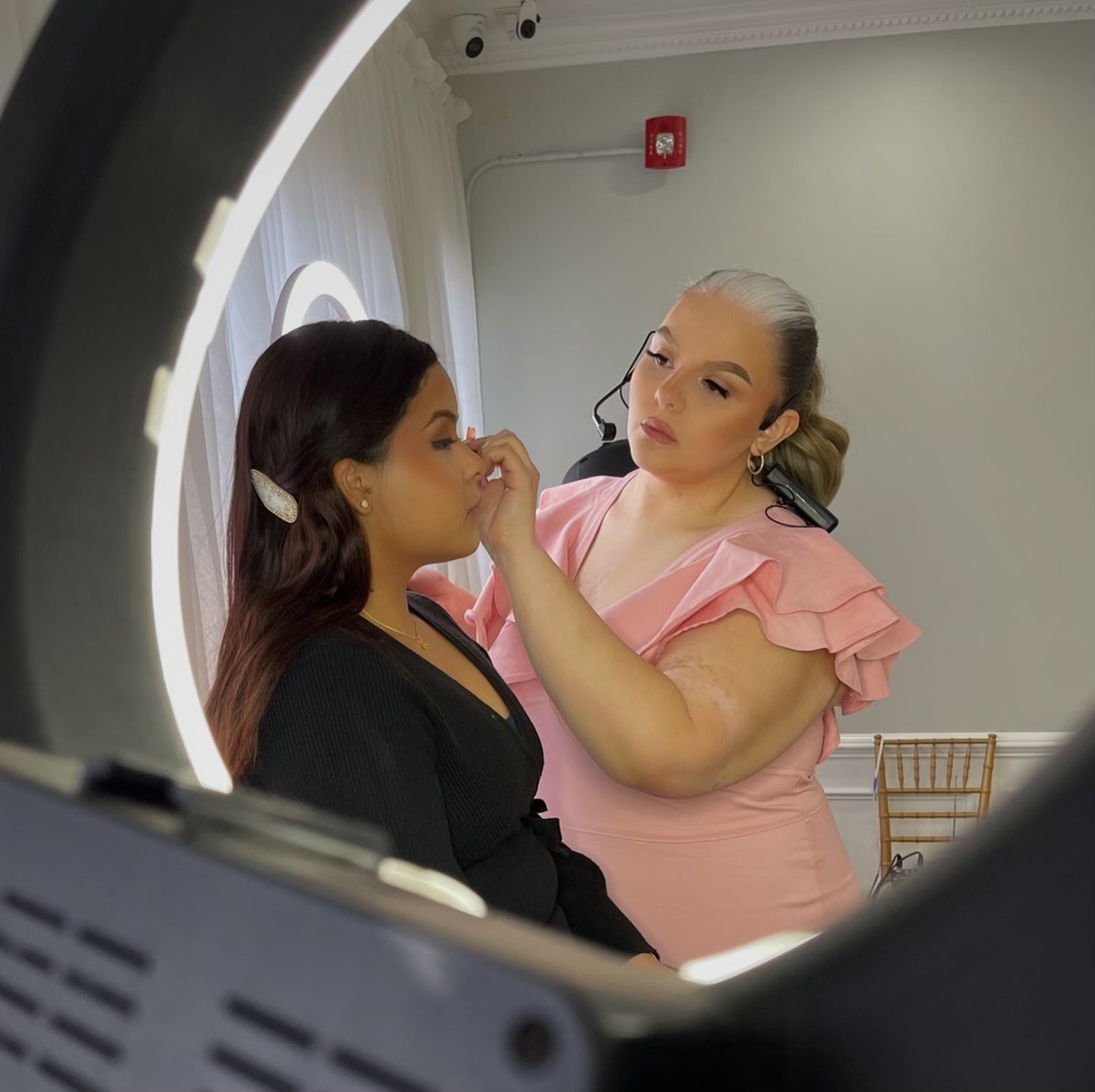 "If you believe in yourself – it's all you need." 
That is Crystal Fazzinga's advice to aspiring entrepreneurs. At 22, Fazzinga is already a successful business owner as the talent behind Crystal Bella Beauty & Boutique, which offers professional makeup services and classes, as well as an online boutique. 
Fazzinga became a professional makeup artist in 2017 and expanded to online retail and pop-up shops, allowing her to network and expand her business. She taught her first make-up class to a sold-out audience of 50 women. When COVID-19 hit, she didn't let the pandemic derail her plans to succeed. 
"In January 2021 I started doing private, one-on-one makeup classes that became a hit," said Fazzinga, adding that business has been nonstop ever since. "I have such a love for beauty and I love sharing my knowledge with others." 
It is no surprise that entrepreneurship is second nature to Fazzinga. Her grandparents, who emigrated to the United States from the Dominican Republic and Ecuador founded Rossy Elsie, a successful bridal and clothing store that has been operating in Paterson, NJ, for 30 years. Other relatives own and manage an appliance store, a restaurant, a printing shop, and a real estate company. 
"Seeing my family run their businesses inspired me to always work for my own money and be my own boss," said Fazzinga, a resident of Passaic, NJ. 
Fazzinga is also expanding her knowledge of business at Berkeley College. She is on track to graduate in 2023 with a Bachelor of Business Administration in Business Administration – Management. 
"All the information I have learned from my classes has been a stepping stone in bettering my business for the future," Fazzinga said. 
Part of that future entails giving back to her community. Fazzinga has offered free makeovers to deserving community members. She recalled a single mother of four who was in awe of her new look. 
"This woman had devoted her whole life to being an exceptional mother," Fazzinga said. "She was so grateful – it was an amazing feeling to see her so happy." 
Fazzinga is also involved with Give Thanks & Give Back, Inc., a Paterson-based nonprofit that supports community members by collecting toys, baby items, food, toiletries, and other necessities. The City of Paterson named Fazzinga its 2020 Millennial of the Year. 
"Servant leadership is the pillar of Crystal's upbringing and it is an essential component of who she is and what she does," said Melissa Baralt, PhD, Professor, General Education, who serves as a mentor to Fazzinga at Berkeley College. "She has blossomed into the consummate professional and it is a privilege to see her soar to new heights." 
Fazzinga encouraged aspiring entrepreneurs to believe in themselves and work hard. 
"You will always have people who will doubt you and your potential, especially when you are young," she said. "It may seem like the world is against you, but it is the most rewarding feeling when you persevere."
About Berkeley College
Berkeley College, founded in 1931, is a career-focused institution accredited by the Middle States Commission on Higher Education that offers students Master's, Bachelor's, and Associate's degree and Certificate programs in more than 20 career fields. The College also offers Continuing Education programs to enhance career credentials.
Berkeley College has campuses in Midtown Manhattan, NY, and in Newark, Woodbridge and Woodland Park, NJ, with more than 4,000 students enrolled. In addition, Berkeley College Online® serves a global population. U.S. News & World Report has named Berkeley College among the Best Colleges for Online Bachelor's Programs and among the Best Online Bachelor's Programs for Veterans, for nine consecutive years. U.S. News & World Report named Berkeley College (NJ) one of the Best Regional Colleges in the North in its 2022 edition of the Best Colleges Survey.  In 2021 Berkeley College (NJ) was also recognized for the first time as a Top Performer on Social Mobility among colleges in the region. The website address is http://www.BerkeleyCollege.edu.