Berkeley College Dean Shares Insights into Online Learning and Post-Pandemic Classrooms at City & State New York Education Summit

FOR IMMEDIATE RELEASE
Friday, August 19, 2022
BERKELEY COLLEGE DEAN SHARES INSIGHTS
INTO ONLINE LEARNING AND POST-PANDEMIC CLASSROOMS
AT CITY & STATE NEW YORK EDUCATION SUMMIT
New York City Schools Chancellor David Banks Delivers Opening Remarks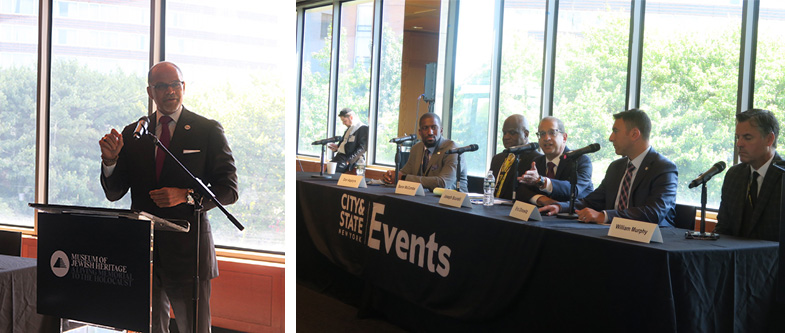 Photo Caption: (Left) David Banks, JD, Chancellor, New York City Department of Education, delivers the keynote address during the City & State New York Education Summit, held on Thursday, August 18, 2022. (Right) Joseph Scuralli, DPS, Dean, Online Education and the Berkeley College Larry L. Luing School of Business® (center), participates in a panel titled "Plans for Higher Education in the New Normal." 
Share the News: @BerkeleyCollege @CityAndStateNY @CSNY_Events #NewsBerkeley    
Berkeley College joined influential leaders in New York City's public and higher education systems to share insights into critical issues including equity, innovation, and post-pandemic classrooms, during the City & State New York Education Summit, held on Thursday, August 18, 2022. David Banks, JD, Chancellor, New York City Department of Education, delivered the keynote address during the event. 
"Our mission for this administration is that every one of our students will graduate on a pathway to a rewarding career, long-term economic security, and to be a force for change in their communities," Banks said. 
Joseph Scuralli, DPS, Dean, Online Education and the Berkeley College Larry L. Luing School of Business®, discussed reimagining the needs of students after COVID-19, during a panel titled "Plans for Higher Education in the New Normal." 
Scuralli said that certain higher education institutions, including Berkeley College, were prepared to pivot to meet the challenges presented by COVID-19. Berkeley College has been a leader in online learning for 24 years. 
"(During COVID) the difference in higher education was that there was well-developed infrastructure," Scuralli said. "Faculty were trained and experienced in online delivery systems and learning management systems were well established." 
He added that there will be permanent changes post-COVID, which may include students taking more online courses and placing a greater emphasis on career paths. Scuralli encouraged students who may have had a negative experience with online learning to revisit the platform. 
"Online learning is not for everyone, but there are benefits," he said. "There is better technology available, and it can really help those who have to balance work and families – who can't come to campus because of other responsibilities." 
Upcoming Event: Berkeley College will co-sponsor the Rebuilding New York Summit on Thursday, September 29, 2022, at The Museum of Jewish Heritage in Manhattan, NY. 
About Berkeley College
Berkeley College, founded in 1931, is a career-focused institution accredited by the Middle States Commission on Higher Education that offers students Master's, Bachelor's, and Associate's degree and Certificate programs in more than 20 career fields. The College also offers Continuing Education programs to enhance career credentials.
Berkeley College has campuses in Midtown Manhattan, NY, and in Newark, Woodbridge and Woodland Park, NJ, with more than 4,000 students enrolled. In addition, Berkeley College Online® serves a global population. U.S. News & World Report has named Berkeley College among the Best Colleges for Online Bachelor's Programs and among the Best Online Bachelor's Programs for Veterans, for nine consecutive years. U.S. News & World Report named Berkeley College (NJ) one of the Best Regional Colleges in the North in its 2022 edition of the Best Colleges Survey.  In 2021 and 2022 Berkeley College (NJ) was recognized as a Top Performer on Social Mobility among colleges in the region. The website address is http://www.BerkeleyCollege.edu.