Berkeley College Welcomes Iconic Fashion Designer Kibonen for Installation and Pop-Up Shop during New York Fashion Week

FOR IMMEDIATE RELEASE
Thursday, September 8, 2022
BERKELEY COLLEGE WELCOMES ICONIC FASHION DESIGNER
KIBONEN FOR INSTALLATION AND POP-UP SHOP
DURING NEW YORK FASHION WEEK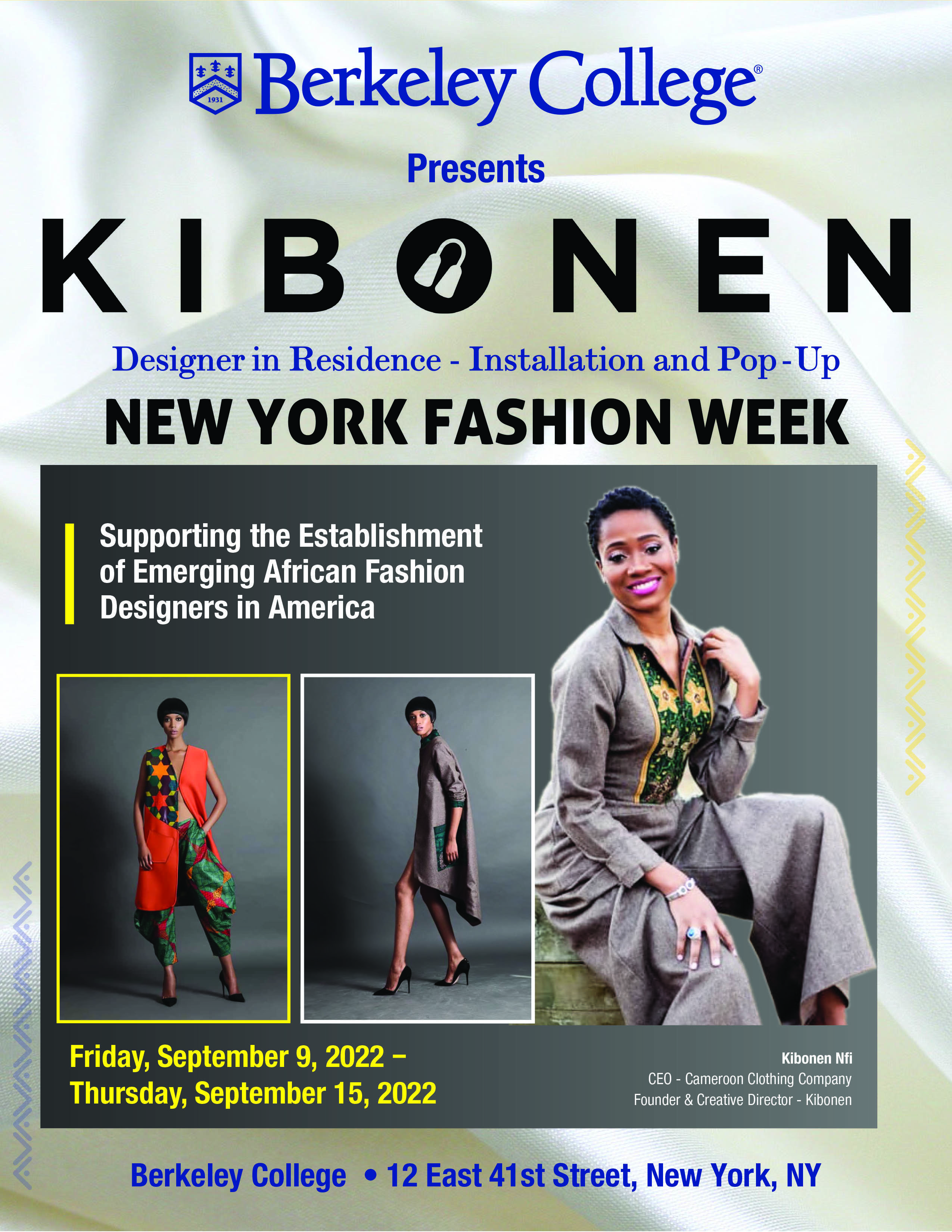 Share the News: @BerkeleyCollege #BerkeleyCollegeFashion #BCNYFWKibonen #kibonen #kibonenNY 
WHAT: Berkeley College will host an installation and pop-up shop by iconic fashion designer Kibonen Nfi during New York Fashion Week as a tribute to the influence of African culture in America. 
Inspired by traditional Cameroonian garments, West African fabric, and New York's vibrant fashion scene, Kibonen's designs have been worn by celebrities including Lupita Nyong'o and Drake, and have been exhibited at Buckingham Palace and The Smithsonian. 
WHERE: Berkeley College, 12 East 41st Street, Midtown Manhattan (Lower Level) 
WHEN:
Friday, September 9 to Thursday, September 15, 2022 – Pop-Up Shop and Installation
Friday, September 9, 12 p.m. – Opening Reception
Thursday, September 15, 5 p.m. – Cocktail Reception and Panel Discussion with African creatives and industry professionals 
FASHION AT BERKELEY: Berkeley College's degree programs in Fashion Merchandising and Management focus on the business side of the fashion industry, training students in all aspects of the fashion global supply chain, including consumer behavior, product development, brand communications, marketing and more. 
MEDIA CONTACT: To attend any of the events, or to schedule an interview with Kibonen, contact Kelly Depsee, Director, Communications and External Relations, at KME@BerkeleyCollege.edu or 973-200-1099. 
About Berkeley College
Berkeley College, founded in 1931, is a career-focused institution accredited by the Middle States Commission on Higher Education that offers students Master's, Bachelor's, and Associate's degree and Certificate programs in more than 20 career fields. The College also offers Continuing Education programs to enhance career credentials.
Berkeley College has campuses in Midtown Manhattan, NY, and in Newark, Woodbridge and Woodland Park, NJ, with more than 4,000 students enrolled. In addition, Berkeley College Online® serves a global population. U.S. News & World Report has named Berkeley College among the Best Colleges for Online Bachelor's Programs and among the Best Online Bachelor's Programs for Veterans, for nine consecutive years. U.S. News & World Report named Berkeley College (NJ) one of the Best Regional Colleges in the North in its 2022 edition of the Best Colleges Survey.  In 2021 and 2022 Berkeley College (NJ) was recognized as a Top Performer on Social Mobility among colleges in the region. The website address is http://www.BerkeleyCollege.edu.