Military Times Honors Berkeley College on 2022 'Best for Vets' List, Recognizing Colleges That Do the Most for Military and Veteran Students

FOR IMMEDIATE RELEASE
Friday, September 30, 2022
MILITARY TIMES HONORS BERKELEY COLLEGE
ON 2022 'BEST FOR VETS' LIST, RECOGNIZING COLLEGES THAT
DO THE MOST TO SUPPORT MILITARY AND VETERAN STUDENTS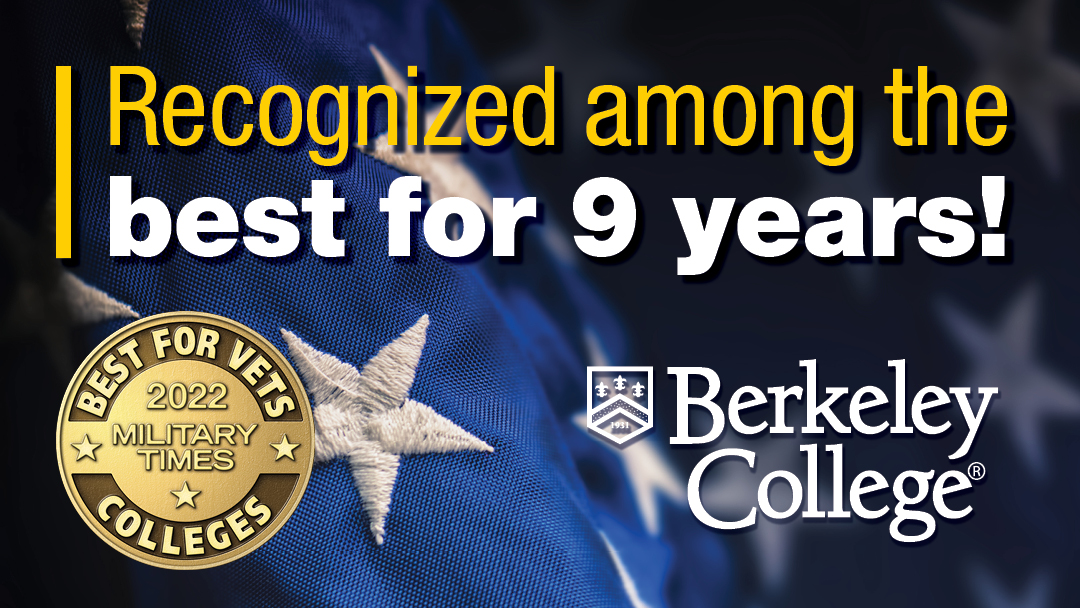 Share the News: @BerkeleyCollege @MilitaryTimes #NewsBerkeley  
Military Times has ranked Berkeley College on its 2022 "Best for Vets," list, recognizing the colleges and universities that best serve military and veteran students. This is the ninth year the College has been recognized. Nearly 250 military-aligned students are enrolled at Berkeley College for the fall 2022 semester. 
The "Best for Vets" rankings are based on responses from more than 300 schools that answered questions about services and programs for military and veteran students and their families. Student success metrics, including factors such as degree completion and grade-point average, as well as military-specific resources and financial assistance, were the most important factors used to determine the rankings. 
"Military and veteran students bring an invaluable dynamic of leadership, academic achievement, and work ethic to the Berkeley College community," said Edward Dennis, Associate Vice President, Berkeley College Office of Military and Veterans Affairs. "We thank Military Times for recognizing our commitment to the success of our military students, as we help them start a new chapter and transition to dynamic careers." 
Berkeley College is ranked as a best college for military and veteran students by several organizations, including U.S. News & World Report, Military Times, U.S. Veterans Magazine, and Military Advanced Education. The Berkeley College Office of Military and Veterans Affairs provides support to its student-veterans through four on-site veterans resource centers (VRCs) in New Jersey and New York, as well as through an Online VRC. Berkeley supports the GI Bill® and Yellow Ribbon Program.
Berkeley College is ranked No. 168 of 311 colleges on the "Best for Vets" list. Twenty-seven New York colleges and eight New Jersey colleges made the list. 
Read More: Click here to see the full 2022 "Best for Vets" list. 
About Berkeley College
Berkeley College, founded in 1931, is a career-focused institution accredited by the Middle States Commission on Higher Education that offers students Master's, Bachelor's, and Associate's degree and Certificate programs in more than 20 career fields. The College also offers Continuing Education programs to enhance career credentials.
Berkeley College has campuses in New York City and in Newark, Woodbridge, and Woodland Park, NJ, with more than 3,500 students enrolled. In addition, Berkeley College Online® serves a global population. U.S. News & World Report has named Berkeley College among the Best Colleges for Online Bachelor's Programs and among the Best Online Bachelor's Programs for Veterans, for nine consecutive years. U.S. News & World Report named Berkeley College (NJ) one of the Best Regional Colleges in the North in its 2023 edition of the Best Colleges Survey. Berkeley College (NJ) was recognized among the Best Colleges in the region for social mobility for three consecutive years. The website address is http://www.BerkeleyCollege.edu.