Women's Entrepreneurship Week 2022: Julissa Gutierrez, Chief Diversity Officer, New York State

WOMEN'S ENTREPRENEURSHIP WEEK 2022
Keynote Speaker: Julissa Gutierrez
Chief Diversity Officer, New York State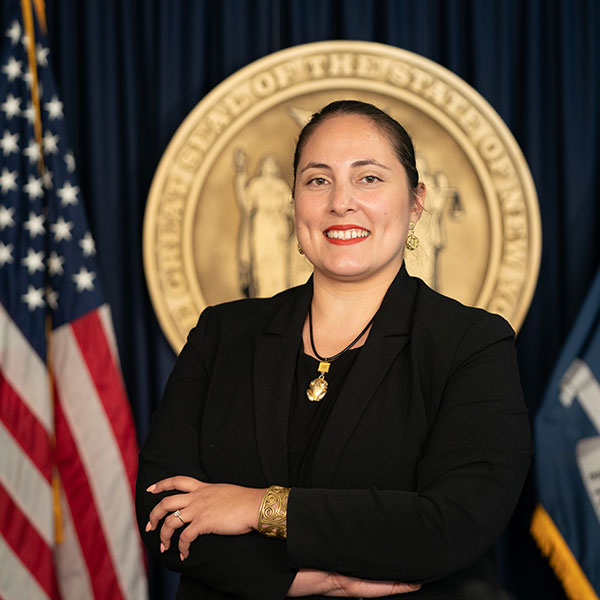 Julissa Gutierrez is a public servant, workforce equity champion, and diversity and inclusion practitioner. As New York State's Chief Diversity Officer, Gutierrez designs and implements statewide programs and initiatives, increasing diversity within the State's workforce and the participation of women and people of color in all areas of State Government. She has led the State's efforts to raise the minimum wage, implement the strongest Paid Family Leave program in the nation, pass GENDA, and more. Gutierrez was voted No. 34 on City & State New York's The 2022 Power of Diversity: Latino 100 List. She was also recognized in August 2022 for her efforts to improve the lives of all New Yorkers in amNY Metro and PoliticsNY's Power Women list. In May 2021, Gutierrez was named No. 1 on City & State New York's MWBE Power 50 list for her contributions to minority and women-owned business enterprises. 
In her years of service, Gutierrez has earned a reputation as a sought-after expert on Latino issues and civic participation and has been featured by several national and local press outlets. Previously, during her time in State service, Gutierrez served as leader of NYS' Vaccine Equity Task Force and as Deputy Director of Constituency Affairs for New York State. Prior to joining the State, Gutierrez served in leadership roles at the National Association of Latino Elected and Appointed Officials (NALEO) Educational Fund and the New York City Department of Youth and Community Development.  
A proud Queens-born Colombiana, Gutierrez is a Board Member of the New Immigrants Community Empowerment, a Trustee for the Queens Public Library, and a Board Member of the Queens Public Library Foundation.
Gutierrez holds a Master's degree in Social Service Administration with a Community Organization and Development Concentration from the University of Chicago and a Bachelor of Arts in International Relations, with a Minor in Women's Studies, from the University of Delaware.