Berkeley College Alumnus Combines Passion for Creativity and Entrepreneurship to Build Successful Business

FOR IMMEDIATE RELEASE
Friday, November 18, 2022
BERKELEY COLLEGE ALUMNUS COMBINES PASSION FOR
CREATIVITY AND ENTREPRENEURSHIP
TO BUILD SUCCESSFUL BUSINESS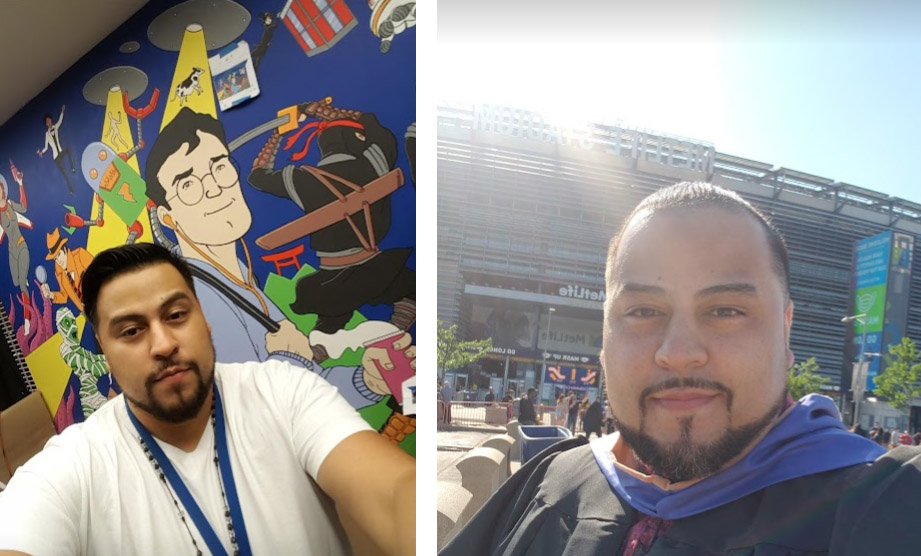 Photo Caption: Alumnus Alex Ortiz holds a Bachelor of Fine Arts in Graphic Design (2019) and a Master of Business Administration in Management (2021) from Berkeley College. (Left) Ortiz with a mural he created for Audible in the lobby of its building in Newark, NJ. (Right) Ortiz at Berkeley College's Commencement ceremony at MetLife Stadium in 2021. 
"I am the master of my fate. I am the captain of my soul." Berkeley College alumnus Alex Ortiz cites the line often recited by activist Nelson Mandela as his motivation to follow his own path. 
Ortiz holds a Bachelor of Fine Arts in Graphic Design (2019) and a Master of Business Administration in Management (MBA) (2021) from Berkeley College, as well as an Associate's degree in Computer Science. 
Though some may struggle to see the academic path between a fine arts degree and an MBA, Ortiz said the trajectory aligned with his aspirations as a business owner. 
"As a first-generation Latino to receive a Master's degree in my family, I saw the potential of what an MBA could bring to the table," said Ortiz, a resident of Woodland Park, NJ. "I wanted to think outside of the traditional box and achieve new heights in my career and personal growth." 
Ortiz said he uses his foundation in the fine arts to propel his business creatively, while drawing on skills and resources garnered from his MBA to ensure his business has a sound foundation. 
Like students in many Berkeley College degree programs, Ortiz completed an internship for hands-on experiential learning as an undergraduate. As an intern for Amazon, his work designing creative content for marketing campaigns prepared him for his current role with audiobook giant Audible, where he has worked for 15 years. 
Ortiz is also CEO of AO collectibles LLC, which sells and auctions toys and action figures, as well as custom, hand-painted art, toys, and clothes through online platforms. 
Berkeley College professors encouraged Ortiz to "dream bigger and aim for what some considered to be an impossible goal," he said. 
"Alex Ortiz is an excellent, talented, entrepreneurial designer," said Carlos Cruz, Chair, Graphic Design, Berkeley College School of Professional Studies. "Alex brought an element of professionalism to the classroom. His drive to be recognized as an artist has led him to business pursuits, branding for several clients, and accomplishing an MBA." 
"Professor Cruz impacted me because he would always make time for his students, providing great feedback and encouragement," Ortiz said. "He understood the importance of communication, trust, and accountability." 
During his time at Berkeley College, Ortiz was a member of the National Honor Society and also participated in volunteer efforts through BerkeleyCares, such as serving the homeless at soup kitchens and beautifying local parks. 
As he looks to grow his business to excel in a global market, Ortiz encourages today's college students to keep an open mind. "Take time to really embrace the learning process," he said. "Absorb as much knowledge as you can. Never stop learning or lose your appetite for knowledge, for the process of becoming who you want to be will give you the guidance you need to create your own reality."

Photo Caption: Berkeley College alumnus Alex Ortiz created mural in the elevator lobby of Newark Venture Partners, a global company based in Newark, NJ. 
About Berkeley College
Berkeley College, founded in 1931, is a career-focused institution accredited by the Middle States Commission on Higher Education that offers students Master's, Bachelor's, and Associate's degree and Certificate programs in more than 20 career fields. The College also offers Continuing Education programs to enhance career credentials.
Berkeley College has campuses in New York City and in Newark, Woodbridge, and Woodland Park, NJ, with more than 3,600 students enrolled. In addition, Berkeley College Online® serves a global population. U.S. News & World Report has named Berkeley College among the Best Colleges for Online Bachelor's Programs and among the Best Online Bachelor's Programs for Veterans, for nine consecutive years. U.S. News & World Report named Berkeley College (NJ) one of the Best Regional Colleges in the North in its 2023 edition of the Best Colleges Survey. Berkeley College (NJ) was recognized among the Best Colleges in the region for social mobility for three consecutive years. The website address is http://www.BerkeleyCollege.edu.