Berkeley College Commemorates Life and Legacy of Dr. Martin Luther King Jr. with Volunteerism and Special Events

FOR IMMEDIATE RELEASE
Thursday, January 12, 2023
BERKELEY COLLEGE COMMEMORATES
LIFE AND LEGACY OF DR. MARTIN LUTHER KING JR.
WITH VOLUNTEERISM AND SPECIAL EVENTS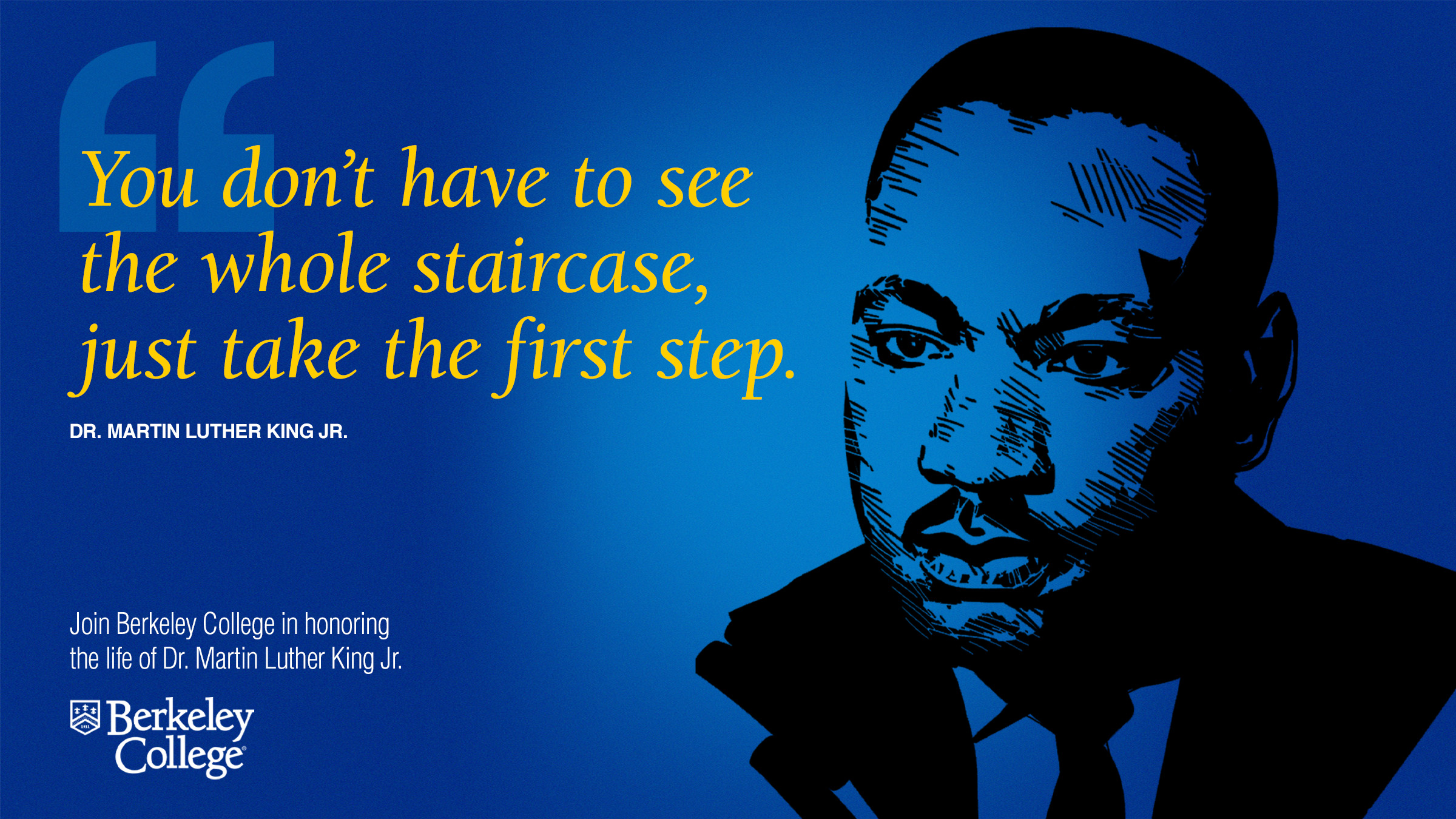 Share the News: @BerkeleyCollege #MLKDay2023 #MLKDayofService  
Berkeley College will celebrate the life and legacy of Dr. Martin Luther King Jr. with volunteerism opportunities and special events in January 2023. 
Martin Luther King Jr. Day of Service
January 16, 2023
Martin Luther King Jr. Day is designated as a National Day of Service to encourage all Americans to volunteer to improve their communities. Click here to find a volunteer opportunity in your community through AmeriCorps. 
Virtual Understanding Homelessness Workshop
January 16, 2023
10:30 a.m. to 12 p.m.
Participants will join a simulation to better understand the challenges of homelessness and will create "You Matter" cards to be donated alongside hygiene kits to those in need. Click here to register for the workshop, hosted by Jersey Cares. 
"I Have a Dream" Inspirational Display
January 16 to 20, 2023
The Office of Student Development and Campus Life on each Berkeley College campus will display information and inspiration about Dr. King.
"I Have a Dream" Padlet
January 16 to 20, 2023
Students, faculty, staff, and members of the community at-large can share their thoughts on equality, respect, acceptance, and unity through the virtual Padlet platform. 
Advancing the Dream
January 17, 2022
4 to 5 p.m.
Students, faculty, staff, and members of the community at-large can share how they are advancing Dr. King's vision of hope, peace, unity, and respect. Email SDCL@BerkeleyCollege.edu for the Zoom link. 
About Berkeley College
Berkeley College, founded in 1931, is a career-focused institution accredited by the Middle States Commission on Higher Education that offers students Master's, Bachelor's, and Associate's degree and Certificate programs in more than 20 career fields. The College also offers Continuing Education programs to enhance career credentials.
Berkeley College has campuses in New York City and in Newark, Woodbridge, and Woodland Park, NJ, with more than 3,600 students enrolled. In addition, Berkeley College Online® serves a global population. U.S. News & World Report has named Berkeley College among the Best Colleges for Online Bachelor's Programs and among the Best Online Bachelor's Programs for Veterans, for nine consecutive years. U.S. News & World Report named Berkeley College (NJ) one of the Best Regional Colleges in the North in its 2023 edition of the Best Colleges Survey. Berkeley College (NJ) was recognized among the Best Colleges in the region for social mobility for three consecutive years. The website address is http://www.BerkeleyCollege.edu.