'Dream Big': Berkeley College Alumna Pioneers Groundbreaking Fashion Line as Director and Buyer for Macy's

FOR IMMEDIATE RELEASE
Monday, February 27, 2023
'DREAM BIG':
BERKELEY COLLEGE ALUMNA PIONEERS GROUNDBREAKING FASHION LINE
AS DIRECTOR AND BUYER FOR MACY'S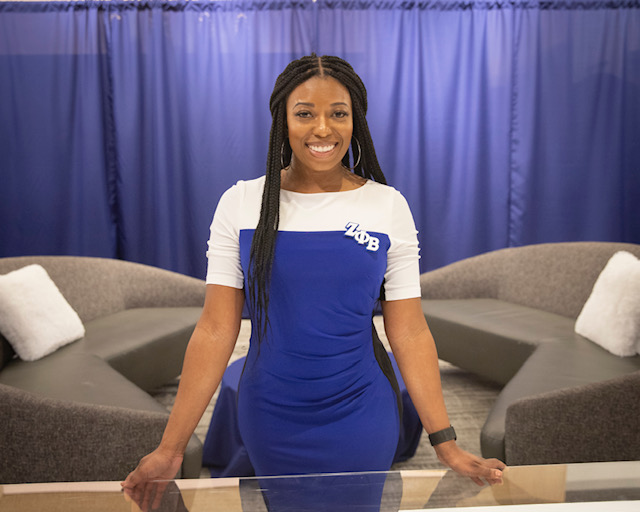 Photo Caption: As a Director and Buyer for Macy's, WyQuasia King-Thomas pioneered the Macy's x Kasper Divine Nine Sorority Collection, a groundbreaking fashion initiative representing the colors of the various historically black sororities. King-Thomas is a 2011 Berkeley College alumna and a member of Zeta Phi Beta Sorority Incorporated. 
WyQuasia King-Thomas believes in dreaming big. 
After graduating from Berkeley College with a Bachelor's degree in Fashion Marketing and Management, the alumna immediately took the fashion world by storm. 
In 2021 King-Thomas pioneered Macy's x Kasper Divine Nine Sorority Collection, a groundbreaking fashion initiative representing the colors of the various historically black sororities. The collection netted $10 million in annual sales for Macy's, and King-Thomas was featured by Bloomberg and in The Wall Street Journal, Ebony magazine, and other top publications. 
"This collection celebrates the work that we, the members, do each day to create social change and impact communities through service, scholarship, and leadership, while honoring the rich legacy of our organizations," ​said King-Thomas, a resident of Peekskill, NY, who is also a member of the Zeta Phi Beta Sorority Incorporated. 
While fashion always interested King-Thomas, she had the opportunity to explore and expand her passion as a student at Berkeley College. King-Thomas founded The Fashion Club and Modeling Troupe at College's campus in White Plains, NY, serving two terms as President and organizing one of the campus's first fashion shows. 
During her senior year, the Berkeley College Career Services Department connected her with an internship in corporate buying at Dressbarn. 
"During my time at Dressbarn, I learned all about fashion merchandising and built relationships that ultimately set me up for success in my career," King-Thomas said. 
Now in her role with Macy's for more than 10 years, King-Thomas curates all day dresses for 450 Macy's locations and macys.com. She has received the Chairman-CEO Award for her impact on the company's commitment to diversity, equity, and inclusion, and is a graduate of the McKinsey Leadership Accelerator program, a development experience for the next generation of business leaders. 
"WyQuasia is a bright spot in the fashion world," said Ana Yee, Director, Alumni Career Services, Berkeley College, who helped King-Thomas secure her first internship. "Her impact on inclusive fashion is an example to future graduates that a career can be more than a job, but a passion." 
She believes "to whom much is given, much is required," and is active in community events and mentoring young women. 
King-Thomas' long-term goal is to become a Chief Merchant, an executive who manages the overall merchandising vision for a company. Her advice to today's college students is to "dream big." 
"Don't settle or create a ceiling for yourself," King-Thomas said. "Life after college happens fast, so be sure to put your best foot forward."
About Berkeley College
Berkeley College, founded in 1931, is a career-focused institution accredited by the Middle States Commission on Higher Education that offers students Master's, Bachelor's, and Associate's degree and Certificate programs in more than 20 career fields. The College also offers Continuing Education programs to enhance career credentials.
Berkeley College has campuses in New York City and in Newark, Woodbridge, and Woodland Park, NJ, with more than 3,600 students enrolled. In addition, Berkeley College Online® serves a global population. U.S. News & World Report has named Berkeley College among the Best Colleges for Online Bachelor's Programs and among the Best Online Bachelor's Programs for Veterans, for 10 consecutive years. U.S. News & World Report named Berkeley College (NJ) one of the Best Regional Colleges in the North in its 2023 edition of the Best Colleges Survey. Berkeley College (NJ) was recognized among the Best Colleges in the region for social mobility for three consecutive years. The website address is http://www.BerkeleyCollege.edu.