Welcome to the Metaverse: Berkeley College Graphic Design Students Explore Creativity and Collaboration through Immersive Technology

FOR IMMEDIATE RELEASE
Monday, March 13, 2023
WELCOME TO THE METAVERSE:
BERKELEY COLLEGE GRAPHIC DESIGN STUDENTS
EXPLORE CREATIVITY AND COLLABORATION
THROUGH IMMERSIVE TECHNOLOGY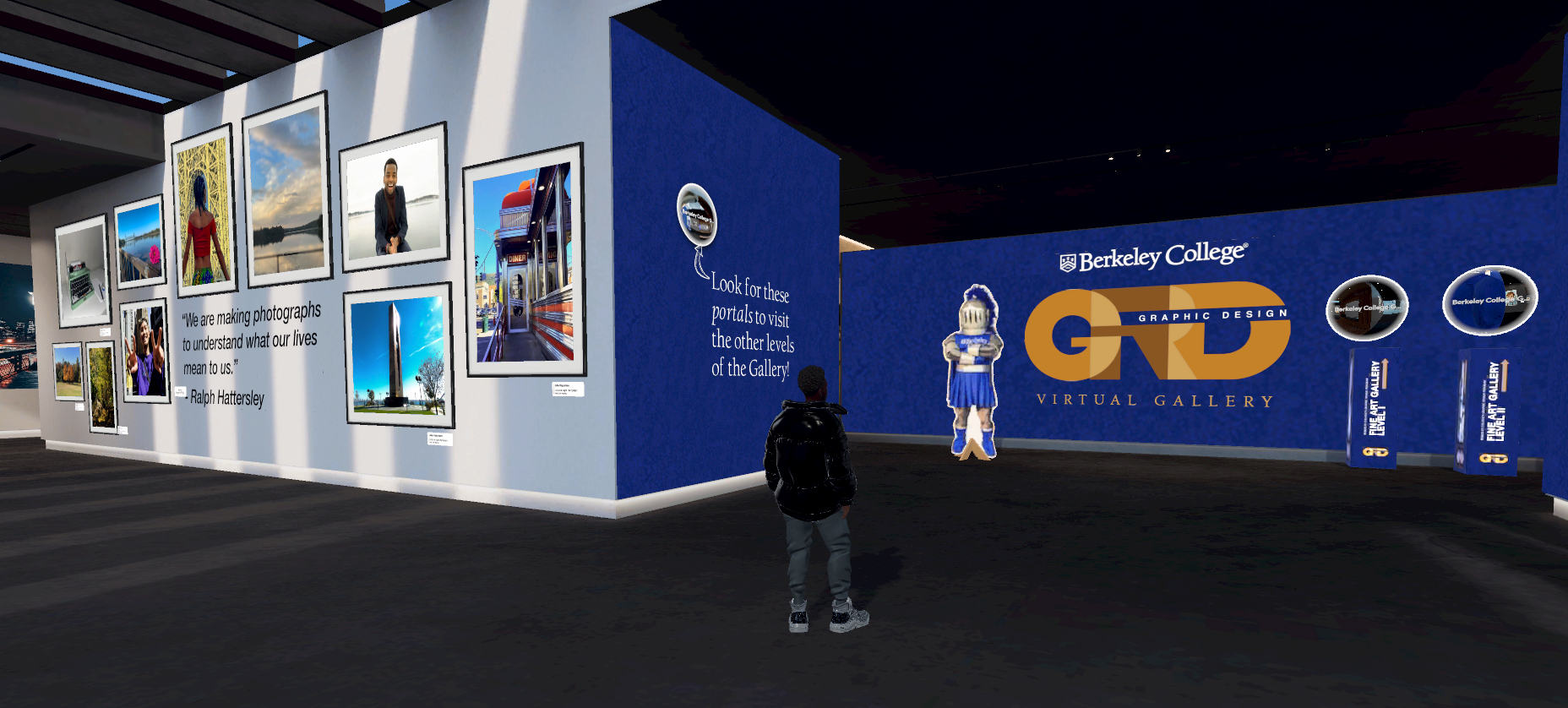 Photo Caption: The Berkeley College GRD Virtual Gallery displays more than 190 curated student works – all housed in the metaverse. 
When Professor Julia Hutchinson purchased an Oculus VR headset last year, she was fascinated by the immersive technology, and immediately thought of the ways it could be used for collaboration among her Graphic Design students. 
"I have always believed that students should not only be on the receiving end of technology and innovation, but also involved in ideation, creation, and development," said Hutchinson, who has been a faculty member at Berkeley College for eight years. 
In fall 2022, the Berkeley College Graphic Design Department launched the GRD Virtual Gallery, displaying more than 190 curated student works in photography, painting, drawing, motion graphics, and more – all housed in the metaverse. Using an avatar, viewers can explore the three-level virtual exhibit the same way they would walk through a physical gallery space. Hosted by the Spatial platform, the GRD Virtual Gallery is accessible not only through the Oculus, but also on any computer or smartphone. 
Take a Tour in the Metaverse: Click here to view the Berkeley College GRD Virtual Gallery. 
While Berkeley College currently displays student work in The Gallery at Woodland Park, a physical space on campus, the GRD Virtual Gallery eliminates the labor- and time-intensive process of print production, Hutchinson said. 
"I see the GRD Virtual Gallery as an extension of the physical space," she said. "Students can design stunning work on the computer and have it on display within minutes. The virtual gallery can also exhibit 3D objects, animation, and motion graphics – formats that would be complicated to display in the traditional space."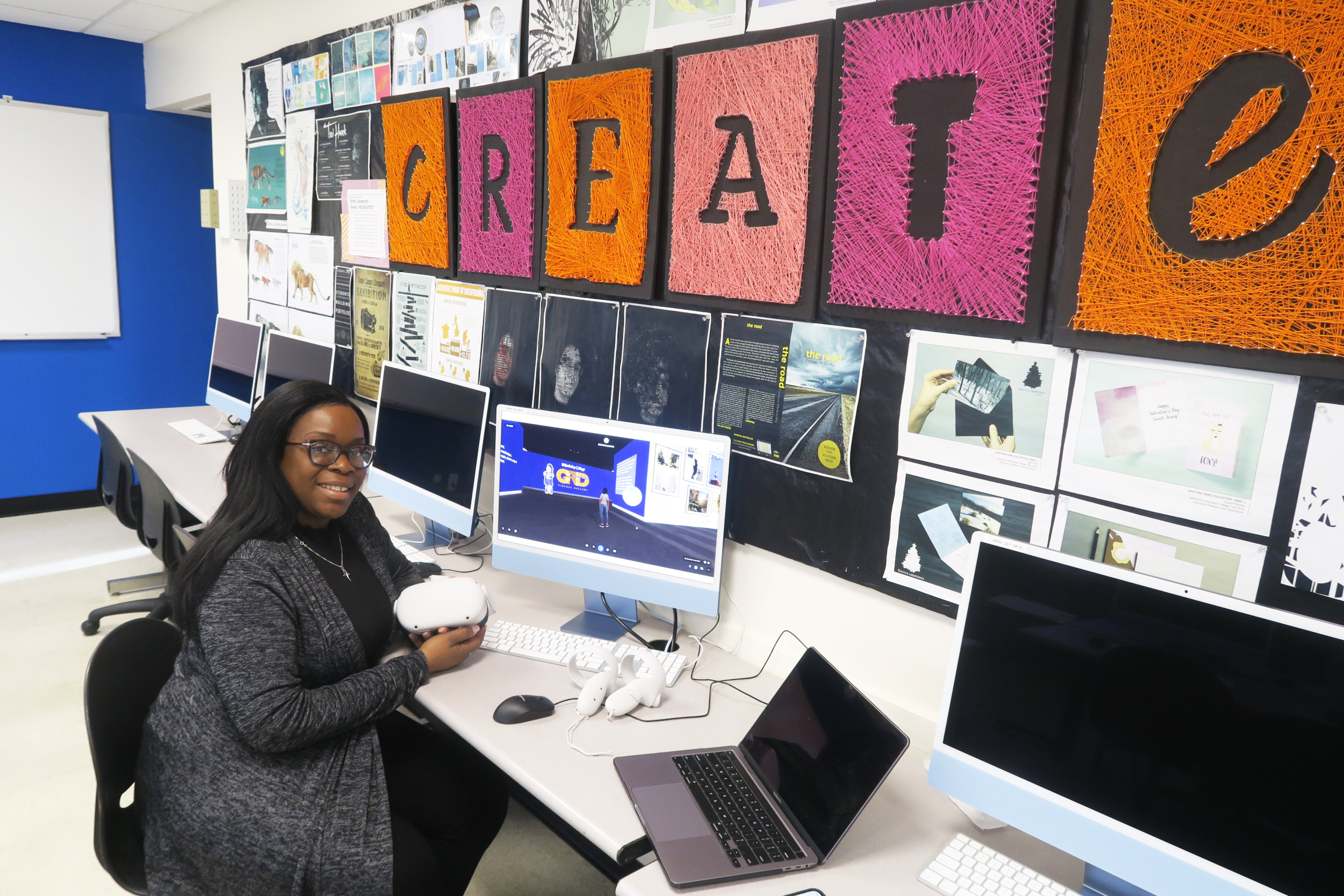 Photo Caption: Julia Hutchinson, Professor, Graphic Design, Berkeley College School of Professional Studies, displays the Oculus VR headset that can be used to tour the GRD Virtual Gallery. 
The GRD Virtual Gallery also presents an inclusive opportunity for online students – who may never come to campus – to see their work in a professional gallery setting, Hutchinson said. 
Gennesis Morales and Jose "Josie" Serifi, Berkeley College Graphic Design majors, have multiple creative works on display in the GRD Virtual Gallery. They said immersive technology represents the future in their field of study. 
"Graphic design is such a versatile field," said Morales, a resident of Lyndhurst, NJ. "The virtual gallery is a great way for students to connect through their artwork. I've seen so many inspiring pieces in the gallery that push me to want to improve my work."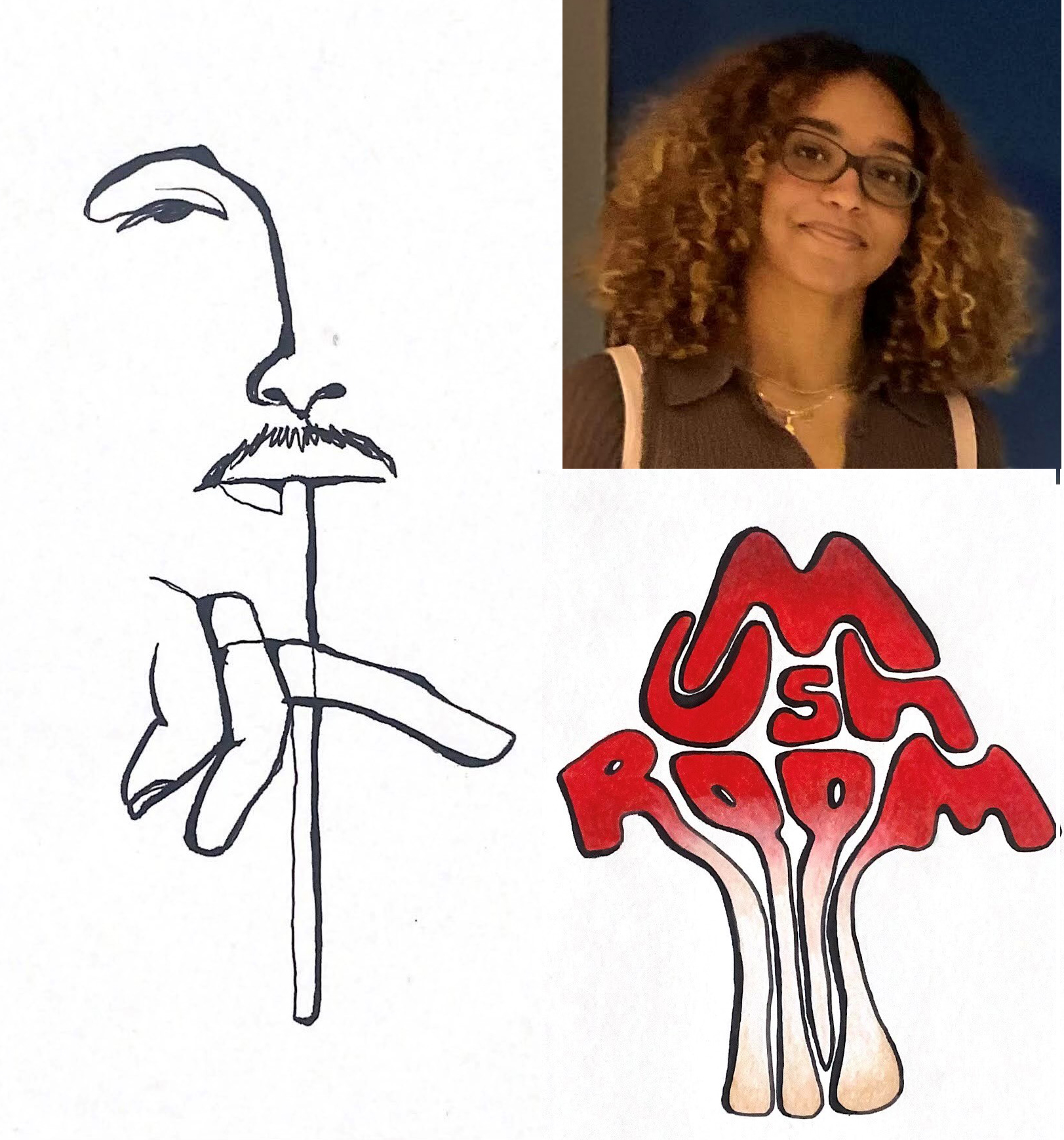 Photo Caption: Berkeley College student Gennesis Morales of Lyndhurst, NJ, displays her creative works in the GRD Virtual Gallery. (Left) "Drinking from a Straw," a continuous line drawing, and (bottom right) "Mushroom." 
Serifi, a resident of Paterson, NJ, who will graduate in 2024, is hopeful the gallery will reach a broad audience, including employers and young creatives. 
"Virtual reality is the future," Serifi said. "The gallery is public for the world to see – that means there is a wider audience, including employers looking for fresh talent, to see the great works we have created." 
"Students involved in this initiative gain an invaluable, industry-relevant, innovative experience that is sought after by so many companies," Hutchinson added.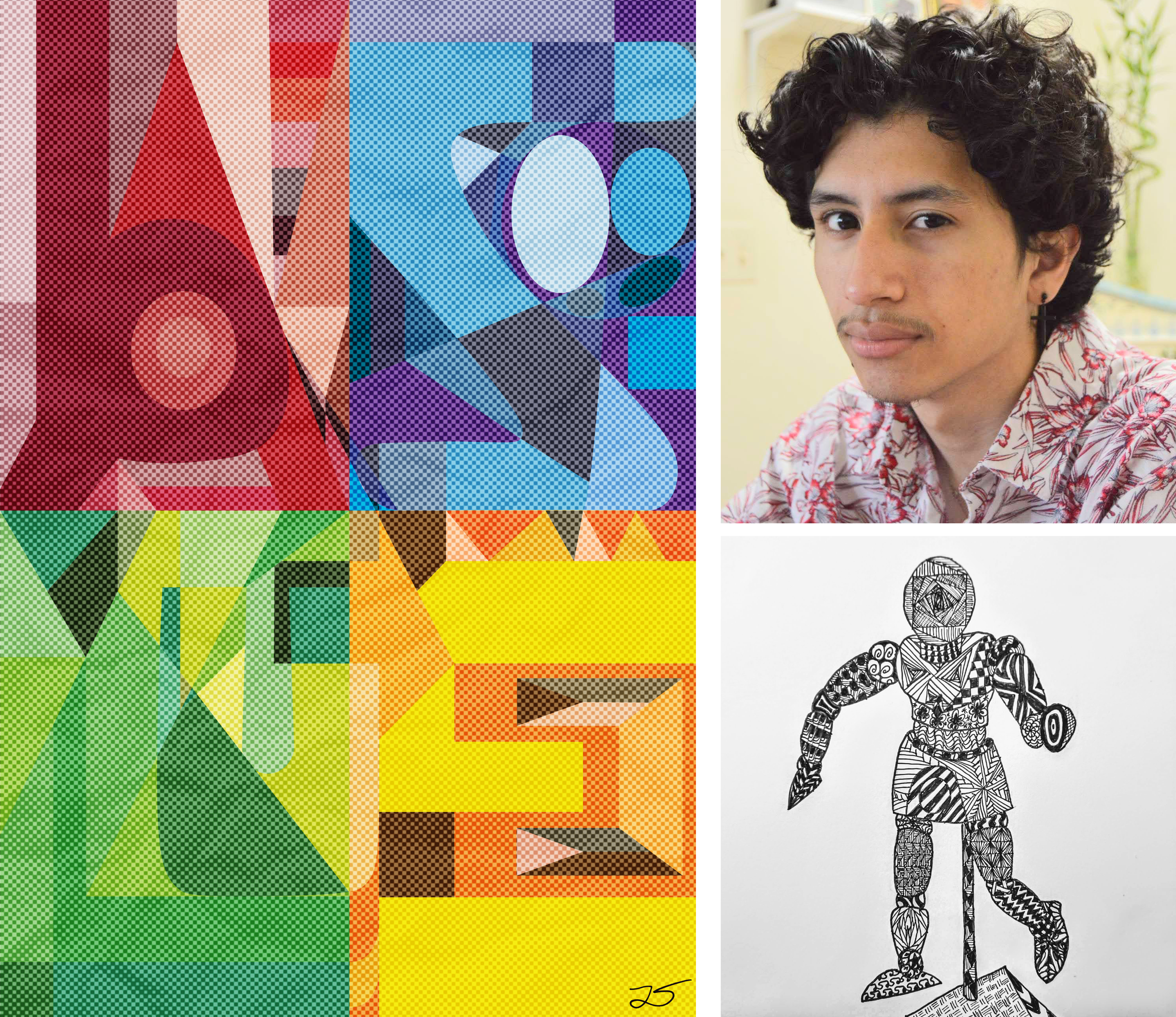 Photo Caption: Berkeley College student Jose "Josie" Serifi, a resident of Paterson, NJ, displays his creative works in the GRD Virtual Gallery. (Left) A typographic abstract poster and (bottom right) a "zentangle" created through a collection of patterns. 
Hutchinson said next steps for the virtual gallery include enhanced integration into Berkeley College's academic curriculum. She also hopes that the virtual gallery can be used to share the work of current students with prospective candidates looking to enroll in Berkeley College's Graphic Design, Interior Design, or 3D Digital Visualization programs. 
"Over the years, I have sought to incorporate aspects of augmented reality and virtual reality in my courses to challenge students to stretch their creativity beyond a static image," Hutchinson said. "The metaverse is not just for experiencing virtual rollercoasters and haunted houses. It is a multi-dimensional, virtual environment for artists, game designers, architects, and interior designers." 
Serifi said his dream job is one where he can make a difference through the art of graphic design. He attributes his success as a student and aspiring professional to Hutchinson's mentorship. 
"Professor Hutchinson taught me that this field is more than just knowing how to use programs and graphics," he said. "The virtual gallery displays creativity and character being pushed to the max by my classmates." 
About Berkeley College
Berkeley College, founded in 1931, is a career-focused institution accredited by the Middle States Commission on Higher Education that offers students Master's, Bachelor's, and Associate's degree and Certificate programs in more than 20 career fields. The College also offers Continuing Education programs to enhance career credentials.
Berkeley College has campuses in New York City and in Newark, Woodbridge, and Woodland Park, NJ, with more than 3,600 students enrolled. In addition, Berkeley College Online® serves a global population. U.S. News & World Report has named Berkeley College among the Best Colleges for Online Bachelor's Programs and among the Best Online Bachelor's Programs for Veterans, for 10 consecutive years. U.S. News & World Report named Berkeley College (NJ) one of the Best Regional Colleges in the North in its 2023 edition of the Best Colleges Survey. Berkeley College (NJ) was recognized among the Best Colleges in the region for social mobility for three consecutive years. The website address is http://www.BerkeleyCollege.edu.