City & State New York Names Berkeley College President to Higher Education Power 100 List

FOR IMMEDIATE RELEASE
Wednesday, March 15, 2023
CITY & STATE NEW YORK NAMES BERKELEY COLLEGE PRESIDENT
TO HIGHER EDUCATION POWER 100 LIST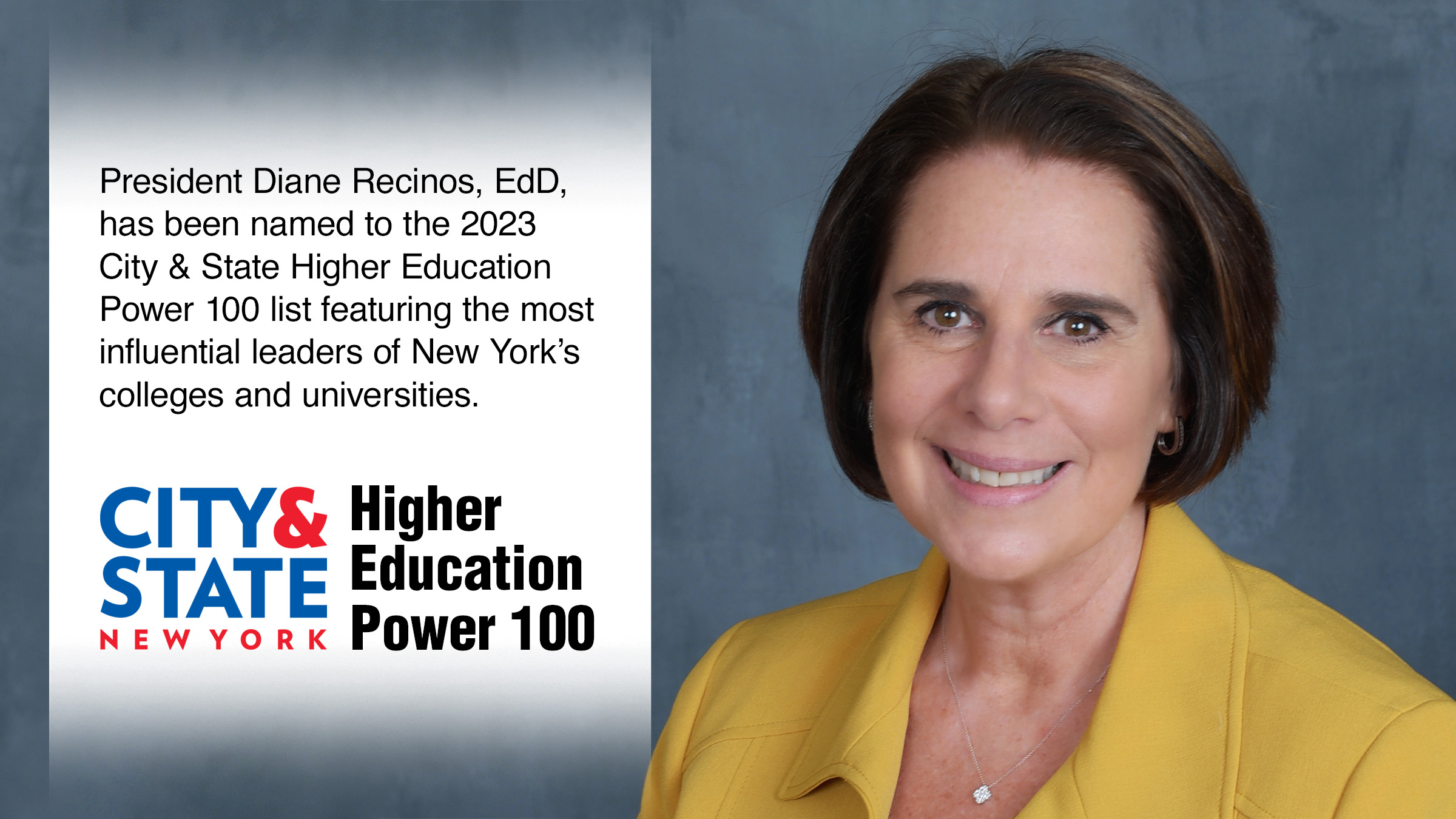 Share the News: @BerkeleyCollege @CityAndStateNY 
Diane Recinos, EdD, President of Berkeley College, has been named to City & State New York's 2023 Higher Education Power 100 list, featuring the most influential leaders of New York's colleges and universities. Recinos was appointed President of Berkeley College in March 2022. This is the second consecutive year she has been named to the Higher Education Power 100 list. 
"Leading a college or university is not limited to such traditional responsibilities as carrying out an educational mission, overseeing faculty and staff, balancing budgets and serving as an institution's public face," said City & State in an article announcing the list. "We identified the college and university officials making the biggest difference, both on campus and off, whether it's spurring job growth, advocating for policy changes or advising city and state government officials." 
In addition to Recinos, the list features higher education leaders from Cornell University, New York University, Columbia University, the State Senate Higher Education Committee, and other prominent colleges and universities. 
Throughout her career, Dr. Recinos has been on the frontlines of serving students – and is their biggest advocate. Her priorities include ensuring that students have access to quality support services and career possibilities. 
Recinos began her career at Berkeley in 1992 as Director of Financial Aid and took on expanded roles in technology and analytics. As Senior Vice President, Student Success and Senior Vice President, Enrollment Management, her leadership has spanned Campus Operations, Admissions, Marketing, Student Development and Campus Life, Disability Services, Career Services, Academic Advisement, the Office of the Registrar, Institutional Effectiveness, and the Office of Military and Veterans Affairs. She became Interim President in October 2021, and was named President by the Berkeley College Board of Trustees in March 2022. 
Recinos volunteers her time as a peer evaluator for the Middle States Commission on Higher Education. She served as a board member for the American Conference on Diversity, the Woodbridge Economic Development Corporation and the Woodbridge Special Improvement District, and Chairwoman of the Board of the Woodbridge Metro Chamber of Commerce. She is a fellow of the Bryn Mawr HERS Women in Higher Education Institute and of Lead New Jersey. The New York City YWCA Academy of Women Leaders recognized Recinos for her leadership and achievements in 2011. In 2016, NJBIZ named Recinos one of the Best 50 Women in Business. She is also a recipient of the William E. Short Community Service Award and the Arthur L. Walton, Jr. Award for Executive Leadership from her alma mater, St. John Fisher College. 
Recinos holds a Doctorate in Education from St. John Fisher College, a Master of Business Administration degree in Management from Wagner College, and a Bachelor of Science degree from Davis and Elkins College. 
About Berkeley College
Berkeley College, founded in 1931, is a career-focused institution accredited by the Middle States Commission on Higher Education that offers students Master's, Bachelor's, and Associate's degree and Certificate programs in more than 20 career fields. The College also offers Continuing Education programs to enhance career credentials.
Berkeley College has campuses in New York City and in Newark, Woodbridge, and Woodland Park, NJ, with more than 3,600 students enrolled. In addition, Berkeley College Online® serves a global population. U.S. News & World Report has named Berkeley College among the Best Colleges for Online Bachelor's Programs and among the Best Online Bachelor's Programs for Veterans, for 10 consecutive years. U.S. News & World Report named Berkeley College (NJ) one of the Best Regional Colleges in the North in its 2023 edition of the Best Colleges Survey. Berkeley College (NJ) was recognized among the Best Colleges in the region for social mobility for three consecutive years. The website address is http://www.BerkeleyCollege.edu.