Commencement 2023: Cadjnie Cameau, Outstanding Student Award Recipient

Cadjnie Cameau
Outstanding Student Award Recipient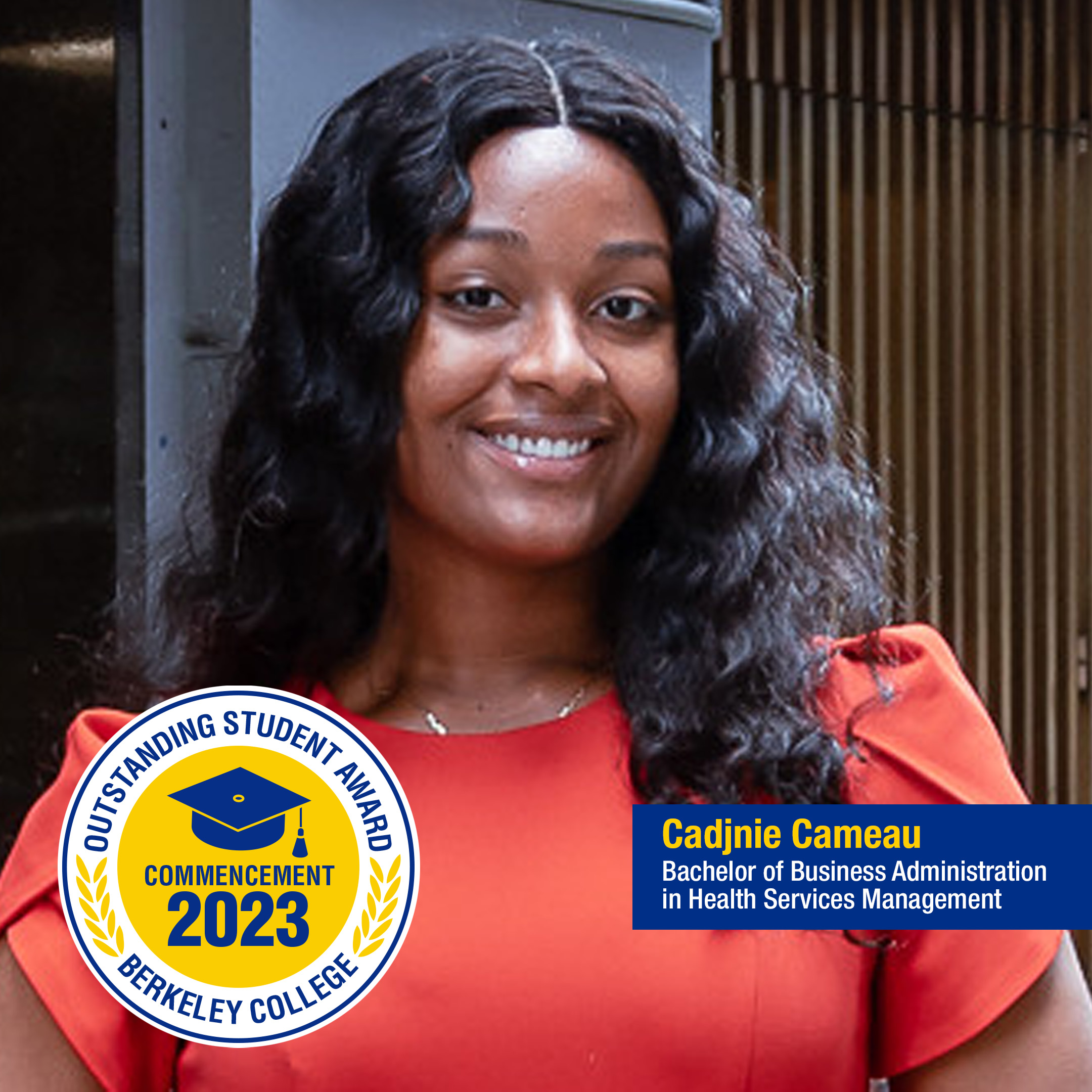 Cadjnie Cameau is an Honors scholar graduating with a Bachelor of Business Administration in Health Services Management. She is a resident of Brooklyn, NY. 
Cadjnie was born and raised in Port-au-Prince, Haiti. In 2010, her family made the difficult decision to come to the United States after a 7.0 magnitude earthquake destroyed her home and left the country's capital devastated. 
When Cadjnie arrived in New York, she faced many challenges, including the language barrier, as her family struggled to gain financial stability in a new country and a new city. Cadjnie dreamed of earning a college degree, but despite her parents' tireless efforts to support her pursuit of higher education, she did not know if her dream would become a reality. 
Cadjnie's doubts about her future disappeared when Berkeley College presented her with a scholarship through the Honors Program. Cadjnie enrolled at the New York City campus, where she flourished as a student leader. 
She was a regular recipient of President's List honors for her academic achievements, served as a student aide to the Campus Operating Officer, and completed an internship with MarketSmith, a woman-owned media and creative agency. 
Cadjnie was also a campus representative on the Student Government Association Board and a member of the Association of Proprietary Colleges' Student Leadership Council, where she advocated on behalf of students for the continuation of the New York State Tuition Assistance Program. 
In 2021, Cadjnie was a member of the Berkeley College team to receive an honorable mention at the Black Inventors Hall of Fame Inaugural Design Thinking Collegiate Challenge hosted in Tulsa, OK, during which the students presented an idea for an app to prevent human trafficking in young girls. She shared her story as the student speaker during 2022 Women's Entrepreneurship Week. 
After graduating, Cadjnie will continue her journey with Berkeley College as a Financial Aid advisor. She plans to pursue a Master's degree in the near future. 
To her fellow graduates, and to those considering pursuing a college education, Cadjnie quotes the author Stephen King: "You can, you should, and if you're brave enough to start, you will." 
"Every journey begins with a decision," Cadjnie says. "You have the great power of being in control of designing your life. Use this power to your advantage by continuing to believe in yourself and your greatness."