Countdown to Commencement: Berkeley College to Honor Graduates during 2023 Ceremony at Prudential Center

FOR IMMEDIATE RELEASE
Wednesday, April 19, 2023
COUNTDOWN TO COMMENCEMENT:
BERKELEY COLLEGE TO HONOR GRADUATES
DURING 2023 CEREMONY AT PRUDENTIAL CENTER

Share the News: @BerkeleyCollege #BerkeleyGrad2023 
Berkeley College will honor the next generation of business, healthcare, and community leaders during its 2023 Commencement ceremony on Thursday, May 11, 2023, at Prudential Center in Newark, NJ. More than 1,100 graduates will be recognized at the ceremony.
DETAILS: 9 a.m. on Thursday, May 11, 2023, at Prudential Center in Newark, NJ 
HONOREES AND SPEAKERS: 
Faculty Speaker
Pattie Cowan
Professor, English, Division of General Education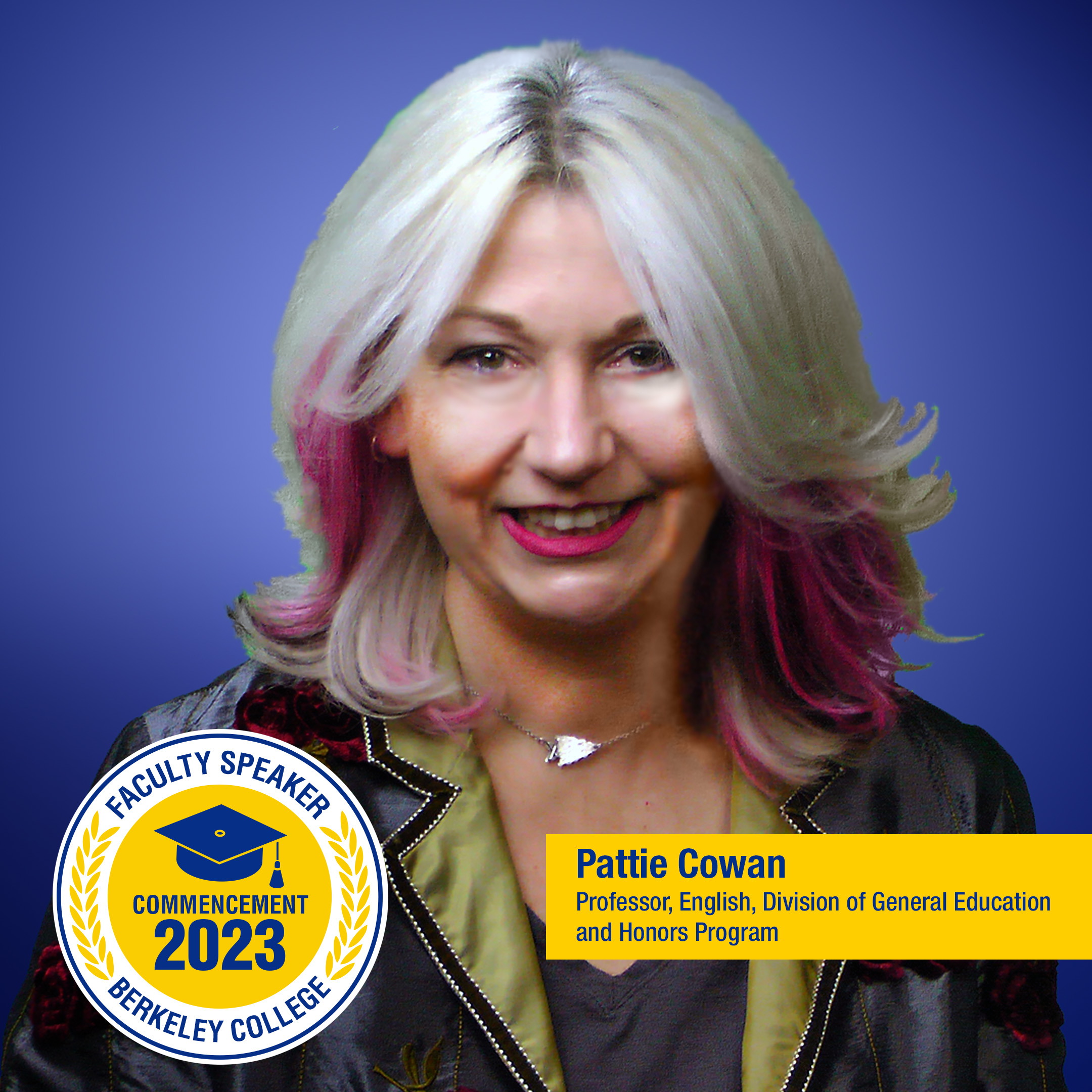 Pattie Cowan teaches English and Humanities courses, and is also a professor in the Honors Program. Her favorite Berkeley College memory is the 2018 Honors Symposium, which marked her first time teaching an Honors cohort from its first day of classes through completion of the program. Her advice to graduates is: "Aim high. Challenge yourselves. Never stop learning."  Click here to read Pattie Cowan's full bio. 
Alumna of the Year
Maria Rosario Behun
Vice President and Community Manager, JP Morgan Chase & Co.
Class of 2016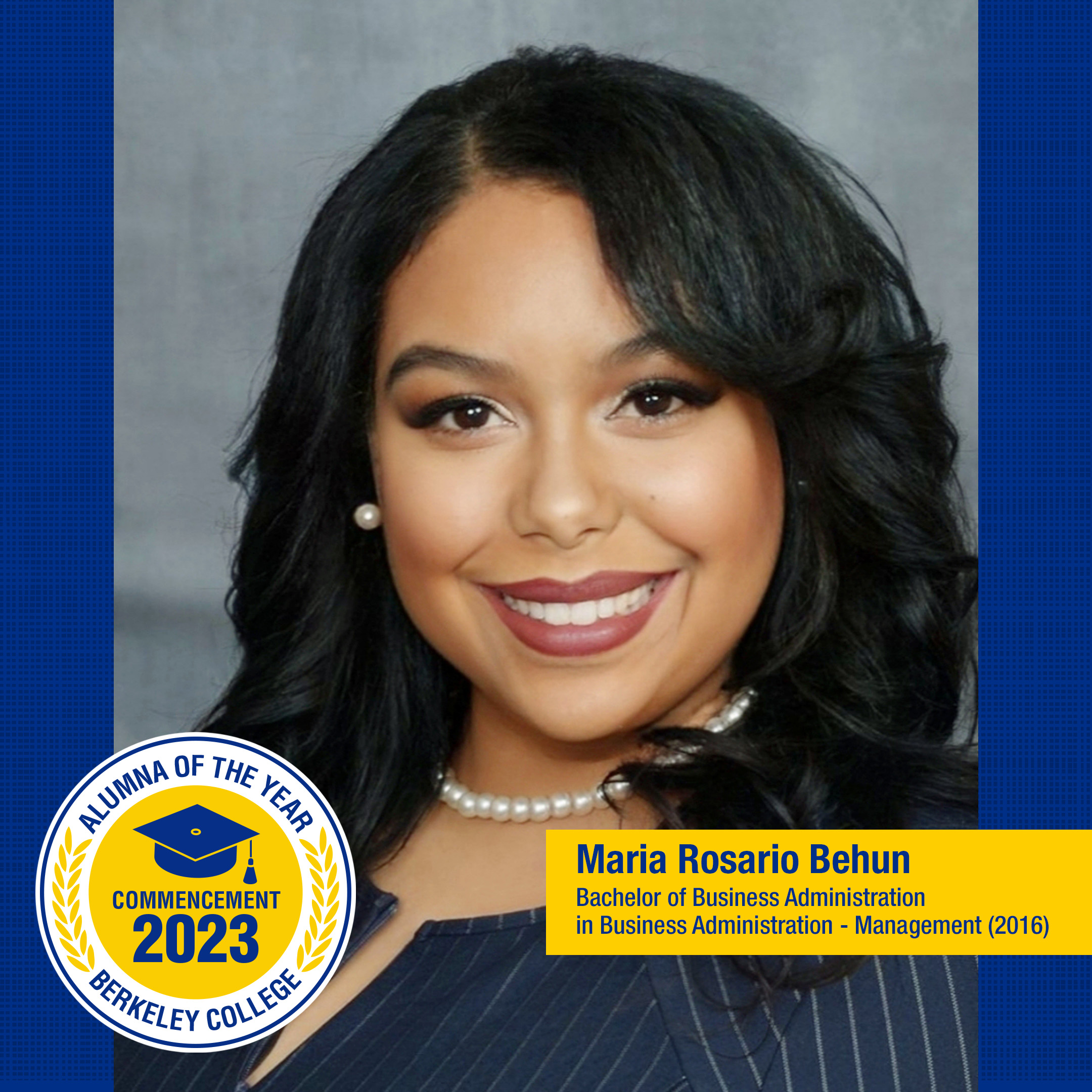 In her role with JP Morgan Chase & Co, Maria Rosario Behun builds relationships with community leaders, nonprofit partners, and small businesses through financial health workshops, volunteerism, and community programming. She also works to advance racial equity by supporting Black and Hispanic communities with the tools and resources to help them improve their financial well-being. Behun graduated with honors from Berkeley College in 2016, earning a Bachelor of Business Administration in Business Administration – Management.  Click here to read Maria Rosario Behun's full bio. 
Outstanding Student Award Recipient
Cadjnie Cameau
Bachelor of Business Administration in Health Services Management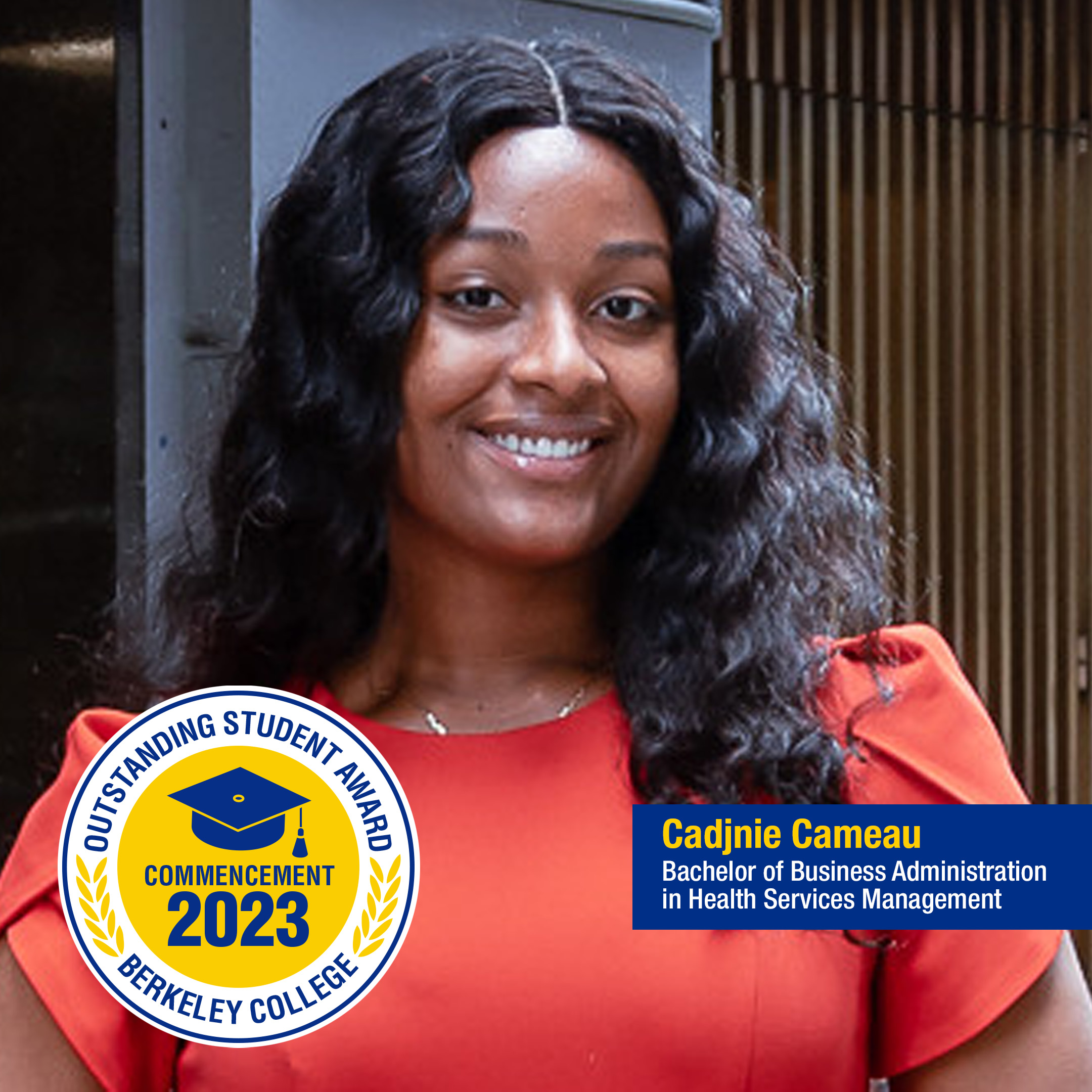 Cadjnie Cameau was born and raised in Port-au-Prince, Haiti. In 2010, her family made the difficult decision to come to the United States after a 7.0 magnitude earthquake destroyed her home. At Berkeley College, Cadjnie flourished as a student leader. She was a regular recipient of President's List honors for her academic achievements, served as a student aide to the Campus Operating Officer, and completed an internship with a woman-owned media and creative agency. She is a resident of Brooklyn, NY. Click here to read Cadjnie Cameau's full bio.
Student Speaker
Angeline Gil
Bachelor of Business Administration in Health Services Management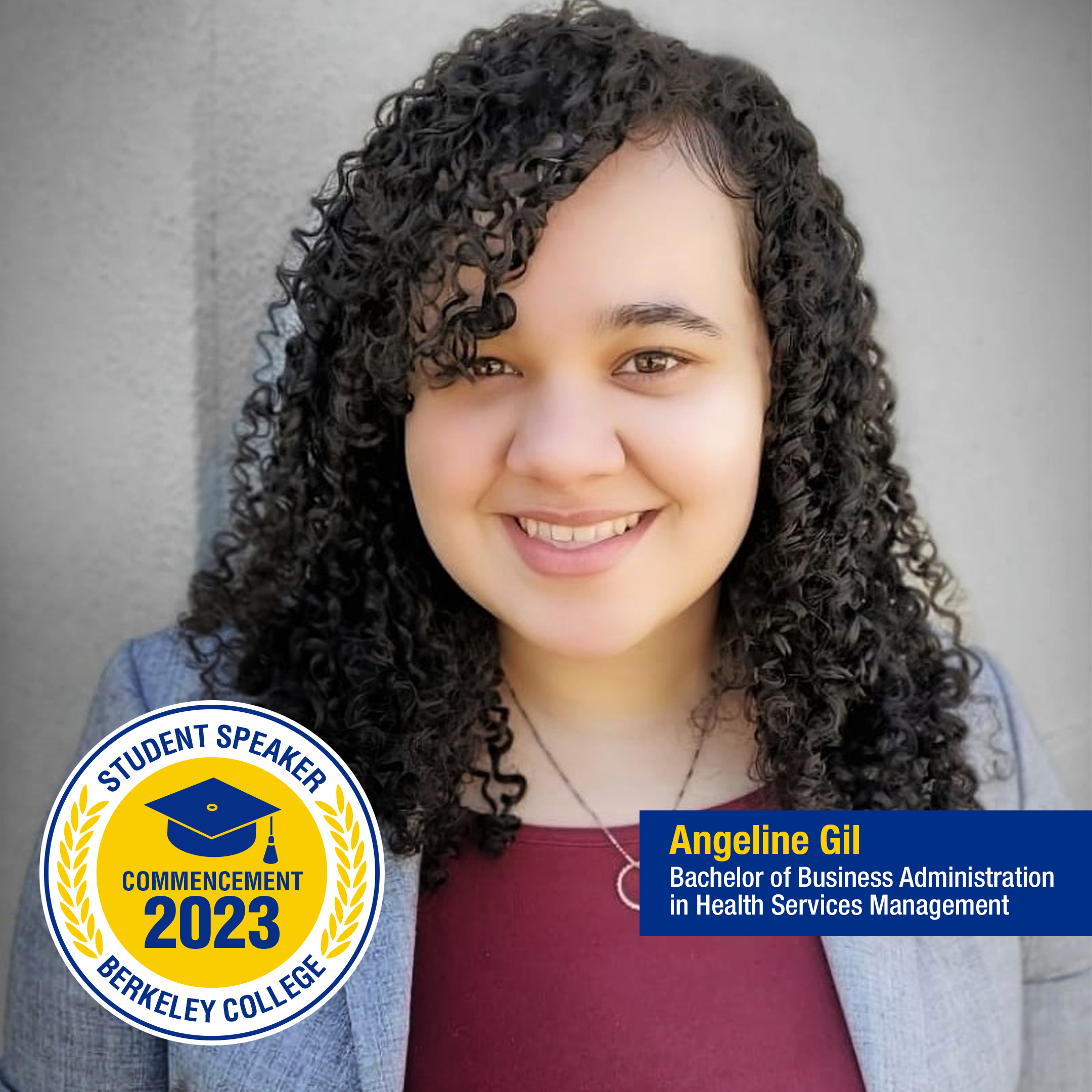 As a first-generation graduate and daughter of immigrant parents from the Dominican Republic, Angeline Gil credits her passion for academia to the example her parents provided, and the sacrifices they made in pursuit of education. Angeline said the COVID-19 pandemic inspired her to seek a career in public health, where she hopes to make an impact on the healthcare system in the United States by addressing health disparities and barriers that affect vulnerable populations. She is currently enrolled in the Master of Business Administration in Management program at Berkeley College. Angeline is a resident of Paterson, NJ. Click here to read Angeline Gil's full bio. 
MEDIA CONTACT
To attend the Commencement ceremony or schedule an interview with a speaker or honoree, contact:
Kelly J. Depsee
Senior Director, Communications and External Relations
KME@BerkeleyCollege.edu
973-200-1099 
About Berkeley College 
Berkeley College, founded in 1931, is a career-focused institution accredited by the Middle States Commission on Higher Education that offers students Master's, Bachelor's, and Associate's degree and Certificate programs in more than 20 career fields. The College also offers Continuing Education programs to enhance career credentials. 
Berkeley College has campuses in New York City and in Newark, Woodbridge, and Woodland Park, NJ, with more than 3,600 students enrolled. In addition, Berkeley College Online® serves a global population. U.S. News & World Report has named Berkeley College among the Best Colleges for Online Bachelor's Programs and among the Best Online Bachelor's Programs for Veterans, for 10 consecutive years. U.S. News & World Report named Berkeley College (NJ) one of the Best Regional Colleges in the North in its 2023 edition of the Best Colleges Survey. Berkeley College (NJ) was recognized among the Best Colleges in the region for social mobility for three consecutive years. The website address is http://www.BerkeleyCollege.edu.