Berkeley College Men's Soccer Team Captures Second Consecutive HVIAC Title

FOR IMMEDIATE RELEASE
Monday, November 6, 2023
BERKELEY COLLEGE MEN'S SOCCER TEAM
CAPTURES SECOND CONSECUTIVE HVIAC TITLE
Knights Defeat Word of Life and Five Towns College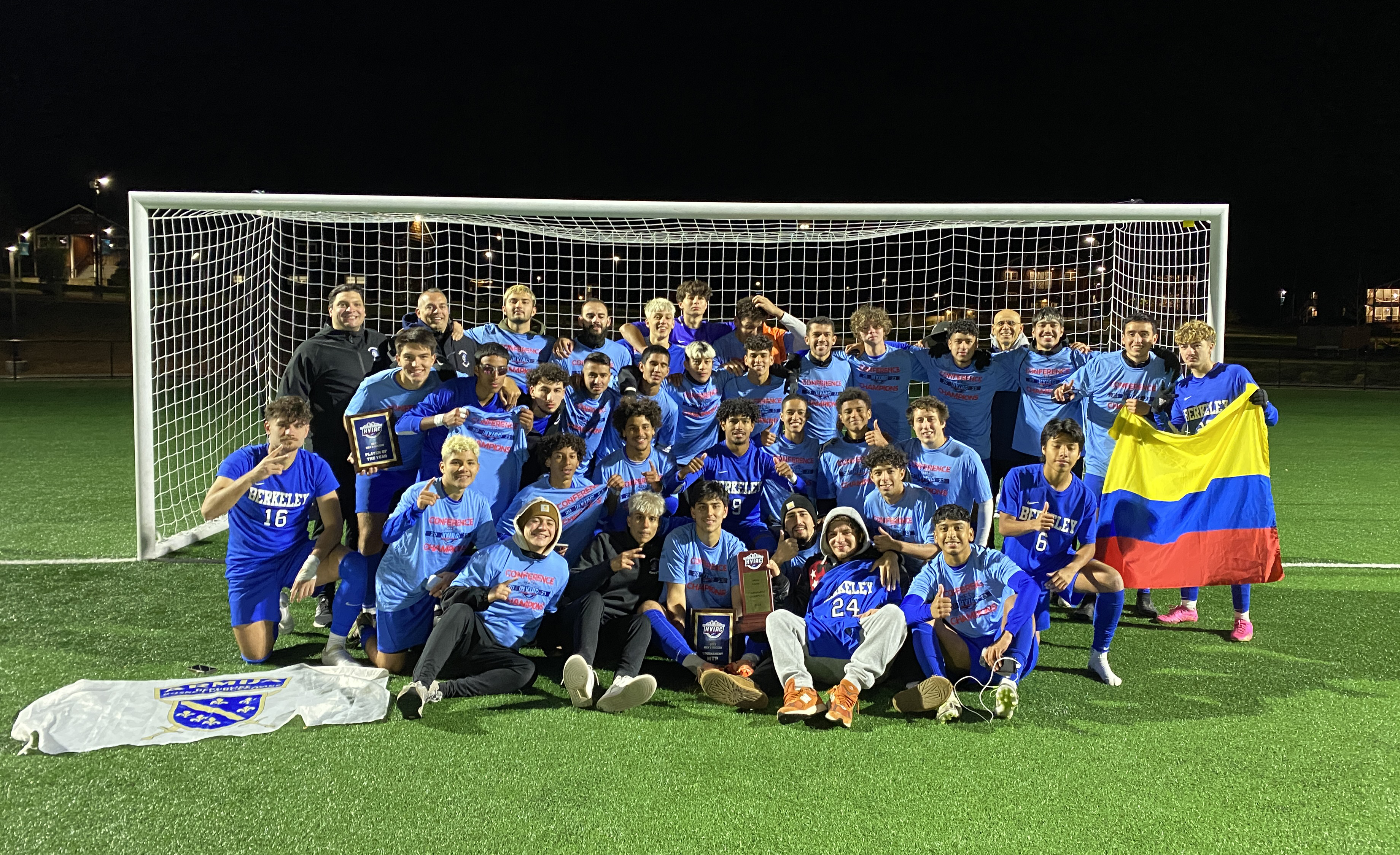 Photo Caption: The Berkeley College Men's Soccer team defeated Five Towns College on Sunday, November 5, 2023, to capture its second consecutive Hudson Valley Intercollegiate Athletic Conference title. 
By: Stephen Spagnoli, Berkeley College Athletics
Read More Athletics News: www.BerkeleyCollegeKnights.com
Share the News: @BerkeleyCollege @HVIAC #BerkeleyKnights #NewsBerkeley   
For the second consecutive season, the Berkeley College Men's Soccer team has captured the Hudson Valley Intercollegiate Athletic Conference (HVIAC) title, defeating Word of Life Bible Institute on Saturday, November 4, 2023 (6-3), and Five Towns College on Sunday, November 5, 2023, ending the game in penalty kicks (7-6). The victories improved the Knights to a record of 15-2 in the 2023 campaign. 
"Coming into this 2023 season, we had a number of goals that we wanted to accomplish, and winning a second consecutive regional crown was one of them," said Bruno Ferreira, Head Coach, Berkeley College Men's Soccer team. "Our players did a fantastic job dealing with adversity this weekend. When we found ourselves in a tight spot against Word of Life with the match tied 1-1, we responded. The following day, we trailed the No. 1 seed in the tournament 2-0 with 20 minutes remaining, but our student-athletes never lost faith. They battled back and outlasted Five Towns to win it all." 
Berkeley College forward Esteban Pedrueza of Tandil, Argentina, a graduate of Kearny High School, was named the tournament's Most Valuable Player. 
The Knights now eagerly await word of their potential trip to Pittsburgh, PA, to compete in the United States Collegiate Athletic Association (USCAA) Division II Soccer National Championship. The selection show is set for Wednesday, November 8, 2023, at 4 p.m., and can be viewed at www.theuscaa.com. 
"Now we will set our sights on the USCAA Division II National Tournament, where we feel we have some unfinished business," Ferreira said. "We are all excited about the prospects of competing for a national crown again, and our student-athletes are eagerly awaiting the official word from the USCAA. In the meantime, we'll bask in this moment for a few days and enjoy what we accomplished as a team." 
Berkeley College vs. Word of Life Bible Institute (November 4, 2023) 
On Saturday, November 4, 2023, in the HVIAC tournament semifinals, the No. 2-seeded Knights took on the host school and No. 3-seeded Word of Life Huskies. Berkeley took a 1-0 advantage in the 16th minute of play when Marco DaSilva slipped home a pass from Pedrueza to make it 1-0 Knights. Word of Life responded when Cyleek Zaimoff put home Calem Mason's pass to knot the match at a goal apiece. 
Berkeley College would re-take the lead in the 37th minute (36:52) when standout Ian Pallardel scored the go-ahead goal from Allan Luna, to put the Knights ahead 2-1. That would be the final goal of the opening session, as the College held a slim one-goal edge at halftime. 
In the second session, the Knights broke the match open with four goals in a span of 13:43. Lucas Zuleta (53:51, from Suad Lukovic), DaSilva (59:45, from Samuel Gomez), Eddie Becirovic (61:25, from Pedrueza), and Fabrizio Sousa (67:34, from Pedrueza) accounted for the four goals. Word of Life would score a pair of garbage-time goals, with Joseph Matthews slipping a pair of goals past backup Knights netminder Jose Hurtado at 80:52 and 87:26. 
Victor Batista picked up the victory between the pipes for Berkeley College, allowing just one goal while making four saves in 67:34 of action. His counterpart, Seth Randall, took the loss for the Huskies, yielding six goals while making five saves. 
For the match, Berkeley College held a 21-10 edge in the shots category, while also earning 10 corner kick opportunities compared to two for the Huskies. 
Berkeley College vs. Five Towns College (November 5, 2023) 
A day later, Berkeley College rallied from a late 2-0 deficit to win in penalty kicks. 
Five Towns College scored the first two goals, including an unassisted tally by Sebastian Cuenca (33:32), and another goal from Angel Chavez (49:41 from Cuenca). Berkeley College got on the board with a goal by DaSilva (from Pallardel) at 70:54 to slice its deficit to one, 2-1, with 19:06 left. 
Later, with just 9:09 left in the match, Pallardel netted the equalizer, capitalizing on a lead pass from Pedrueza to knot the match at two goals apiece. Exactly three minutes later, Pedrueza drew a foul in the box, and promptly converted on a penalty kick opportunity to catapult the Knights to a 3-2 advantage. Five Towns refused to go quietly, however, as Juan Lopez netted an unassisted goal at 84:05 to tie the match, 3-3. That would be the final goal scored of regulation, as the match headed for extra sessions. 
Two minutes into the first overtime, Pedrueza would once again draw a foul in the box. Just as he did in regulation, he would cash in on the opportunity, scoring a goal to make it 4-3 Knights. That would be the lone goal scored of the first overtime period. In the second overtime session, with just 4:03 remaining, Five Towns' Cuenca would score his second goal of the match, knotting the championship contest at four goals apiece. Neither team would score for the remainder of the second overtime, sending the match to penalty kicks. 
In penalty kicks, seven of Berkeley College's nine shooters scored, including Lukovic, Alan Martinez, Pedrueza, Pallardel, Zuleta, Agustin Nunez, and Fabrizio Godos. Five Towns College, though, had two opportunities to win the championship, but penalty kicks by Chavez and Jorge Lliguizaca were saved by Batista. 
In addition, Gomez's final penalty kick opportunity was also turned away by Batista, sending the Berkeley College bench into a frenzy, with the Knights winning their second HVIAC crown in as many seasons.
For the game, in addition to the three impressive saves during penalty kicks, Batista also made five saves in 110 minutes of action, despite allowing four goals. His counterpart, Steven Paguada, made two saves during penalty kicks, and eight during regulation and the two overtime periods, despite allowing four goals.
Berkeley College held a commanding 27-13 edge in the shots category. Five Towns held a slim 7-6 edge in corner kick opportunities. 
About Berkeley College 
Berkeley College, founded in 1931, is a career-focused institution accredited by the Middle States Commission on Higher Education that offers students Master's, Bachelor's, and Associate's degree and Certificate programs in more than 20 career fields. The College also offers Continuing Education programs to enhance career credentials. 
Berkeley College has campuses in New York City and in Newark, Woodbridge, and Woodland Park, NJ, with more than 3,600 students enrolled. In addition, Berkeley College Online® serves a global population. U.S. News & World Report has named Berkeley College among the Best Colleges for Online Bachelor's Programs and among the Best Online Bachelor's Programs for Veterans, for 10 consecutive years. Berkeley College was also ranked among the Best Regional Colleges/Universities in the North in the 2023-2024 edition of the U.S. News & World Report Best Colleges survey. The website address is https://BerkeleyCollege.edu.