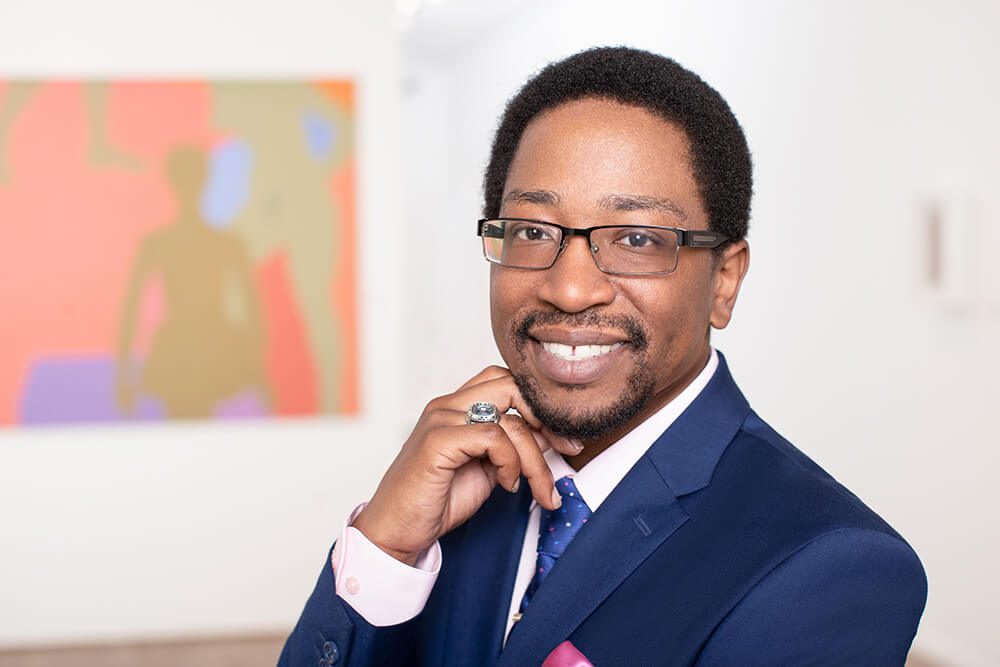 2021 Alumnus of the Year
Berkeley College will honor Maurice K. Barrett of Oak Ridge, NJ, as its 2021 Alumnus of the Year. The award is presented annually to a Berkeley College graduate who has enjoyed professional success and fulfillment through community service. Barrett, Senior Human Resources Director at the Newark Museum of Art in Newark NJ, who was featured in an article published in the Morristown Daily Record last year, had more than 16 years of senior level experience in Human Resources before accepting his current position at the outset of the pandemic last year. He is a Diversity, Equity, Accessibility & Inclusion consultant and Certified Senior Professional in Human Resources.
Throughout his college and professional career, community service has been at the heart of his endeavors.
"Run your race at your own pace and in your own time," Barrett told the graduates. "You can get there quickly without rushing. Everything you do, do with humanity," he said.
Raised by a single mom and with strong sibling and family support, Barrett thanked them all, including his wife and three daughters. Barrett's mother served as his hero and role model, working multiple jobs to afford private elementary and high school educational opportunities for him, which led him on the path to success at a very young age.
Despite experiencing times when the power often went out, and periods of homelessness while he was growing up, Barrett's mom kept his focus on education and his eye on the bigger picture. Now, he says, "In order to disarm the skin color I cannot remove, I put a suit on." Beyond the impact Barrett makes with his "sharp suits," he is known for bringing messages of optimism and hope.
According to Barrett, Berkeley College had what he needed to galvanize himself and get a glimpse of the world and how to navigate it while feeling protected. Its size was not too small or too big. He was in close proximity to his family. "I did not think I would graduate," Barrett said. "I needed to pay attention to detail and challenge myself. Otherwise, I would be selling myself short."
Barrett is the founder of the non-profit Garden State Glory softball program, whose mission is to empower young women to mature, mentally and emotionally, and to create an environment of "no ceilings." The overall goal of the program is to prepare these young women for the rigors of young adult life, and while doing so, grow their self-esteem and raise their overall confidence levels.
"Garden State Glory offers an alternative expression in approaching the team as part of a larger community of volunteers and activists," said Barrett. "We use athletics as a catalyst to bring greater understanding about ourselves as a microcosm, how the players are connected to each other and how they can rise."
As a youngster, Barrett grew up in Paterson, NJ, with three siblings. He attended St. Catharine's Interparochial School in Glen Rock, NJ, and Don Bosco Preparatory High School in Ramsey, NJ. After graduating from Berkeley College with a B.S. in International Business in 2012, Barrett earned an M.S. in Human Resources at New York University, taking the advice of a supervising mentor who recognized his talent when it came time to selecting a major.
Barrett continues to be an inspiration in his profession and at home in Oak Ridge, NJ, where he and his wife are raising their three daughters.
Previous Alumni of The Year Honorees
2020 - Troy Scott
2019 - Karen Pena
2018 - Jessica M. Mahoney
2017 - Nancy Robles-Guess
2016 - Edison A. Jaquez
2015 - Tamba D. Aghailas
2014 - Melvin Montalvo
2013 - Donna M. Boles
2012 - Cecilia Garcia & Etta Rudolf Denk
2011 - Eduardo Perez & Busingye Matsiko-Andan